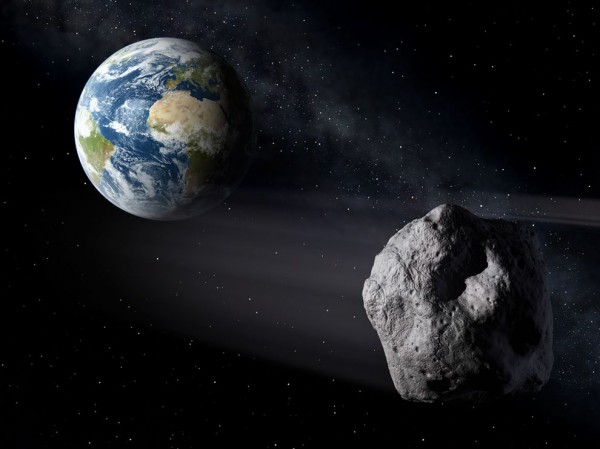 Artwork showing an asteroid zipping by the Earth moon system. Credit: ILLUSTRATION COURTESY P. CARRIL, ESA
A giant asteroid will silently glide by Earth this week, a stark reminder of cosmic dangers lurking nearby.
Measuring about 1,067 feet (325 meters) wide, the space intruder nicknamed "the Beast," more formally known as HQ124, has an estimated width equal to an aircraft carrier (earlier estimates had been even larger). It will be three lunar distances away from Earth at its closest approach on Thursday, so thankfully there is no risk to our planet.
However, it's a big one and we didn't notice its approach until April 23. While it's nothing new, thanks to dedicated telescope surveys, to hear about asteroids whizzing past Earth or the moon, it is unusual to see such a large one go unnoticed for so long.
NASA's Wide-field Infrared Survey Explorer picked up its movement against a fixed backdrop of stars, traveling at approximately 31,000 miles per hour (50,400 kilometers per hour).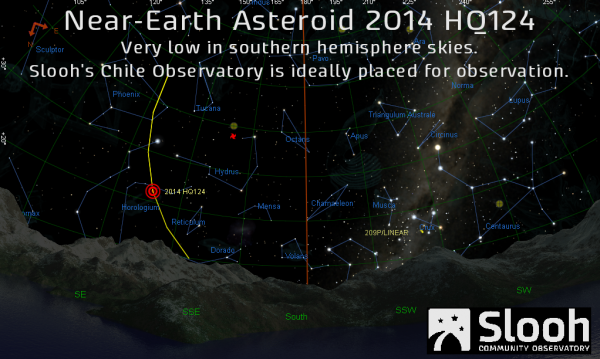 Sky surveys have catalogued and are tracking approximately 90 percent of the potentially dangerous asteroids that are 3,200 feet (1,000 meters) and over in diameter. Those are the ones that have the potential to destroy continents on impact.
Only 30 percent of the 460-foot (140-meter) rocks have been accounted for, and unfortunately less than 1 percent of the 98-foot (30-meter) Earth-orbit crossers have been detected to date. While these may not be global killers, they have the potential to damage or destroy entire cities. A 2013 Russian asteroid strike damaged buildings and blew out windows across the Urals, for example.
"What's disconcerting is that a rocky/metallic body this large, and coming so very close, should have only first been discovered this soon before its nearest approach. HQ124 is at least 10 times bigger, and possibly 20 times, than the asteroid that injured a thousand people last year in Chelyabinsk, Siberia," said Bob Berman, an astronomer with Internet astronomy outreach venture Slooh.
"If it were to impact us, the energy released would be measured not in kilotons like the atomic bombs that ended World War II, but in H-bomb type megatons."
Slooh will cover the flyby of the the Beast live on Thursday, June 5, starting at 11:30 a.m. PDT/2:30 p.m. EDT/6:30 p.m. UTC. For international times, visit http://goo.gl/0iYDxR .
Slooh will broadcast the event live from Australia, featuring time-lapse imagery from Slooh's robotic observatory in Chile. Check out the live webcast below: