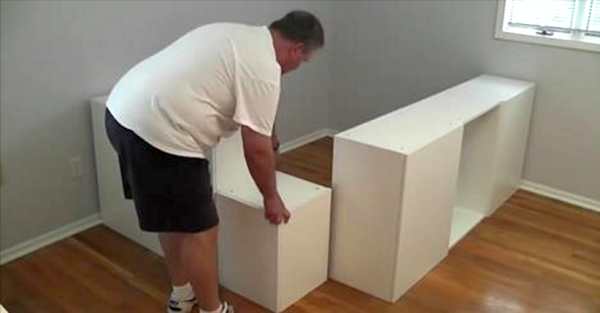 If you're like me, your bedroom is a sanctuary. It's where you rest and recharge. Where you start and end your day. And since you spend about 1/3 of your life in bed, it's important to make it a space you enjoy.
But Chris Heider wasn't satisfied with what he had. So he bought 7 IKEA kitchen cabinets and transformed them into a platform bed.Although the project might seem odd at first, Heider admits that the kitchen cabinets were easy to use. They essentially formed a set of "building blocks" for him to put together.
Since he bought the cabinets IKEA, Heider spent $480 in total on all materials including lumber. A similar platform bed Macy's would cost $799 minimum.
But because Heider d his platform bed scratch, he included numerous features and customizable extras that you'd never be able to buy in a store.
Heider says that the cabinets can hold a lot of weight and that shouldn't be a concern.
"The bed has been tested with three full-size adults and two dogs so I'm not worried about weight capacity. The 'steps' are very strong and do not sag under my weight (and I'm a big guy). Really, don't worry about weight."
Heider does offer a warning. Don't take on this project if you can't nail the bedframe into your wall which provide essential support.
Watch the video included below to see the unique platform bed frame this handy man d.