Kyle Stocking and five friends planned to spend a few hours on Sunday swinging from Corona Arch in Moab, dubbed 'the world's largest rope swing' in a viral YouTube video. But the group miscalculated the length of the rope, and Stocking hit the ground when he leapt off the massive structure.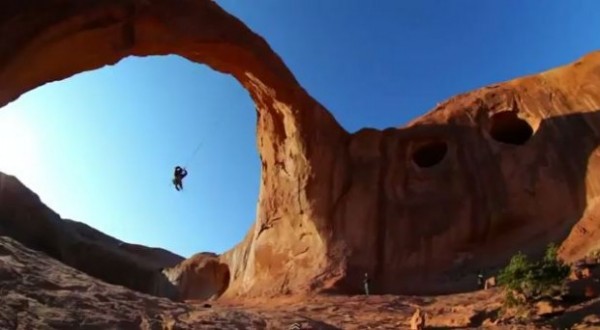 A young Utah daredevil was trying to swing from a desert arch billed as "the world's largest rope swing" when he hit the ground and was killed instantly, authorities said.
Kyle Stocking, 22, and five pals had set up a rope swing on Corona Arch in Moab on Sunday afternoon, but miscalculated the length of the rope, local newspaper Deseret News reported.
Stocking, of West Jordan, was the first to try the swing and hit the ground after leaping from the arch.
Paramedics were called, but the young outdoorsman was already dead when they arrived.
In a statement to the Deseret News, his parents, Mike and Linda Stocking, said, "It is the most tragic experience to receive the phone call from the sheriff letting you know that your son has been killed in a terrible accident that could have been avoided. It is the most awful experience a parent could go through."

"We hope and pray that there will be no more parents experiencing what we are going through. There is a huge in hole in our hearts."
The red sandstone formation's popularity has risen over the past few years thanks to a viral video dubbed "World's Largest Ropeswing," which shows a group of adrenaline junkies jumping off of it and swinging from it while tethered to climbing ropes.
WATCH VIRAL VIDEO BELOW
The video been viewed nearly 19 million times since it was posted in February 2012.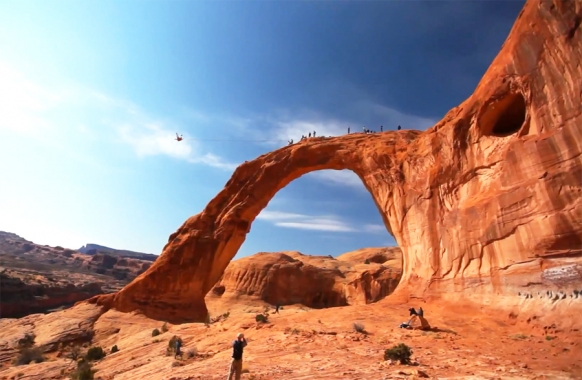 The state banned private companies from setting up for-profit swinging operations on the arch. Private climbers and hikers are still free to swing from it using their own rigs, though.
Earlier this year, the state banned tour companies from letting people pay to swing off it, but private rock climbers, hikers and other weekend warriors are still permitted to swing off it using their own rigs the Deseret News reported.
Officials from the agency that manages the land the arch is on, the School and Institutional Trust Lands Administration, said they couldn't prevent visitors from swinging off the arch, but would continue to emphasize its potential dangers.
"There's no way on Earth you can tell someone not to climb a mountain," Kim Christy, a deputy director at the agency, told The Salt Lake Tribune.