My favorite thing about Airbnb isn't just its affordability. Instead, it's the exposure it gives me to the quirky little places people live.
Whether it's a roma wagon caravan or a house in a cave, I think it goes to show that with a little love and care, you can make a home anywhere.
Take, for example, "The Muffin Mansion" in Flagstaff, California. It was once a food truck but the owners, Ginger and Lewis, saw its potential and turned it into a beautiful home made for easy living or glamping.
One guest who stayed said of his time there, "100% better than any hotel available for that price. The bed is amazing. Kitchen is full-sized and well-equipped. Ginger and Lewis are fantastic creative folks who have created a wondrous urban oasis with gardens, animals, art, and outdoors places that made being there the nicest part of my time in Oakland. Room was SPOTLESS clean and larger than I imagined. I plan to stay there as often as I can."
Ginger and Lewis' Muffin Mansion is available for rental through Airbnb.
In the meantime check out the story behind this beautiful RV turned Food Truck turned home below!
—————————————————–
This colorfully quirky RV is named "The Muffin Mansion."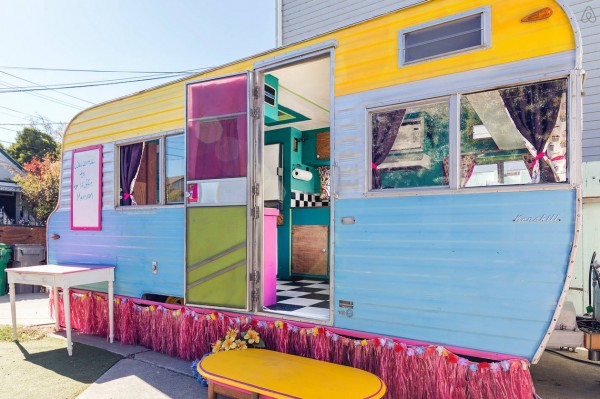 —————————————————
"The 1964 Kenskill camper has been fabulously restored and customized so you can play 'pretend camp' while enjoying the comforts of home," the owners Ginger and Lewis write on Airbnb.com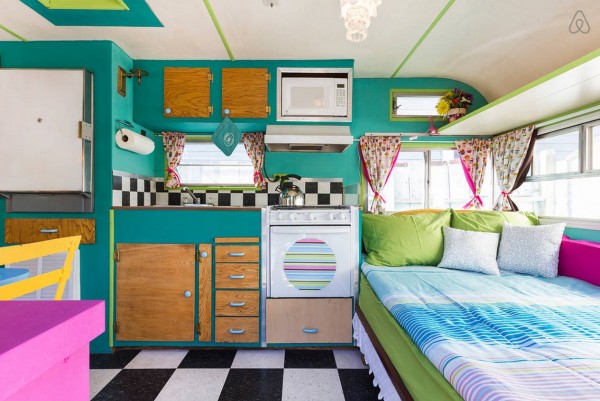 ——————————————————
"In a previous life, this caravan was the food truck for Katie Cupcake, serving up the delicious treats in Flagstaff, AZ. "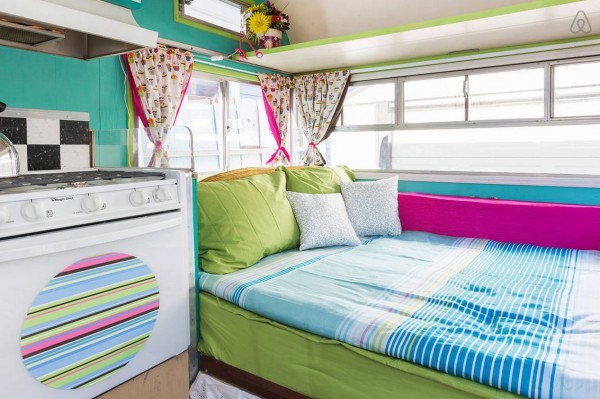 ———————————————-
"We rearranged the interior so it feels much more spacious than the traditional layout."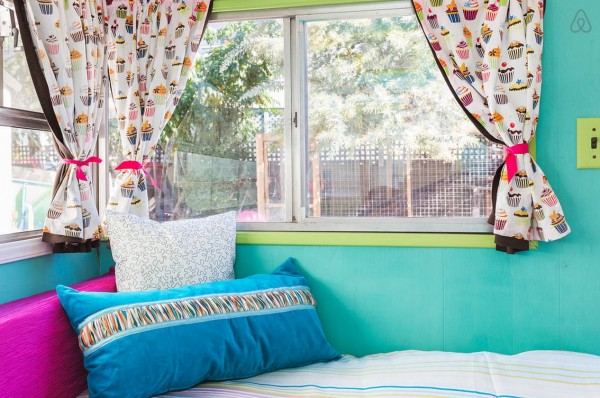 ————————————————-
The owners say the RV is ideal for "glamping" or glamorous camping, that is. It's a way of experiencing the great outdoors with all of the indoor amenities.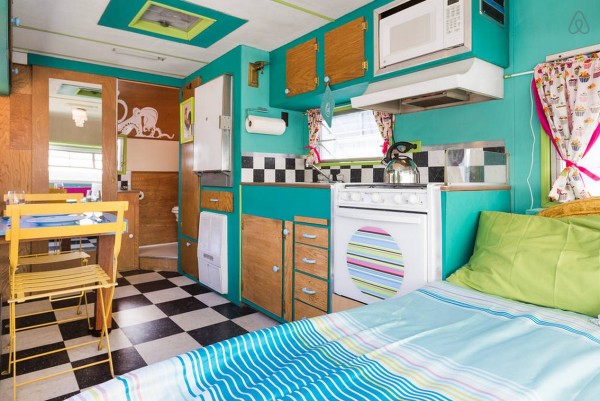 ———————————————–
"Our place is one of those homes that's all front yard, and we positioned this trailer so you can sit at the dinette and enjoy a view of the garden and our silly flock of chickens."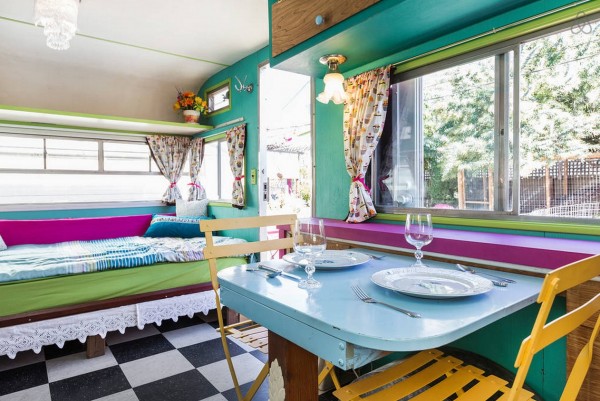 ———————————————-
The setup looks ideal for a date night.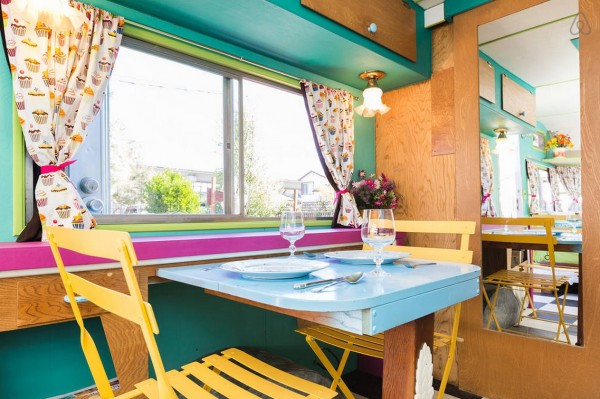 ———————————————–
It's always those special touches in the details that make you feel at home.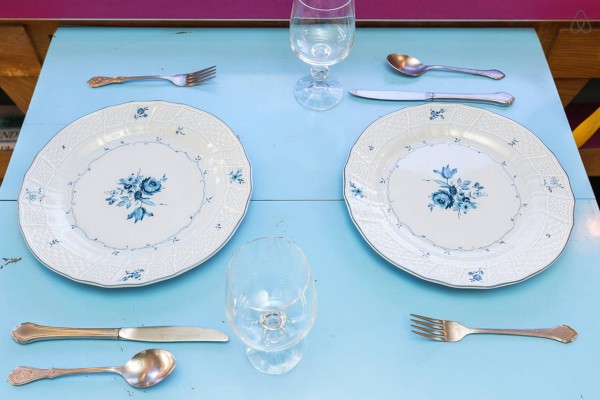 ————————————————–
"Full kitchen is stocked with the tools you need to cook for your stay. Working gas range, double sink, microwave and fridge."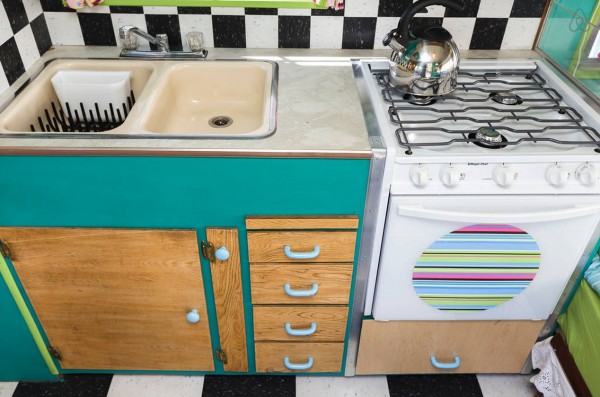 —————————————————
"All greywater (sinks and shower) are filtered through a composting worm bin and the water recycled into the garden."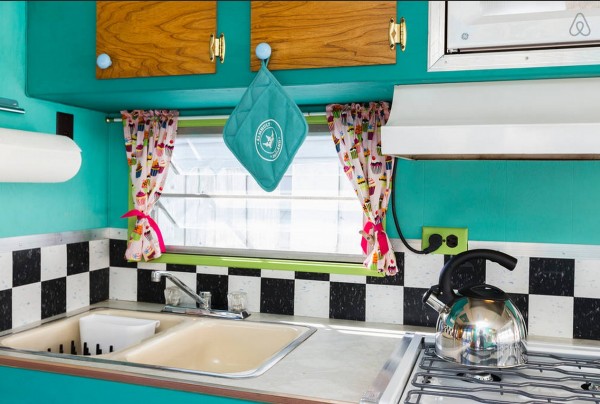 —————————————————-
"Yes, there's even a full bathroom with a proper flush toilet, sink, and small separate shower."


————————————————
Everything is so bright and lovely!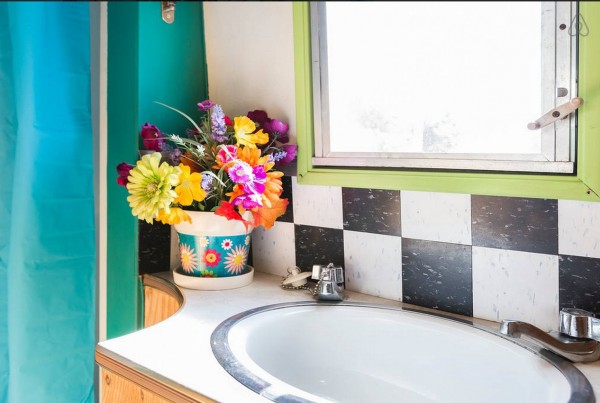 ——–
If this is what "glamping" looks like — sign me up!