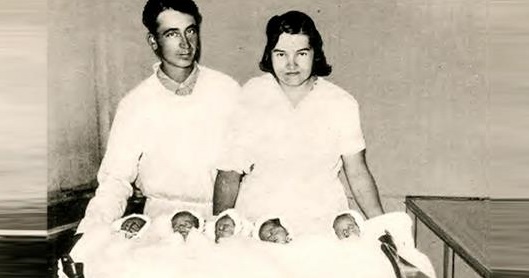 On May 28, 1934, five identical girls were born prematurely on a Canadian farm. No one expected they would survive, but survive they did.
Soon the world dubbed the Dionne quintuplets "miracle babies." The quints became a symbol of joy and hope during the Great Depression. Yvonne, Annette, Cécil, Émilie, and Marie were the first set of quintuplets to survive infancy, and the first set of identical quintuplets documented.
Born to father Oliva and mother Elzire, Elzire suspected she was carrying twins, but no one was aware at the time that giving birth to quintuplets was even possible. Although quintuplets are more common these days, identical quintuplets are still extremely rare.
It wasn't long before things took a bizarre, tragic turn. The Dionne quints were taken from their parents, made wards of the Government of Ontario and put on public display in a museum called the Quintland. The girls — who became a bona fide tourist attraction and were prevented from visiting with their parents — provided the government with millions of dollars during the Great Depression. From calendars to Madame Alexander dolls, the quints generated tons of memorabilia.
As a result of the exploitation, the sisters suffered from psychological and personal issues (alcoholism, bipolar disorder, broken marriages) into their adulthood.
In 1997, the last three surviving sisters sued the government of Ontario for restitution for the havoc in their lives. They were awarded millions.
Annette and Cécil are the only two sisters still alive today. These miracle babies lived sad lives, which is why the truth behind their story must be told. Please SHARE their story with your friends on Facebook.