The news: This is how you make history.
In a landmark move that drew support from both sides of the aisle, the U.S. Senate has confirmed Diane Humetewa as the first-ever Native American female federal judge: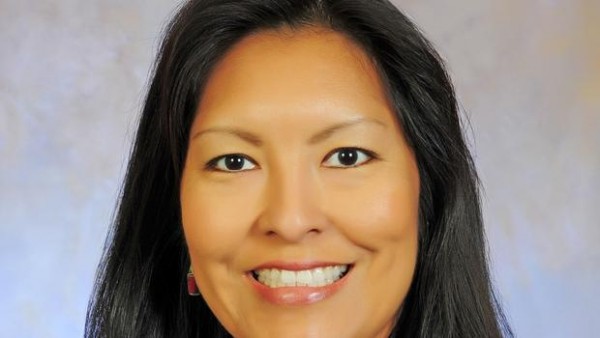 mage Credit: CBS
The vote Wednesday passed 96-0 and confirms the former U.S. attorney to the U.S. District Court for the Court of Arizona. As a member of the Hopi nation, she is also the first active member of a Native American tribe to serve on the federal bench, only the third Native ever to do so.
Wow. Sen. John McCain (R-Ariz.) has been Humetewa's supporter since he nominated her to be a federal judge in 2007, and he was one of the first politicians to applaud her appointment: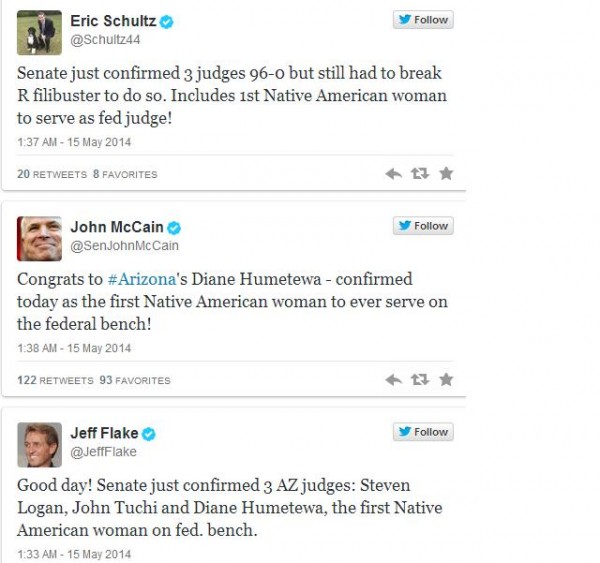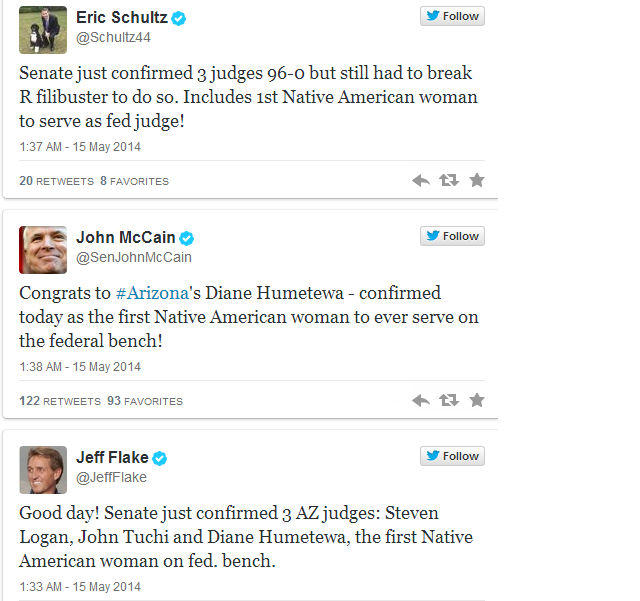 This brief celebration highlights the troubling underrepresentation of indigenous people in American politics: Tribal leadership roles aside, only 23 of the thousands of elected officials who've served throughout U.S. history have been Native American. This is despite indigenous people making up 5.2 million of the population who face the continuing burden of a history of oppression and disenfranchisement that's granted them unique insight into the flaws in America's justice system.
Considering this, Humetewa's appointment has not gone unnoticed by indigenous organizations.
"NCAI greatly appreciates the efforts of the President and Senate in achieving this historic confirmation," the National Congress of American Indians said in a statement.
"There are many qualified, talented people like Diane Humetewa in Indian Country who are able and willing to serve. We eagerly anticipate many more nominations of Native people to the federal bench and other offices."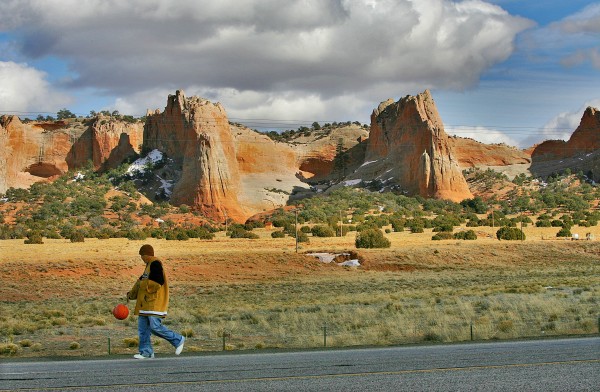 " class="alignnone size-large wp-image-983″ />
Image Credit: AP
But: Broader indigenous representation isn't the only factor that makes Humetewa's appointment important. She's also a "national expert on Native American legal issues" in a state where her experience and expertise is sorely needed.
Not only has Arizona caught flack for the controversial SB 1070 — a bill that's effectively allowed for the criminalization of "suspicious" (read: brown) citizens — it also faces education funding challenges that disproportionately impact indigenous people.
Last year alone, sequestration cuts decimated much of the $65 million in federal Impact Aid money allotted for schools on reservations. In a state like Arizona, where the four-year high school graduation rate for Native American students stands at 62% — compared with 78% statewide — the last thing tribes need is less money for schools. Yet as a result, the Window Rock Unified School District on Arizona's Navajo reservation had to shut down two schools in 2013.
"One of things we're doing in Indian country is fighting for the survival of our education," then-Hopi Tribal Council Chairman LeRoy Shingoitewa told Secretary of Education Arne Duncan last year, "and we're always playing catch-up with everyone else. This is very disheartening for tribes."
Observers hope that issues like this will receive a prominent advocate in Humetewa. Her appointment alone is a move worth celebrating, but when push comes to shove, her toughest battles inevitably lie ahead, both in the courtroom and on the legal frontlines of her home state.
Luckily for Arizona, she's more than ready to accept the challenge.