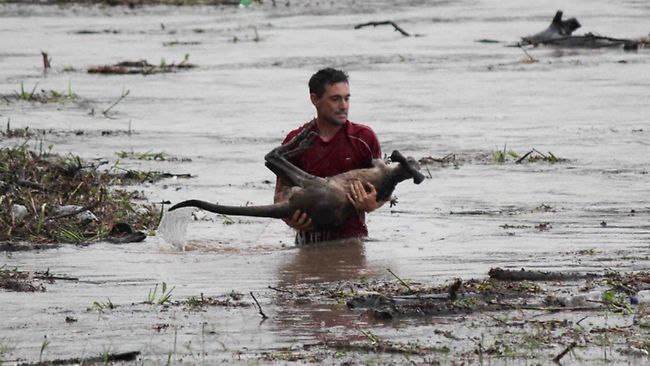 West Ipswich man Ray Cole saved a joey from floodwaters and has since earned international fame.
THE FULL STORY HERE
A WILDLIFE warrior who risked his life to rescue a kangaroo in Queensland's floods is a former Melbourne resident who left Victoria six years ago because he "couldn't stand the weather".
Ray Cole, a father of five, was cheered by onlookers but threatened with arrest by police when he waded into turgid waters to pluck the drowning joey to safety.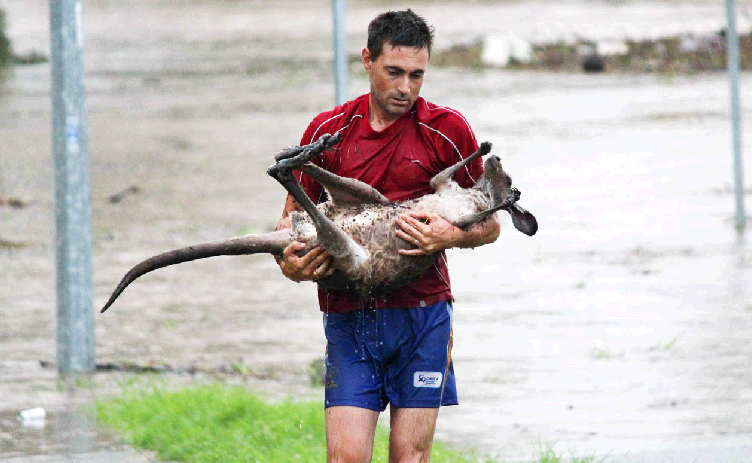 Mr Cole said he "couldn't stand there and watch our coat of arms just drown".
"When I was growing up on the streets of Preston we learned and lived by the motto that you reach out and help others," Mr Cole said.
Like Sam the koala, who was pictured taking a drink of water from a firefighter during Victoria's Black Saturday inferno, the dramatic images of Mr Cole and the kangaroo have been seen around the world.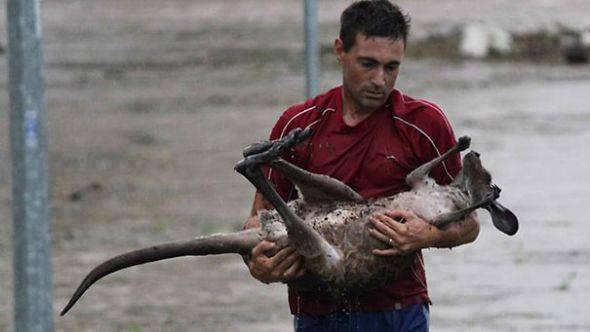 Mr Cole, 39, was among about 50 people gathered at Ipswich's One Mile Bridge who saw the distressed young animal out of its depth in the fast-flowing torrent.
"I could just see its little head bobbing up and down and I knew it didn't stand a chance," he said.
"So I went in and by the time I got to it, it had been hit by a log and its eyes were the only things still out of the water.
"I grabbed it by the scruff of the neck and turned it over and carried it back to shore."
Mr Cole said he was abused by angry police, who said he'd risked his life to save the joey.
"You do what you do and I can live with that," he said.
"Last time I saw it, people had wrapped a blanket around it and it was back on its feet."
RSPCA Queensland inspector Travis Cooper said native animals would be the most likely to survive the floods.
"They can swim so have more chance to get of danger," he said.
"It's not as easy for domestic pets or livestock that can't escape paddocks or houses at risk of floodwaters."