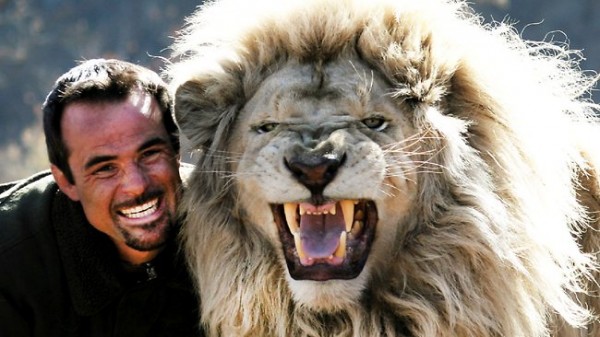 The Lion Whisperer: Kevin Richardson with one of his male lions in South Africa. The zoologist has reared 27 lions by hand and is treated as one of the pack
A SOUTH AFRICAN zoologist has pulled off the ultimate home relocation, moving 27 adult lions from one game reserve to another in a Mercedes Sprinter van.
Remarkably, a few months after their arrival at the park north of Pretoria, all lions are happily settled and the only member of the troop struggling with migration trauma is the family dog.
Styling himself as "The Lion Whisperer", zoologist Kevin Richardson has pioneered a new way of interacting with Africa's apex predator that almost defies belief.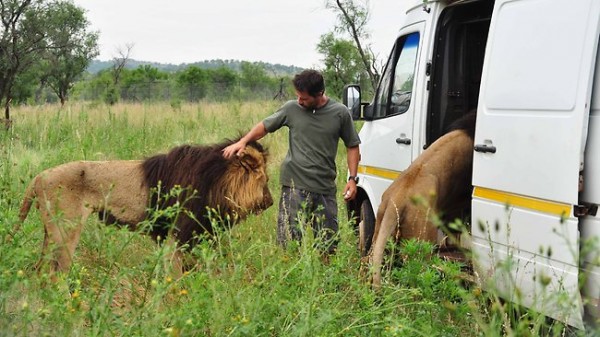 The Lion Whisperer: Kevin Richardson says he is accepted as a part-time member of the pride. Photo: lionwhisperer.co.za
Start of sidebar. Skip to end of sidebar.
End of sidebar. Return to start of sidebar.
After rearing his lions by hand he is accepted as a part-time member of the pride, and without fear of injury, rolls around with them, being licked and nuzzled as if he were one of the pack.
Sustaining only minor injuries in 15 years working with lions, he locks lips, puts his hand in their mouths and has even slept with his ferocious big cats without injury. How does he do it?
"Despite conceptions, lions are not mindless man eaters," says Richardson, as he relaxes in the midday shade at his Dinokeng game reserve, north of Pretoria.
"They're actually very tolerant of people if you respect them. I've developed very intimate relationships with my lions over fifteen and a half years, and it's based on mutual respect."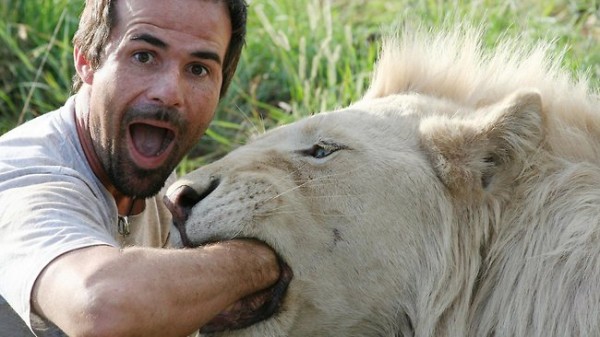 The Lion Whisperer: Kevin Richardson with one of his lions in South Africa. The zoologist has reared 27 lions by hand and is treated as one of the pack. Photo: lionwhisperer.co.za
Redefining notions of how lions are best mastered, Richardson, 38, who is married with a small child and another on the way, breaks every animal safety rule in the book.
Rather than trying to crush the animals' spirits with sticks and beatings, the zoologist develops personal bonds with each creature.
He claims to know his lions intimately, understanding what makes them happy and sad, and thus knowing when to give them a wide berth if they're having a bad hair day.
Inspired by George and Joy Adamson, the Kenyan game wardens who raised a lion cub named Elsa in the 1950s, Richardson says the "treat them mean" school of dominating lions didn't hold water.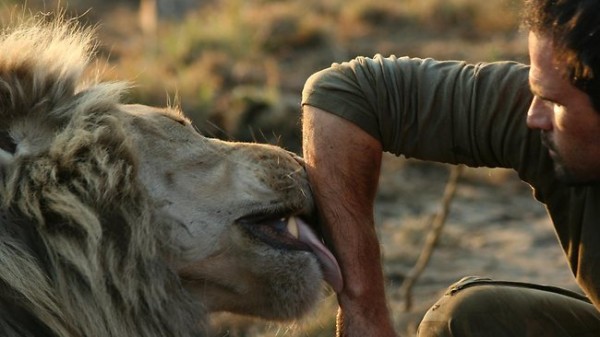 "I discovered that all lions have an ability to show affection."
"Like human parenting, the best way to develop a bond is to start when they're young. I met Tau and Napoleon when they were six month old, and we have developed a really close relationship."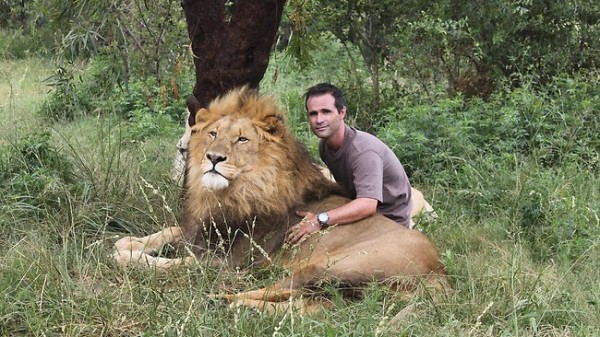 "Now they're old men turning sixteen in June. In the wild they would be dead already, battle-scarred and ousted by younger males, destined to roam the plains alone."
"It all resolves around respect, a lot of people can bully a lion when it's a cub, then when it gets to two or three it gives a bit back, and a lot of people fall by the wayside.
"A lion is not a possession; it's a sentient being, so you must pay attention and developing your bond like with any relationship.
"Over 15 years I've learned how lions grow together, and now they really accept me."
But surely he's scared?
"Fear doesn't come in to it," Richardson says.
"It goes against the grain for most people who believe lions are killing machines.
"Do you ever fear that your dog will attack you? It never enters your mind, so you're relaxed. If you walked in scared your dog would pick up on it. You feed off each other, pardon the pun!"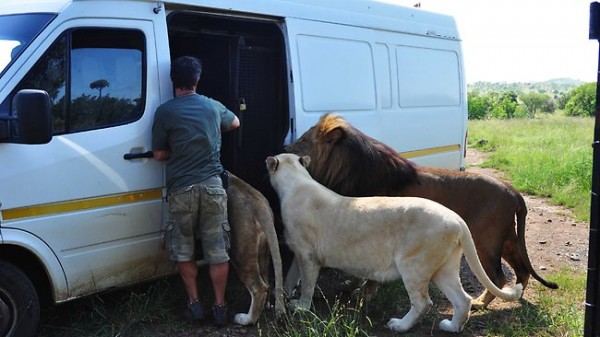 Does he ever worry his lions will turn on him? Ruminating on the fate that befell Californian Timothy Treadwell, who was eaten by grizzly bears in Alaska after spending many summers with them,
Richardson says anyone trying to engage with completely wild animals is crazy.
"Treadwell was seeking something he couldn't find in people and started to believe he was a bear."
As for Siegfried (Las Vegas performer attacked by tiger) every night their animals had to perform in front of a large audience."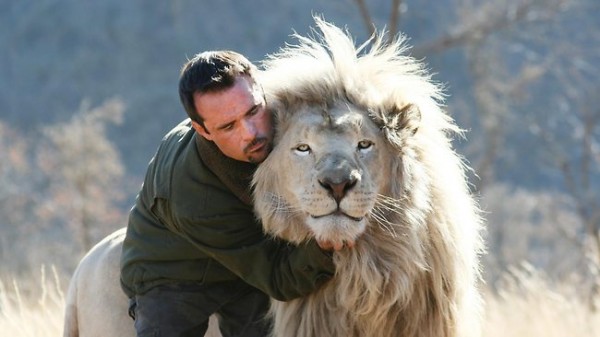 "How would you feel like doing that every day?"
"Eventually a tiger is going to have a bad day – you just have to know how to recognise when an animal is unhappy, and leave it well alone."
Growing up surrounded by nature, as a boy Richardson kept crickets under his bed and had a pet toad.
As a teenager he was dubbed "The Bird Man of Orange Grove" for his love of South Africa's many birds.
After studying zoology at university he began a career in physiotherapy.
By chance he treated businessman Rodney Fuhr, who owned a lion park near Johannesburg and invited Richardson to care for two six month old cubs Tau and Napoleon. And so the love affair began.