Shark Week ended several weeks ago, but one razor-toothed carnivore didn't get the memo.
A Massachusetts beach was closed on Monday afternoon after the Massachusetts State Police Airwing spotted a great white shark approximately 75 to 100 yards off the coast of Duxbury, Massachusetts.
SEE ALSO: Goliath Grouper Gobbles Up a 4-Foot Shark in 1 Bite
The air crew immediately called the Duxbury Police and the Duxbury Harbormaster, as there were many people both on the beach and swimming in the water, according to the Massachusetts State Police. The Massachusetts Marine Fisheries identified the shark as a great white, approximately 12 to 14 feet in length.
The beach was closed for about two hours, after which the shark swam back to deeper water, CBS News reported. There were no injuries. After the beach reopened, the Duxbury Fire Department told beachgoers to "swim at your own risk."
One beachgoer even had a special message for the visiting shark, by way of the classic film Jaws.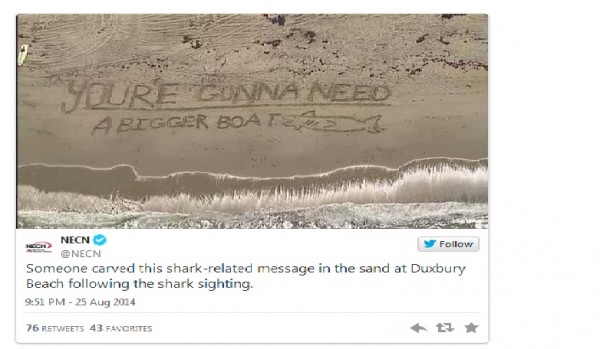 Great white shark sightings are rare in Duxbury, according to Amy Mahler, a spokesperson for the Department of Fish and Game who told The Boston Globe that Duxbury is an unusual location for such sightings.
Even so, Monday's visitor is the second shark spotted in Massachusetts waters in two days. On Sunday, a shark was spotted about 115 yards off a beach in Wellfleet, Massachusetts — about 70 miles east of Duxbury — on the opposite side of the Cape Cod Bay. The Wellfleet shark was estimated to be about 10 to 12 feet, according to a lifeguard who spotted it. And last week, a pilot saw four sharks just off Cape Cod in Chattham, Massachusetts.
Mahler said one reason why there have been more great white shark sightings recently may be due to the increase in the area's gray seal population — a favorite shark snack.
Have something to add to this story? Share it in the comments.