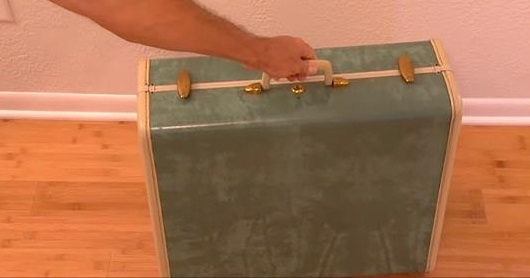 Old vintage suitcases are gorgeous but cumbersome! They definitely look good but lugging around that heavy hard-shelled luggage is exhausting.
It's no wonder we've almost totally gotten rid of the wheelless baggage. Unfortunately, that means many of us have a ton of old suitcases and no use for them. They can be in perfectly good condition. Sometimes they can even be quite aesthetically pleasing… but what do you do with them.
Finally, we've got a solution! DIY Youtuber, Kip Kay, collaborated with Mike's Hard Lemonade to create some #MikeHacks instead of #Lifehacks. (Very, pun-ny. I know.)
This idea to creatively upcycle, or repurpose an old material for something new, an old suitcase into a picnic table is pretty cool. Turning, as they say, "trash into treasure," reminds me a lot of this easy wooden pallet side table or this simple beer bottle tutorial.
The video is only 2:00 minutes long, which is a testament of how simple this DIY is!
The suitcase can still hold all of your picnic needs but it unfolds into a lovely dining table!
What You'll Need:
An Old Suitcase
Folding Leg Brackets
2×2 Square Wood
Optional If You Want Speakers
Two 2" 8ohm drivers
Mini Audio Plug
Share if you're excited for warm weather and endless picnics!