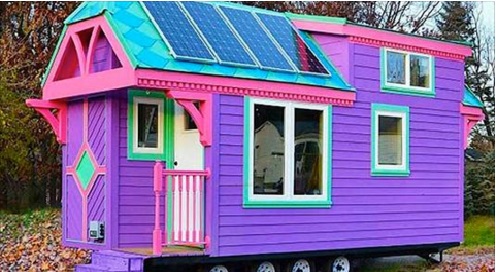 You're about to be blown away by the coolest tiny house I've ever seen. Seriously.
Meet Ravenlore, a Victorian-painted tiny house known for its bright, candy-colored siding, trim, and roof.
This magically whimsical tiny home on wheels was built by Jim Wilkins of Tiny Green Cabins. It's 176 square feet, 22′ long by 8′ wide, and weighs about 13,500 lbs. Because Nicki Jo Davis' new home was built over the wheels, she gets more interior space, albeit a heavier load. But Nicki can handle it, because she's a firefighter!
Ravenlore was delivered to Nicki Joe in Savannah, GA. Nicki wanted to clear the clutter and downsize, and Ravenlore allowed her to do so for just under $60,000. But the home's rainbow exterior isn't the only surprising thing about it. Ravenlore's interior may be small, but it boasts a built-in solar power system, clever storage space hidden in the floor, a desk space, and a light-flooded kitchen.
"When I saw the design with the gingerbread trim, I knew it had to be purple, pink, blue, and green," Nicki Jo Davis says. "I love that it's completely ridiculous. It makes me really happy."

It makes me so happy, too… and a little jealous! Do you think you could call Ravenlore home? Let us know, and please SHARE this with your friends Facebook!