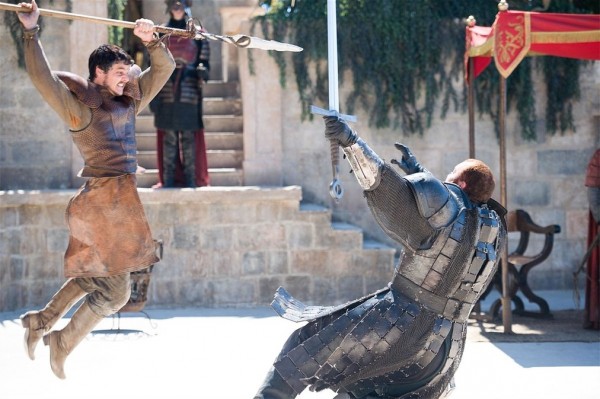 As we're all aware, this year Game of Thrones was smashing more than gilted viper's heads. The show not only topped its own cross-platform season average but also overtook The Sopranos as HBO's most watched show. Records were being gouged out all over the place but now George R.R. Martin's popular creation can sit on another, slightly more dubious throne.
Entertainment Weekly are reporting- although it's hardly much of a surprise- that the series has also smashed the record as the most pirated show:
According to piracy-monitoring blog TorrentFreak, the season 4 Thrones finale "The Children" had roughly 1.5 million downloads within just the first 12 hours after the finale aired on the premium cable network, with more than 250,000 users sharing the same file (a record-breaking "swarm" of users). The site estimates that total number of downloads will exceed 7.5 million in the days to come.
In this age of social media it can hardly come as much of a shock. With the show being released in America before foreign territories, simply waiting for the air date in many cases can be like wandering through a minefield of spoilers. HBO's president of programming seems pragmatic about it all, even referring to the record as "a compliment of sorts," noting:
the demand is there. And it certainly didn't negatively impact the DVD sales. [Piracy is] something that comes along with having a wildly successful show on a subscription network
Jeff Bawkes, CEO of parent company Time Warner, went as far as to say:
Game of Thrones is the most pirated show in the world. That's better than an Emmy.
Respect.
Do you think this is an honor or a curse? Let us know below.