Hi dear friends, I hope you've all been well! It's been a busy few months for me and I've not had much time to stay on top of my blog and facebook page. As always, I am extremely grateful to all of you for your support, so I've come up with a little gift especially for you! A free pattern! Little Lark Lavender Sachets are super easy to make and are perfect to whip up as a gift for someone or to keep for yourself.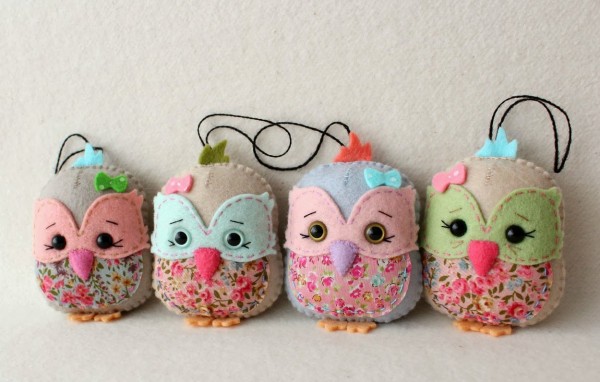 Each little bird measures about 3 inches tall and is filled with a mix of polyfil and dried lavender. Here's what you'll need to make one:
.: 4×6 inch felt for body
.: 2×3 inch fabric for the tummy
.: 2×3 inch felt for eye patch
.: Scraps of felt for beak, toes, bow and hair tuft
.: Pair of 6mm black safety eyes or pair of 7.5mm coloured safety eyes
.: 7 inch length of crewel embroidery thread or narrow ribbon for hanging loop
.: Polyfil
.: Embroidery thread/floss
.: Dried lavender
.: Embroidery scissors, orange stick, tooth pick, Fray Check
.: Disappearing ink pen or water soluble pen
** Please read through all instructions before starting this little project.
** I've used one strand of embroidery thread/floss for seams etc. Keep your stitches neat, tiny and evenly spaced.
To download the pattern pieces, please Click Here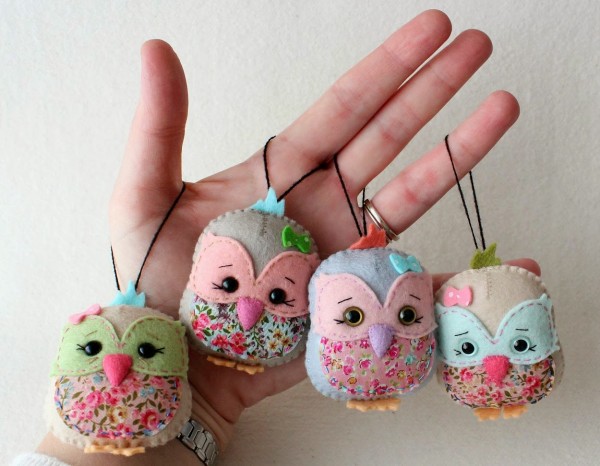 Print pattern pieces and cut out.
: Pin pattern pieces onto corresponding felt/fabric and carefully cut out each piece.
: Transfer dotted lines onto felt and fabric with your disappearing ink marker – these will help with placement.
: Run a thin bead of Fray Check along the outer edge of the fabric Tummy and allow to dry.
: You'll notice on the Body pattern piece that I've drawn the placement of each piece onto it. Use this as a guide when you're positioning each piece in place.
: Pin Tummy onto front Body and sew on with tiny running stitches.
: Position Eye Patch in place and sew on with tiny running stitches.
: Center the Beak, applique the sides on leaving the top edge open. Add tiny pinches of stuffing, gently pushing it in with a tooth pick and applique opening closed.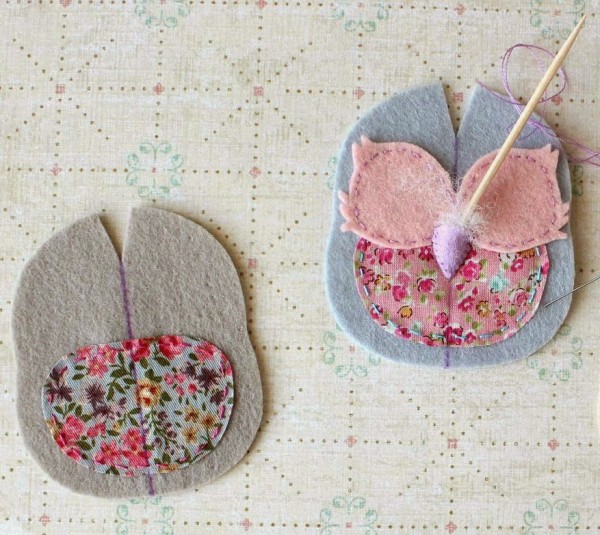 Whip stitch darts on front and back Body pieces, making sure to sew them from the back of the felt.
: To make the ornament loop, fold your length of ribbon/crewel embroidery thread in half and knot the end.
: Position knotted area onto the dart on the back Body (wrong side of felt) and stitch securely in place. Your stitches will blend in with the stitches you've used to close the dart.
: Center the bottom of the Hair Tuft just below the top edge of the back Body as shown and sew it in place with a few stitches, making sure the keep the stitches a few millimeters below the top edge of the back Body.


Working on the front Body piece, mark dots on the Eye Patches for your eye placement.
: Being very careful, make a tiny hole through each dot using the tip of your embroidery scissors. Insert safety eyes and connectors at the back. Add tiny eyelashes at the outer corners of each eye and eye brows above.
: Position bow just above the eye patch and sew in place with couple of teeny stitches in the center of the bow.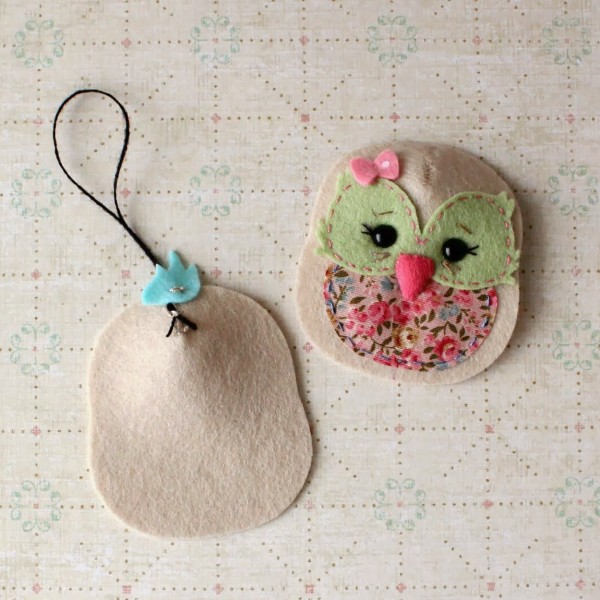 Place front and back Body pieces together, wrong sides facing and pin.
: Blanket stitch all the way around the body, leaving an opening at the bottom for stuffing.
: Stuff firmly, alternating with polyfil and dried lavender.
: Blanket stitch opening closed. Don't cut your thread just yet, bring it out through the center of the bottom seam. You can use it to sew on the little feet in the next step.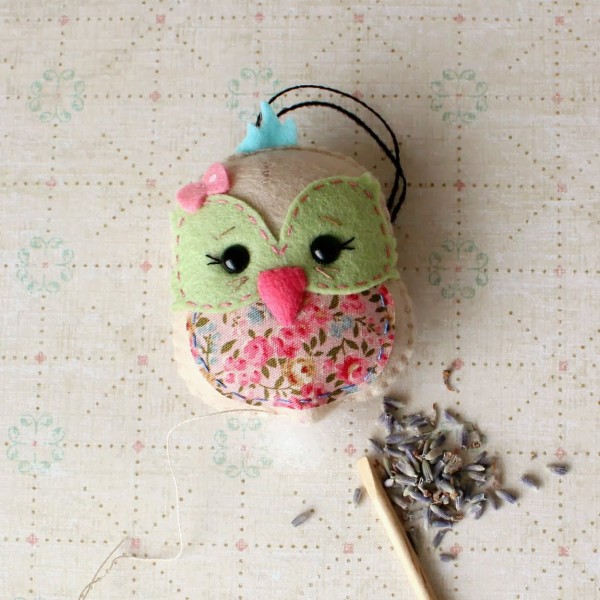 : Pin Feet onto the bottom edge of the Body, making sure that they are evenly positioned on either side of the center of the bottom seam.
: Stitch on with tiny stitches.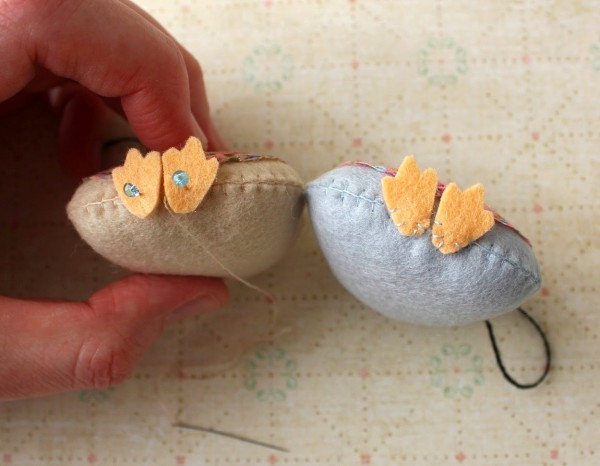 See how easy and fun that was?! I do hope you'll make a flock of them and share some pics on my facebook page: https://www.facebook.com/gingermelondolls?ref=hl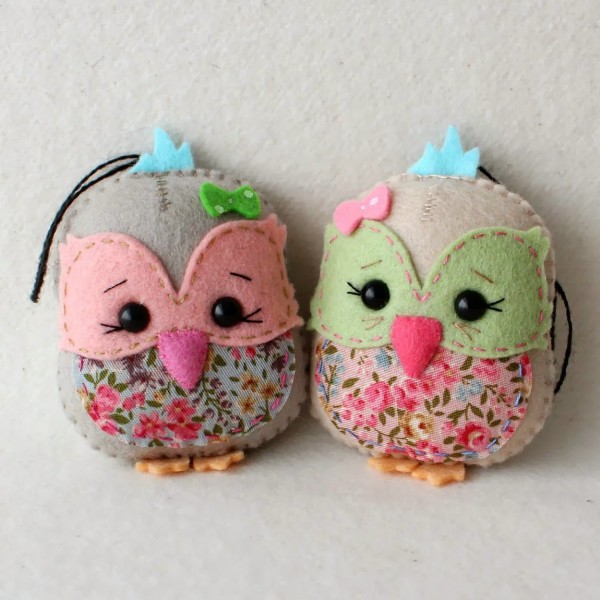 I used the 6mm black safety eyes for these two…
And the 7.5mm coloured ones for these two.
Wishing you all a happy, crafty day!
~Shelly xo