An Oklahoma City police dog killed while helping his partner catch a knife-wielding thief has been laid to rest with full honors.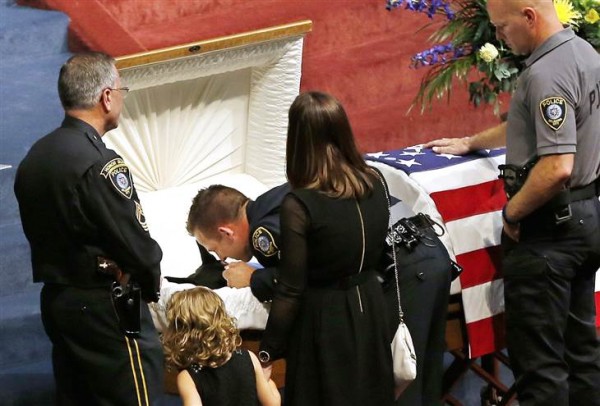 Oklahoma City police officer Sgt. Ryan Stark leans over the casket of his canine partner, Kye, who died after being stabbed by a burglary suspect.
More than 1,000 people and dozens of service dogs attended the funeral service last week for Kye, a 3-year-old Belgian German Shepherd that was stabbed to death by the suspect.
Kye's partner since serving on the police department's K-9 unit, Sgt. Ryan Stark, shed tears and expressed a final farewell to the dog before his flag-draped coffin was buried and the canine was given out a 21-gun salute.


Police officers file past Kye's casket during his Aug. 28 funeral.
Kye was injured while Stark was responding to a stolen car report last Sunday, August 24. A 22-year-old suspect had led police officers on a car chase until he crashed his vehicle in a ditch and then tried to flee by foot. Kye chased after the suspect and Stark, when he caught up to both of them, saw the suspect stabbing the dog repeatedly with a knife, Capt. Dexter Nelson, a department spokesman, told TODAY.com.
Police dog bids touching farewell to fallen human partner
Stark then shot and killed the suspect. He currently is on administrative leave pending an internal investigation into the shooting, Nelson said.
Kye died from his wounds the day after he was stabbed.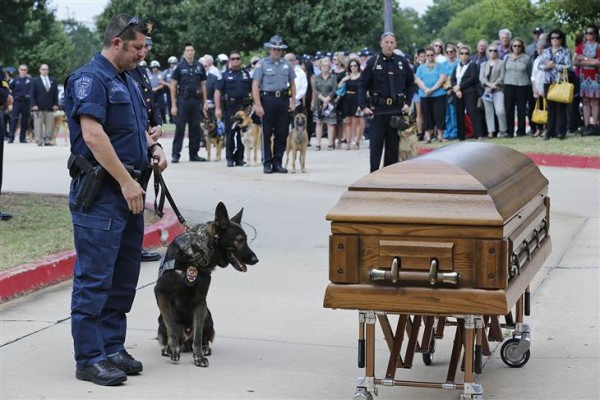 Canine officers and their handlers from around the state stopped at Kye's casket.
"Without question, Kye's sacrifice saved the life of one of the officers. We will forever remain in your debt," said Sgt. Coy Gilbert during the eulogy at the dog's Aug. 28 service.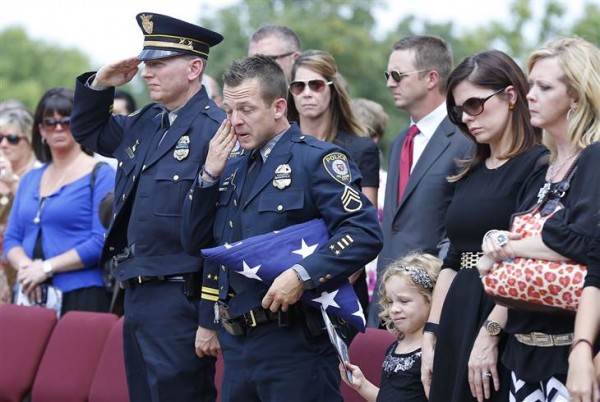 Oklahoma City police officer Sgt. Ryan Stark wipes away a tear following funeral services for his canine partner, Kye.
Although Nelson didn't have an official estimate for how many people attended Kye's service, he said the numbers easily surpassed 1,000. In addition to police officers and the general public, K-9 police dogs and their handlers from the region also attended the ceremony to pay their respects.