Peacock-emblazoned garment expected to fetch at least $200,000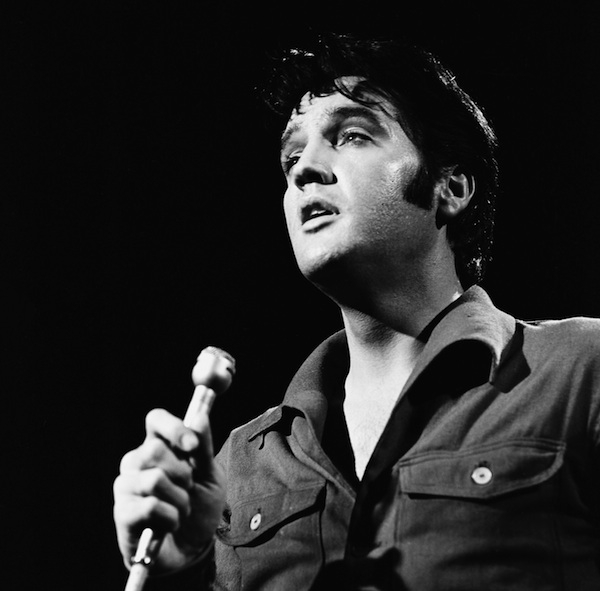 By Miriam Coleman
June 22, 2014 6:11 PM ET
A white suit emblazoned with a peacock that Elvis Presley wore while performing in Las Vegas is going up for auction this week. And one thing that makes this particular garment special, according to Time, is that it's stained in the armpits with the King's own 40-year-old sweat.
Find Out Where Elvis Presley Ranks on Our List of the 100 Greatest Artists
The sweaty suit is part of a large sale of rock memorabilia that Sotheby's is hosting this Tuesday. The auction will also include a red military-style jacket worn by Michael Jackson, Jimi Hendrix's guitar strap that he wore at the 1969 Newport Pop Festival, John Lennon's upright piano, Kurt Cobain's smashed Univox guitar and Bob Dylan's handwritten lyrics to "Like a Rolling Stone," among many other items.
The peacock jumpsuit, which the auction house describes as having "minor staining and browning" as well as a nonworking zipper, is decorated with rhinestones and gold lame detailing. It is expected to fetch between $200,000 – $300,000. Two other articles of Presley's apparel are also up for auction, but estimated to go for much less. The red button-down shirt that he wore during the 1964 MGM film Kissin' Cousins (in "excellent condition") has an estimated price of $10,000 – $15,000, while a white wool jacket worn in concert in the early 1950s, also in excellent condition, is estimated at $7,000-$9,000.
The sweat-stained garment isn't the first Elvis item of a particularly intimate nature to go up for auction. In 2012, a pair of Presley's stained underwear, worn during a 1977 concert, were offered up for sale by a U.K. auction house, but they failed to bring in the reserve price of £7,000.