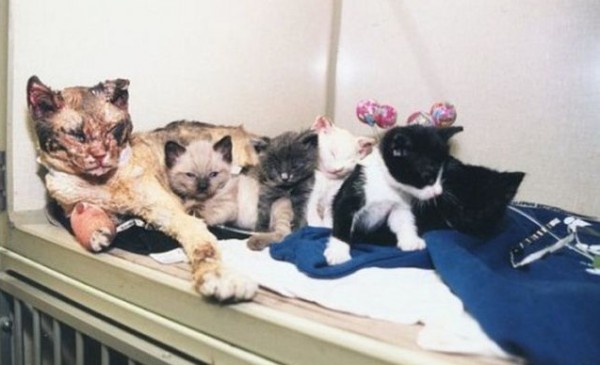 This cat in New York might have a bigger heart than some humans. Meet Scarlett the cat who became a world famous mother in 1996 when she selflessly walked through flames to rescue all five of her kittens from a burning building. She is living proof of the strength and willpower of motherly love.
Scarlett's harrowing ordeal began when she and her kittens were living in an abandoned garage possibly used as a crack house in Brooklyn, NY when suddenly a rapid fire started to sweep over the building. As the NYC Fire Department began to gain control over the fire, they noticed Scarlett carrying each of her kittens one by one out of the fiery garage.
Taking a closer look, Scarlett's eyes were blistered shut, her paws were burned red, and her fur was badly singed. Her face was missing nearly all of its fur. It was clear that Scarlett's five trips through the flames left her badly scorched, yet she still touched each of her kittens with her nose to make sure they had all made it out safely. She then became unconscious and collapsed.
David Gianelli, a firefighter who noticed Scarlett, took her to the local animal rescue shelter, North Shore Animal League in Port Washington, NY. The facility happily took in the feline family and began to treat their wounds.

After three months of intensive care and treatment, Scarlett and all but one of the kittens had made a full recovery, and were ready to be adopted! Thousands of letters poured into the shelter offering to adopt the family, and each of the surviving cats found nurturing homes to live out their days.
Scarlett herself was adopted by a kind woman named Karen Wellen, who had been in a traffic accident herself and consequently vowed to take in a special needs animal. Scarlett was her perfect opportunity! Needless to say, Scarlett lived a long and happy life after her heroic motherly deeds.