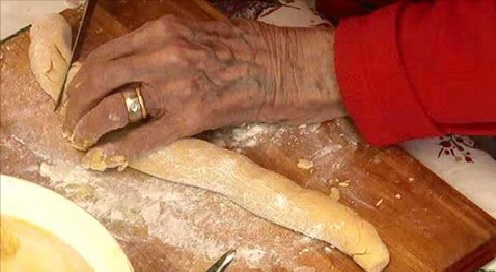 Ninety-three-year-old cook and great-grandmother Clara recounts her childhood during the Great Depression as she prepares meals from the era. Learn how to make simple yet delicious breakfast dishes while listening to stories from the Great Depression.
Watch as Clara lovingly prepares a plate of sugar cookies made with sugar, eggs, flour, and salt — a sweet treat that her family only ate on Sundays. She also brews coffee in and old-fashioned "Depression Pot."
During this time period, families only had a few ingredients at their disposal, so they had to get creative in order to keep themselves fed. Viewers can't help but be completely charmed by Clara as she shows off her old photographs from her childhood, reminisces about her "dapper" father, and, of course, dunks her cookies into her warm cup of coffee. "Times were different in those days," she says. "But now when I think of it, they were interesting."
Clara passed away in 2013. I'm so glad we can remember her life by enjoying her wonderful history and cooking lesson, all in one.
What do you think of Clara's Great Depression breakfast? Let us know, and please SHARE this video with your friends on Facebook!