This is the emotional moment a 29-year-old deaf woman wept as she heard her own voice for the first time.
American Sarah Churman was fitted with a state-of-the-art hearing implant nine weeks ago, having spent her whole life in virtual silence.
Her husband decided to film her as nurses turned on the implant and Mrs Churman finally heard the world at full volume.
She posted the video on YouTube and wrote underneath: 'I was born deaf and 8 weeks ago I received a hearing implant.
'This is the video of them turning it on and me hearing myself for the first time :)'
The moving video has now been seen by more than a million people. As a nurse switches the device on and asks if she can tell, Mrs Churman nods in amazement and bursts into tears.
She is so overwhelmed she can hardly communicate her feelings, laughing and crying as she covers her face with her hands.
Wearing a plain white T-shirt, with her dark hair falling around her face, she nods as the nurse asks if she can hear others and herself, adding: 'My laughter sounds loud.'
At the end of the video, when asked if she wants to hear her husband's voice, she can only cry even more, pressing a tissue over her face as her husband is heard chuckling with happiness.
Mrs Churman is now finally be able to hear her three-year-old daughter, who appears as a baby in another one of her YouTube videos.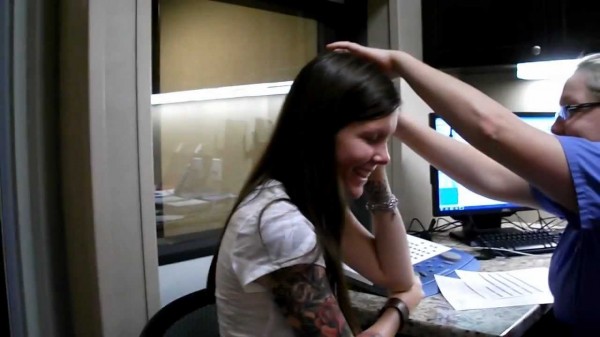 The American woman had been wearing hearing aids from the age of two, but had mainly relied on lip-reading, because 'hearing aids only help so much'.
After messages poured in from intrigued viewers, Mrs Churman added: 'For those of you who have asked, the implant I received was Esteem offered by Envoy Medical.'
The Esteem implant is embedded in the ear and works through ear drum vibrations, unlike most hearing aids, which use microphones and speakers.
One YouTube user wrote: 'The scientist(s) who invented this device should be sainted, knighted and given a nobel prize.'
Another said: 'This is one of the most beautiful and moving things I've witnessed. We're all so happy for you.'
Mrs Churman, who is flying to New York to appear on U.S. news programme the Today Show on Monday, replied on the site: 'Thank you for all the positive comments… thanks for all the people who are kind.'
In response to viewers who were amazed at her ability to speak clearly, the formerly deaf woman said: 'My whole life I've been complimented on how well I speak.
'I don't really have an answer for you other than I have always had a passion for reading, grammar, and English.
'My hearing loss was/is considered severe to profound. I've worked very hard to be able to interact and blend in… only thing I can say is 'God is good'.'