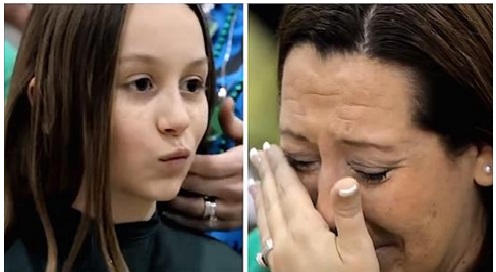 When 10-year-old Katelyn brought home a flyer for St. Baldrick's Foundation, Katelyn told her mom what she wanted to do — she wanted to shave her head for kids with cancer. And that's exactly what she did in 2014, in honor of a little girl named Emily who was diagnosed with osteosarcoma.
Not only did Katelyn shave her head bald in front of an auditorium full of people, but she also raised more than $7,000 for childhood cancer research. In the video below, watch the tear-jerking moment Katelyn sits down in the chair and takes a deep breath as the buzzers shear off her beautiful locks. She's nervous, she's excited, she's overwhelmed… and there isn't a dry eye in the room.
Katelyn's mom was blown away by her daughter's bravery and conviction. "I can't tell you how many parents said, 'I could never let my daughter do that, I could never let her shave her head,'" she says. "But when you have a 10-year-old who can raise this kind of money and go up there and be brave and shave all her hair off, that says a lot. I don't think she needs to shave her head to prove a point, but, why not?"
Bravo, Katelyn. You're such an awesome inspiration! Please SHARE this video with your friends on Facebook!