Sarah Schneider is an artistic, free-spirited mother of three young kids. She has a strong eye for home design, and "upcycling" otherwise ordinary and/or unwanted items. Her biggest pet project to date is the incredible renovation of an old, dark, vintage Airstream trailer.
"Making a house a home is my passion," she says on her blog. "Making my spaces feel like home is what brings me happiness. The Airstream is no exception. I want our home on wheels — where we will journey and see the country to feel like home — to be comfortable, and inspiring. To evoke imagination, adventure, and creativity. I wanted it to feel wild and free."
With the help of her husband and kids, and after picking out just the right pieces to fit inside, Sarah managed to achieve a shabby-chic, cozy, and stylish makeover. To celebrate the Airstream's new chapter, Sarah named it Wandering Star.
The Airstream was dark and gloomy when Sarah began the renovation, a stark difference from how it looks today. From the newly painted walls and cabinetry and repurposed furniture, to beams of light and pops of gorgeous color, Wandering Star achieved everything Sarah set out to create.
Check out Sarah's work below, and please SHARE this incredible, tiny space with your friends on Facebook!
———————————————–
Just one look at the outside of the newly finished Airstream and it's clear you're in for a treat. Small lights are strung from one side to the other, and floral chairs are set out front when Wandering Star is parked.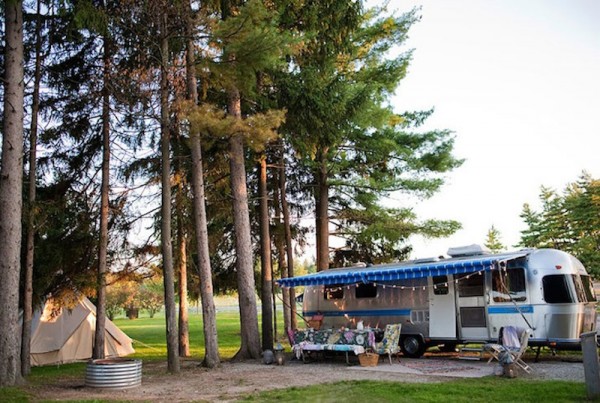 ——————————————————
Inside, the home is a complete homage to Sarah's favorite store, Anthropologie. When the store announced its new house and home collection, Sarah could barely contain her excitement — so much so that most of what you see inside Wandering Star is plucked right from their new collection.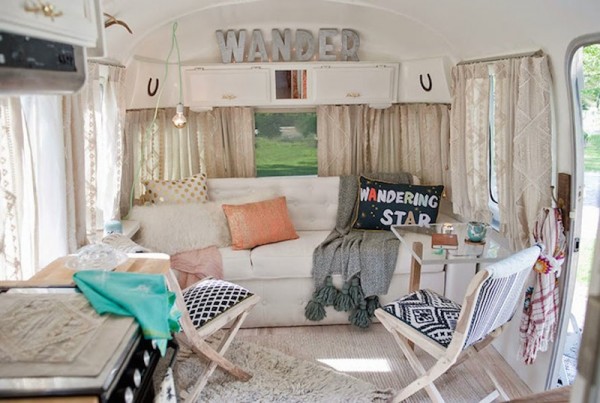 ———————————————————
The Airstream was dark and dreary when Sarah began the renovation, a stark difference from how it looks today. She painted everything white — from the walls, to the cabinetry, to the hardwood floors. She had the drapes cut down to fit the wrap-around windows. They provide privacy but also let in beautiful light. She also salvaged the original sofa and covered it with linen.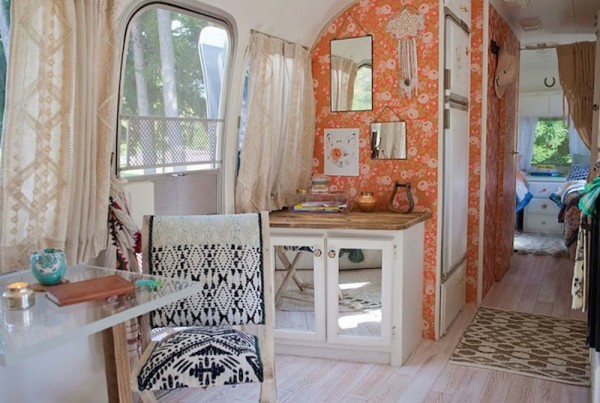 ————————————————–
Here's Sarah herself, busy in the adorable kitchen she so lovingly designed.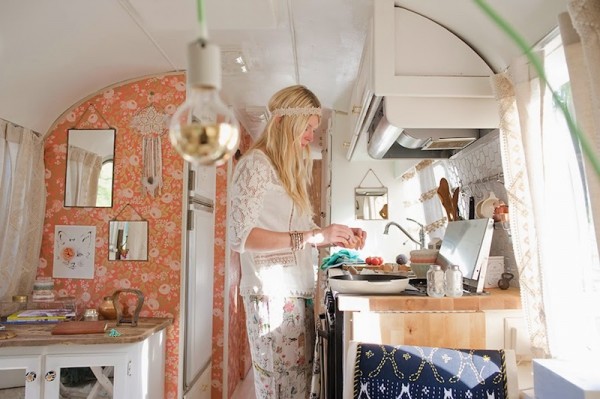 —————————————————–
The kitchen is tiny, so making the most of the space is key. Butcher block counters add warmth and the white octagon backsplash adds texture. She used leftover fabric from the drapes as a stove cover. But it's the fun accessories that make it truly special!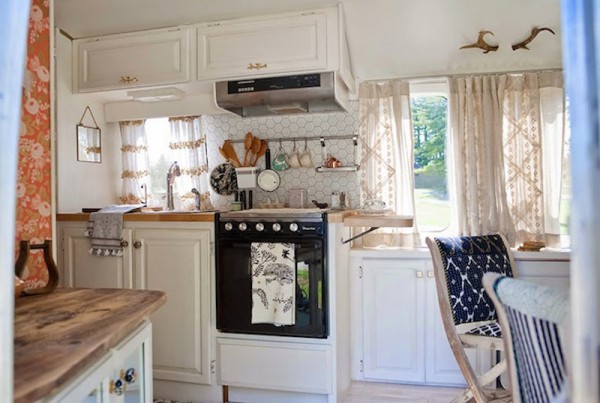 ———————————————————
Who wouldn't want to eat their meals at this brightly colored, cozy dining area? The front of the couch quickly converts into a dining space with a fold-out table and folding chairs. The dining set folds out of the way when traveling or not in use.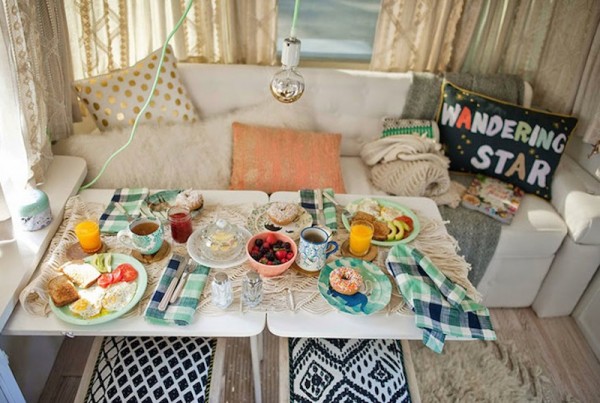 ———————————————————-
The front of the Airstream turns into a full-size bed to create a comfy, cozy bedroom. All of the colors and patterns work together in perfect harmony.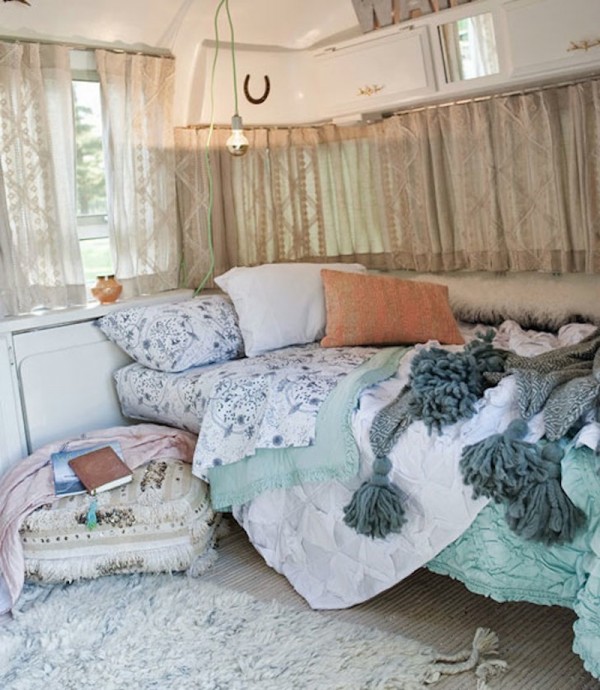 ———————————————————-
Sarah says the back bedroom was so fun to decorate. This area is for either her kids, or the adults. "Great for when we travel with the kids… or when I take it on girls trips," she says.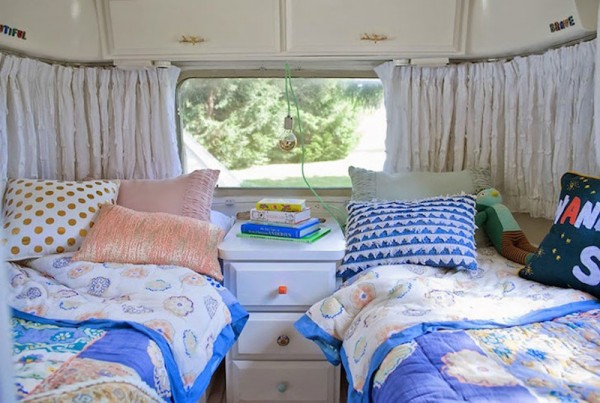 ————————————————————
The bath is also very small, so everything had to be made to fit this space. Some paint, new counters, knobs, shower curtains, and drapes did this space wonders! The sink is made out of a old farmhouse bowl.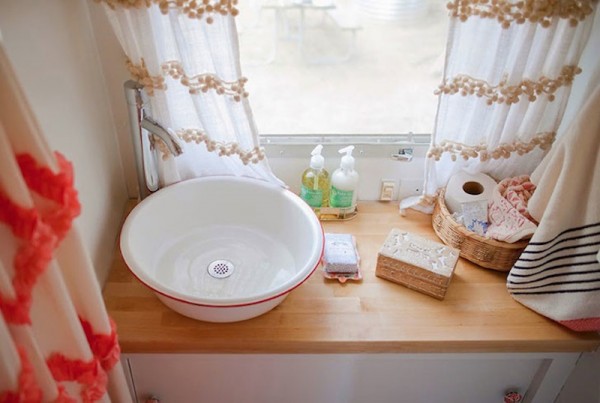 —————————————————————–
Every year for her daughter's birthday, Sarah invites mamas and daughters over to the Wandering Star for a girly camping party. "It's about community, fellowship, sharing, bonding and fun," she says. "A time to feel wild and free and enjoy our beautiful girls."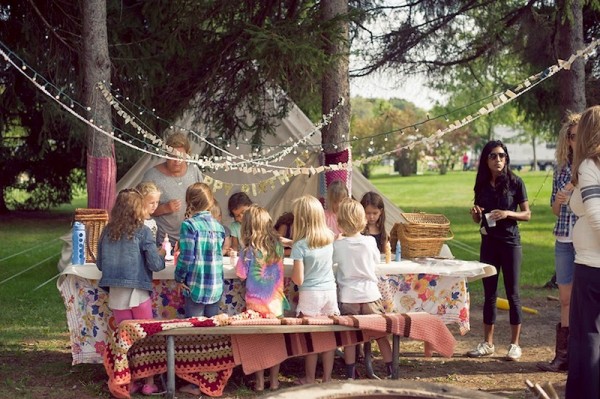 ——————————————————————–
"Bringing beauty and comfort to the outdoors while camping is a must," Sarah says. She set out to create a home on wheels for her and her family that would evoke imagination, adventure, and creativity. Looks like this mom achieved her goal — and then some.