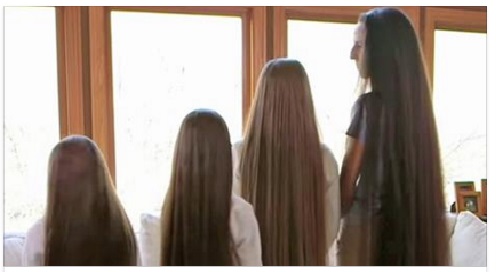 Tere Lynn Svetlecich Russell is a 43-year-old mother of five. She and her three daughters are known as the real life family of Rapunzels in Illinois.
Tere Lynn has had long, flowing hair since she was a toddler. Now, her three daughters are following in their mother's footsteps. Tere Lynn's hair is 74 inches, her eldest daughter Callan's is 36.75 inches, Cendalyn's is 36 inches, and her youngest Chesney's hair is 26.25 inches.
The mother attributes her long locks to attracting her devoted husband Chip. "She had amazing hair. Which was something very eye-catching and appealing to me," Chip says.
It may seem a little strange but hair can be very personal, another mom, Joan Irvine, wore the same beehive for 37 years.
Each of the Russell ladies uses a quarter bottle of hair conditioner each time they wash their hair.
"My daughters shampoo their hair in the shower and I will stand there with a handheld sprayer," Tere Lynn says. "I however do not shampoo my hair in the shower. I tried that once and my hair got so heavy with the water of the shower I landed on the shower floor."
Tere Lynn often slams her into car doors, gets it sucked into the vacuum while cleaning, or even stepped on by the kids. Their hair has won them awards in "Longest Ponytail Competitions" and is causing quite a stir.
The family is often seen wearing the same outfit, which only adds to their distinctive look. Watch as Tere Lynn takes the girls to a salon for the first time in their entire lives below.
Please SHARE if you were blown away by this family's dedication to their hair!