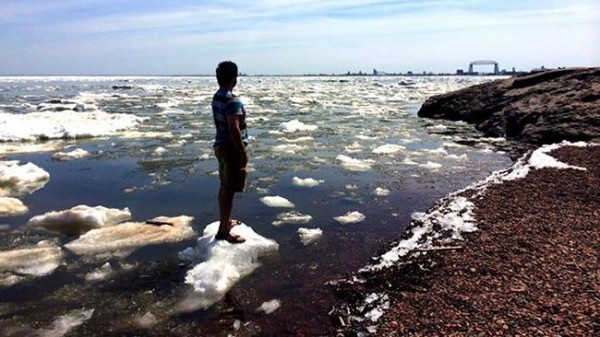 The Weather Channel Facebook friend Ben Ellison sent us this photo standing on a chunk of ice in Lake Superior on May 25, 2014. The temperature at the time in Duluth was 80 degrees.
The first 80s since the week after Labor Day induced a full-blown case of summer fever in the northern Great Lakes on Memorial Day weekend.
This led to the odd spectacle of folks heading to the Lake Superior shore to enjoy the holiday weekend, only to see chunks of ice still floating in the lake.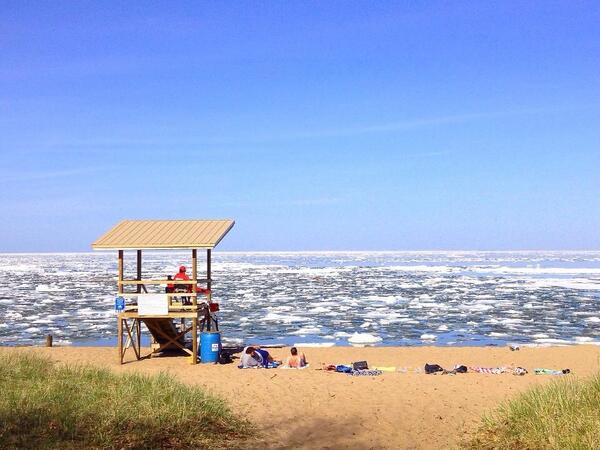 People laying on the beach in Marquette. Oh yeah, and a lake full of ice practically in June.
1:39 AM – 26 May 2014
As you can see above, it was hot enough to lay out a beach towel and work on your tan (or perhaps simply start one) in Marquette, Michigan, on Sunday, May 25.
Swimming, not so much. I'm sure the lifeguard in the photo above was praying he wouldn't have to rescue anyone crazy enough to swim in that dangerously cold water.
According to NOAA's Great Lakes Environmental Research Laboratory, just under five percent of Lake Superior still contained chunks of ice as of May 26. A separate analysis from Environment Canada found Lake Superior ice cover to be the largest for late May in records dating to 1980-81.
Environment Canada warned of "rotten very thick lake ice" near Duluth, east of the Apostle Islands and other locations in far southern Lake Superior, in what it deemed "an unusual presence of ice over the lake."
Given last winter and early spring, it's no wonder there's still ice to deal with.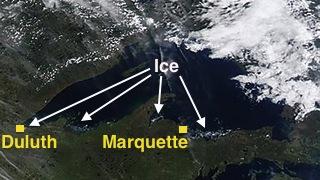 High-resolution visible satellite image on May 25, 2014 indicating areas of lingering ice over parts of southern Lake Superior. (NASA/MODIS via UW-SSEC)
December through March was the coldest such period on record in Marquette and Hancock, Michigan. High temperatures at the National Weather Service near Marquette failed to rise above freezing from December 6 through February 18, a record 75-day streak. There were a record 65 days of subzero cold lows at NWS-Marquette, including a record latest subzero cold low on April 16 (-5 degrees).
(RECAP: One of Coldest Winters)
By March 5, just under 96 percent of Lake Superior was ice covered. That same week, Lake Michigan (93.29 percent) and Lake Huron (96.3 percent) also reached their maximum ice cover.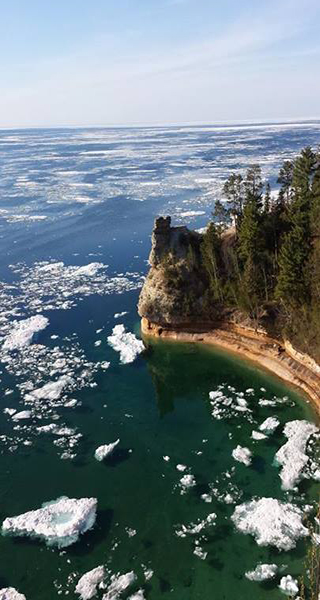 On May 15, the U.S. Coast Guard wrapped up what it said was the nation's largest domestic ice operation after over five months of ice-breaking operations in the northern Great Lakes. One eastbound crossing of ice-choked Lake Superior by the Coast Guard Cutter Mackinaw took nine days. Normally, this is a one-day voyage.
National Weather Services offices in Sullivan, Wisconsin, and Grand Rapids, Michigan, warned those headed to Lake Michigan beaches during the holiday weekend to stay out of the cold water.
While Lake Michigan water temperatures are typically chilly in late May, given the cold winter and late ice melt, water temperatures were running 1 to 3 degrees colder than average.