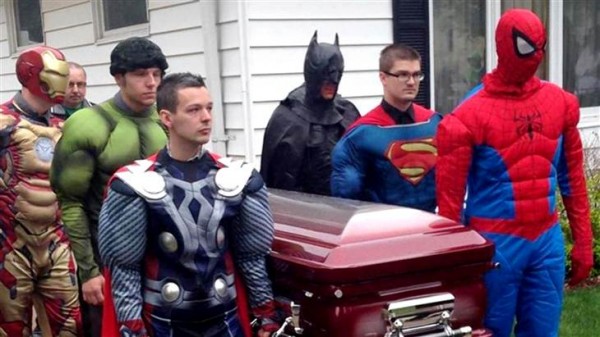 Courtesy of Michael Crose
Brayden Denton's casket is carried by six family members and friends dressed as his favorite superhero characters.
It was a funeral fit for a superhero.
After 5-year-old Brayden Denton lost his fight to brain cancer on May 8, his casket was carried by a group of pallbearers dressed as his favorite superheroes. A photo of the touching scene is now going viral after being posted on Facebook.
"It's amazing," Brayden's mom, Staci Denton, told beautyofplanet.com of the enormous response to the photo. "I can't believe it."
Brayden's love for superheroes started when he was 3, his mom says, and by the time he passed away, he had an entire wardrobe packed with costumes of his favorite characters, including Iron Man, Superman, Batman and three different Spider-Man outfits.
"Spider-Man was his absolute favorite," Denton said. Brayden even got to see the movie Spider-Man 2 shortly before passing away. "When we were doing radiation a year ago, he saw a new one was coming out and he kept saying he wanted to see that movie," she said. "I'm glad he got to do that."
While his illness had progressed to the point that he was no longer able to speak, Brayden gave his mom a thumbs up after the movie. "I assume that he loved it," she said.
In early 2013, after taking antibiotics for what doctors thought was strep throat, Brayden struggled to stay balanced while running and kept leaning his head on his shoulder.
"That's just not Brayden," his mom recalled noticing. "He's always been able to run and do things that most kids do." She took him to the doctor the next day and eventually landed at the local children's hospital.
"They did a CT scan and my world came crashing down," Denton said. Brayden had an aggressive form of brain cancer known as DIPG.
The doctors told Denton that the cancer was terminal. "I thought it wasn't going to happen to my child. He had to be the first one to survive this," she said.
Brayden underwent 30 rounds of radiation and participated in a clinical trial to stop the tumor from growing. But, roughly one year after his diagnosis, he passed away. "I still can't believe that they were right," Denton said.
When it came to planning Brayden's funeral, Denton decided to do it in a way that would honor him and what he had loved most: superheroes. She invited anyone who would be attending the wake and funeral to wear their favorite superhero shirt.
"I wore Spider-Man T-shirts on both days," said Denton, who is now working with the DIPG Collaborative to raise awareness about Brayden's cancer. She also asked the pallbearers, who consisted of family and friends, if they would wear superhero costumes.
"I just wanted to let him know that I listened and I tried to give him the best thing I could," Denton said.