After catching this juvenile great white shark, the fisherman uses pliers to remove the hook. Photo by Liz Jason Barber
An unidentified Huntington Beach fisherman reeled in a five-foot, juvenile great white shark shortly after noon in Manhattan Beach on Tuesday.
The man was fishing from the beach a few hundred feet south of the Manhattan Beach pier.
According Liz Jason Barber, who was surfing south of the pier, the man fought the shark for about 10 minutes, waded into the water to bring the shark ashore, used pliers to remove the hook from the shark's mouth and then rolled the shark back into the water.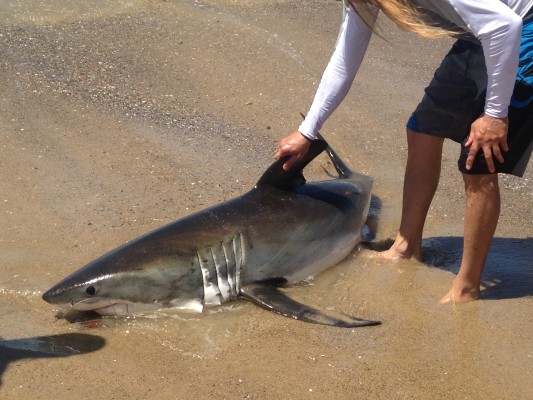 The fisherman begins to roll the shark back into the ocean. Photo by Liz Jason Barber
Manhattan Beach Marine Aquarium co-director Eric Martin said the man told him he was fishing for bat rays.
"He definitely wasn't fishing for corbina. He had shark tackle, including a plastic covered steel leader. He was very polite and seemed to know what he was doing," Martin said.
Martin said he was body surfing south of the pier that morning and saw what he suspects was the same shark.
Martin described the shark as "a first year animal" and not a threat to swimmers.
Lifeguards, cleared the water for a brief period of time after the shark was released.
Barber said she stopped surfing for the day after seeing the shark.
"I was surfing the day the swimmer was attacked by an angry shark that had been hooked by a pier fisherman and I didn't want to swim with another angry shark," Barber.
Following that incident, on July 5, the Manhattan Beach city council banned fishing from the city pier. Last week, Fish and Game ordered the city to lift the ban.