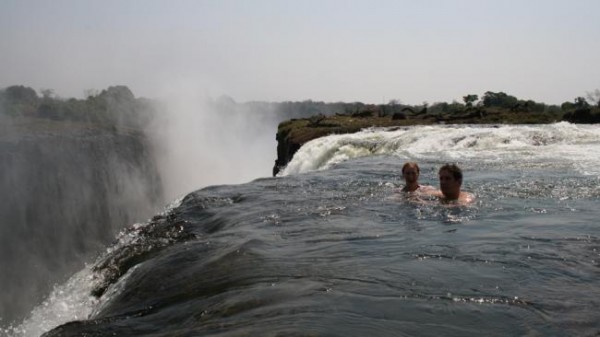 Devil's Pool: On the Edge of the World's Largest Waterfall

Resorts around the world boast of unique swimming pools but many believe the ultimate (and most dangerous?) infinity pool is located high on the edge of one of the world's most majestic natural wonders–Victoria Falls at the border of Zimbabwe and Zambia.
With a width of 5,604 feet and a height of 354 feet, Victoria Falls is considered the largest waterfall in the world, forming one of the world's largest sheets of water. But that doesn't prevent hundreds of adventurers a year from swimming in the "Devil's Pool," a naturally formed pool of water on the edge of the waterfall in Livingstone Island on the Zambian side.
Every year, during the dry season of September to December, the waterfall's flow of water is much lower than it is during full current. When the levels drop, a natural rock barrier comes close enough to the surface, allowing swimmers to frolic in relative safety up to a few inches away from the point where the water cascades over the falls, according to the Daily Mail.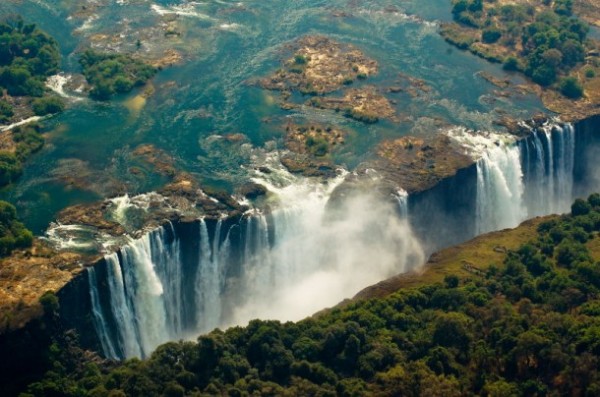 Although the pool is shallow, and there is a safety line for those caught in the current on Devil's Pool, it is recommended that only adept swimmers brave the waters near the edge, according to the Los Angeles Times. Occasional deaths have also been reported when people have slipped over the rock barrier. In 2009, a tour guide plunged into the waterfall after attempting to rescue a tourist swimming in the Devil's Pool, according to the New Zimbabwe.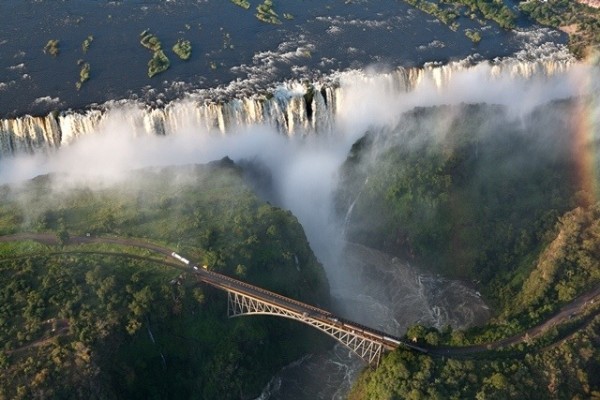 Known locally as Mosi-ao-Tunya (or "The Smoke that Thunders"), Victoria Falls is known for its deafening, thunderous spray of water, which can be seen from 30 miles away. During the rainy season, 300 million gallons of water cascade over the falls every second, according to PBS.
Tourists who have climbed the rocks and waded through the water to reach the Devil's Pool have called the experience "an adrenaline rush." A software engineer from Seattle told the Daily Mail his dip in the Devil's Pool was "better than bungee jumping."