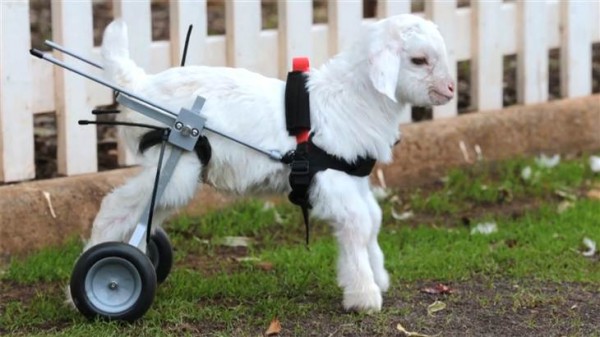 Get ready to give those heartstrings a good tug.
A video of a rescued baby goat learning to walk is prompting "awws" across the Internet.

Frostie the Snow Goat from Edgar's Mission Farm Sanctuary on Vimeo.
Only a few days old, Frostie, a snow goat, was brought to Edgar's Mission Farm Sanctuary , an Australian animal rescue farm, with a lice infestation, severe dehydration and a case of joint navel ill, an infection that can enter the body through the umbilical cord shortly after birth.
According to the sanctuary's Facebook page, the bacteria had spread through Frostie's bloodstream and into the joints of his back legs, making them swollen and debilitated.
"It's really important that we keep Frostie mobile so he can move about and help those toxins get flushed out of his system," a sanctuary representative explained in the video.
The sanctuary got the tiny goat into a wheelchair and filmed his first frolics. The video quickly went viral and is melting hearts across the Internet, including those of Kathie Lee and Hoda.
"It breaks your heart," Kathie Lee said. "It's so sweet."
As of Thursday morning, Frostie's first steps had been seen nearly 170,000 times since the sanctuary posted the video on Tuesday.