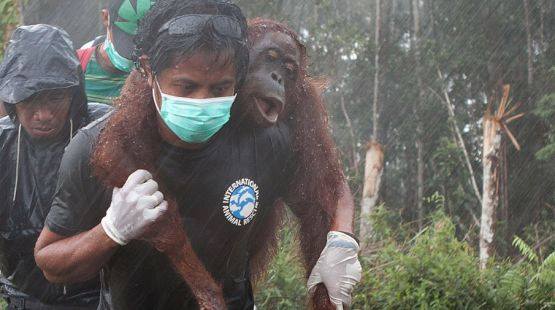 Orangutan Rescue
The plight of the orangutan in Indonesia has reached a critical stage, with the survival of the species under serious threat. Animals are suffering and dying because of the systematic destruction of the rainforest, primarily for palm oil production, particularly in Kalimantan, the Indonesian part of the island of Borneo.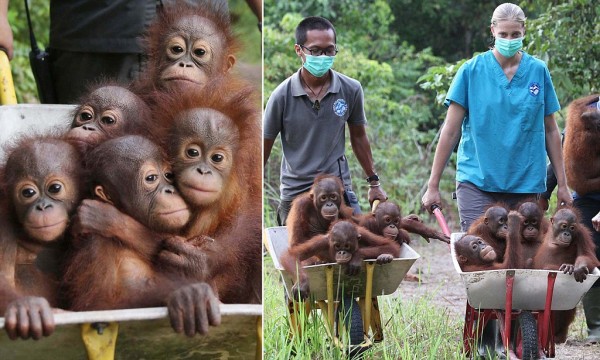 What We Do
International Animal Rescue's team is working in West Kalimantan to rescue and care for baby orangutans that have been taken from their mothers to be illegally sold as pets and adults that have spent their entire lives in captivity, chained up or imprisoned in tiny cages. When we first started the project in 2009 we used a small transit centre in Ketapang as a temporary rescue facility. However it wasn't long before the centre was overflowing with orangutans and there was an urgent need for something larger and better equipped.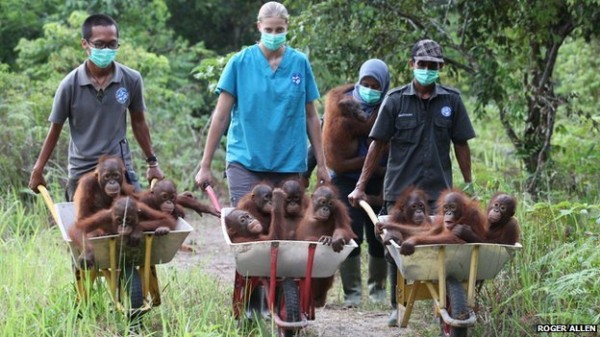 Thanks to the generosity of our supporters, we were able to buy 24 hectares of land in Sungai Awan and at the beginning of 2012 we started building a permanent Orangutan Rescue and Rehabilitation Centre. Here the rescued orangutans are prepared for release back into protected areas of forest. Any animals that can no longer survive in the wild will be given a permanent home at the centre.
Our Aims
The project is an ambitious one but we are committed to rescuing and rehabilitating as many orangutans as we can and giving them a second chance to live safely in their natural environment.
Deforestation and industry
The main activities adversely affecting orangutan protection and conservation are palm oil production, logging and deforestation. Our orangutan rescue work provides us with first hand experience of the impact of these activities on orangutans in Borneo, enabling us to make a meaningful contribution to the debate on these complex issues.
Human Orangutan Conflict
Orangutans and humans naturally avoid each other as much as possible. However, the rapid rate of deforestation is pushing orangutans closer to human habitation every day as they search for food: this has caused an increase in the number of calls our team receives every day and sometimes has tragic consequences. Orangutans are big, powerful animals and sadly, largely out of ignorance and fear, people use brute force to subdue them. International Animal Rescue is committed to implementing an extensive education programme to teach people not to fear these endangered primates but to respect their strength and their struggle to survive.