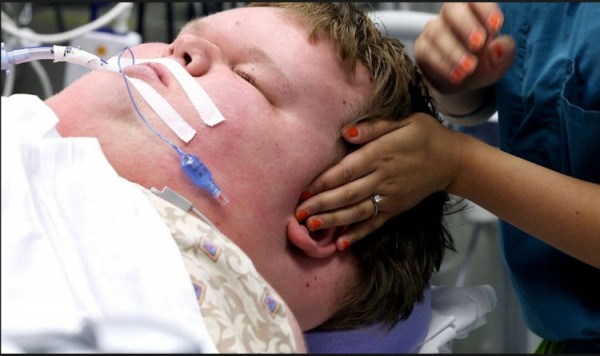 Throughout his whole life, Jacob Miller was always abnormally big. Despite being delivered 5-weeks prematurely, he was still big. If he was carried to term, he would have weighed 12 pounds!
By the time this big kid reached his teen years, he was gaining 100 pounds per year. At his heaviest he was 6'5" and 707 pounds. That was when he was only 15. And it was not good for his health…
Because he realized that his excessive body weight was slowly killing him, Jacob decided to do something about it.
Jacob and his parents teamed up with medical professionals at Cincinnati Children's Hospital Medical Center and helped the boy make a plan to lose weight.
Even as a baby, Jacob was large. When he turned 1-year-old, he weighed in at 52-pounds. Doctors thought he had some kind of hormonal problem that made him gain so much weight.
He suffered from diabetes, cellulitis on his legs, heart disease, and non-alcoholic fatty liver disease – because he was overweight.
As a last ditch effort to extend his life, Jacob and his parents got him a gastric bypass surgery.
Before the surgery, Jacob followed a restrictive diet and lost 77 pounds. Did he really need the operation? He went through with it anyways.
Although the surgery wasn't a cure-all, it did work as a catalyst to help him lose weight. Six months after the operation, he went from a 10x shirt-size to a 5x.
In the video below, you'll see Jacob's continued progress. Just this year Jacob finished a 5k race. He's making progress.