This is Helen, a blind bison that has spent years at Oregon's Lighthouse Farm Sanctuary without making a single friend. She was nervous, suspicious and seemingly destined to live out the rest of her life sad and alone. But then came Oliver. The young Jersey calf was curious from birth and soon managed to break down the barriers that Helen had constructed around herself. She came to trust him, and they became firm friends.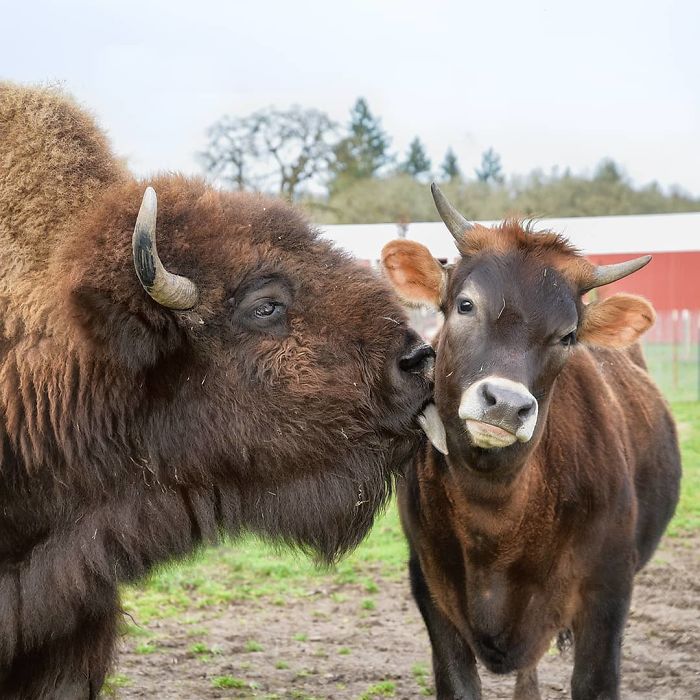 Image credits: lighthousefarmsanctuary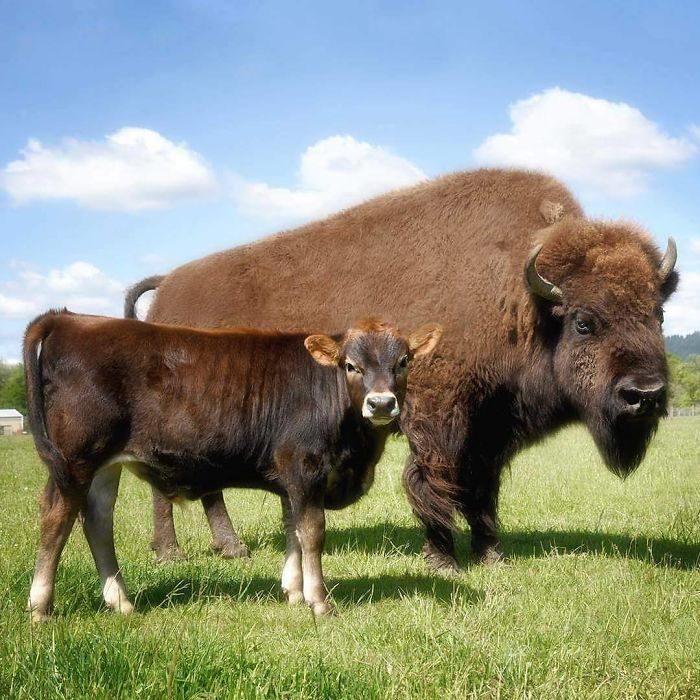 Now, the pair are inseparable. Helen seems to have 'adopted' Oliver, and Oliver's fur has even changed colors as he grew older and now it matches hers.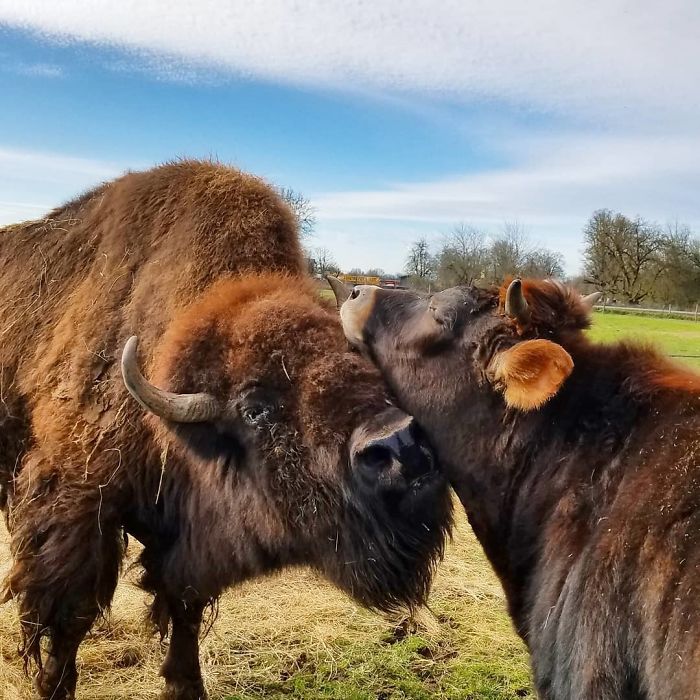 Image credits: lighthousefarmsanctuary
Image credits: lighthousefarmsanctuary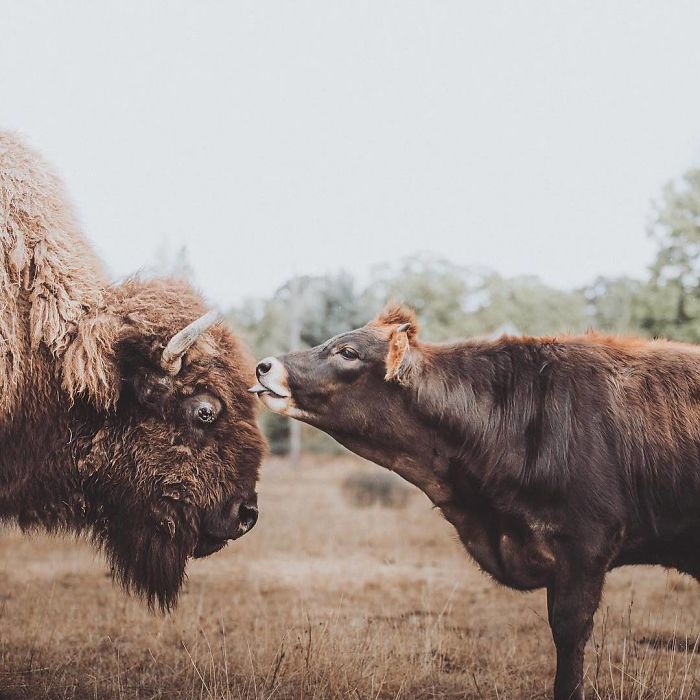 "He's actually turned into a baby buffalo," Lighthouse Sanctuary's Gwen Jakubisin told USA Today. "The change in her demeanor is incredible, her joy is palpable."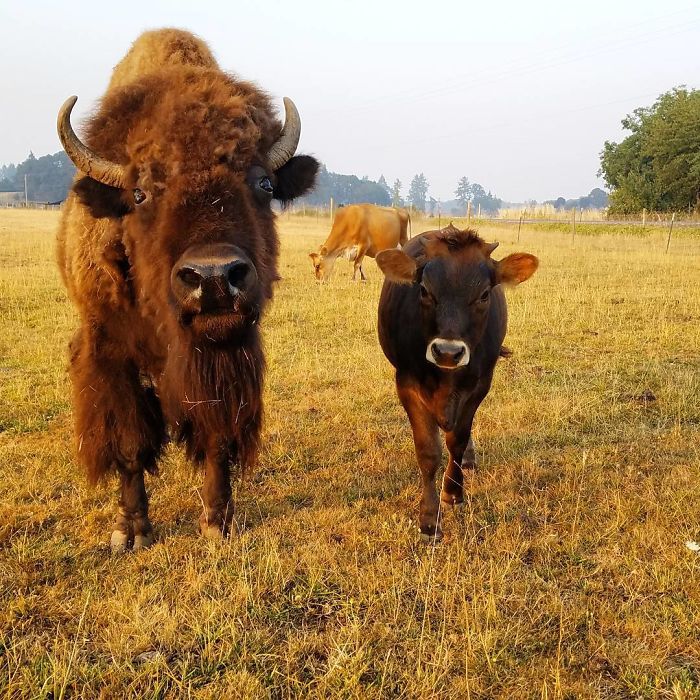 Jakubisin sees their relationship like that of a loving nanny who cares for a baby. "Betsy (Oliver's mom) usually drops Oliver off at 'daycare' and roams around while Helen watches over him for the rest of day, and she's cool with that," she said.
"I catch them grooming each other which is amazing because I don't think Helen has ever had that opportunity to express that motherly instinct before."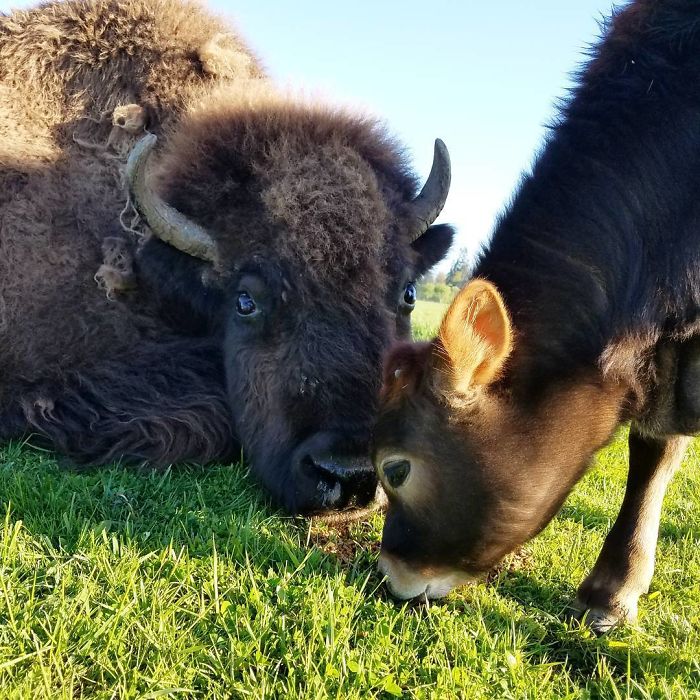 Image credits: lighthousefarmsanctuary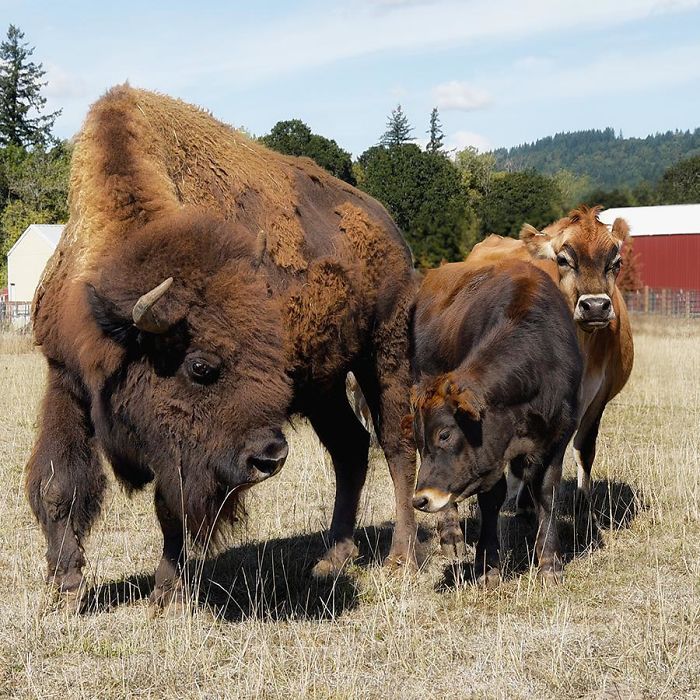 The powerful friendship has brought Helen out of her shell, giving her the confidence to go and befriend other animals in the sanctuary, too.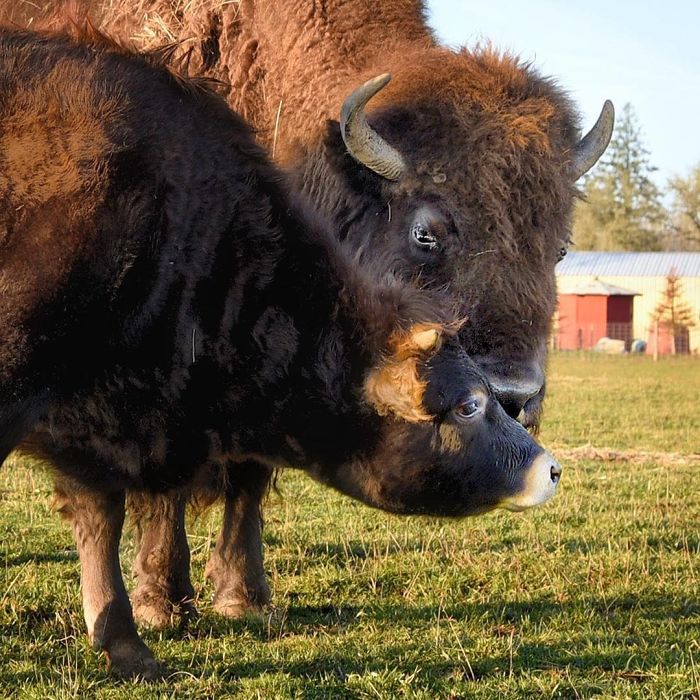 The sanctuary itself is dedicated to the rescue, rehabilitation and, when appropriate, rehoming of abused and neglected farmed animals. According to their website, over 200 animals, including pigs, cows, horses, chickens, sheep, and goats are homed there.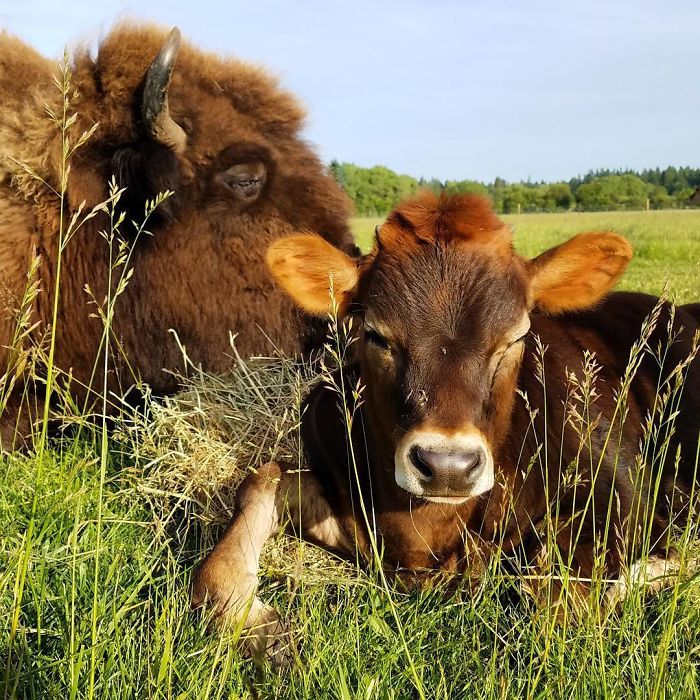 Their mission is to "help shine a light on the realities of animal agriculture and lead the way to a more compassionate world."
This is done through facilitating meaningful relationships between people and the animals that they care for.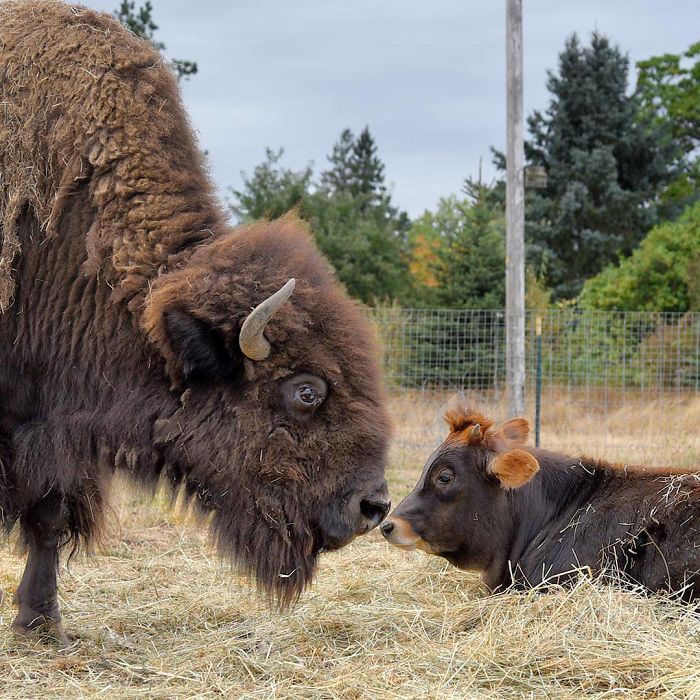 Image credits: lighthousefarmsanctuary
"At Lighthouse Farm Sanctuary we believe that every individual has the right to freedom," they write. "Freedom from pain, freedom from fear, and freedom from oppression. We provide those with the most heartbreaking stories hope and the promise of the freedom to be themselves. A promise of companionship, of love, and of care."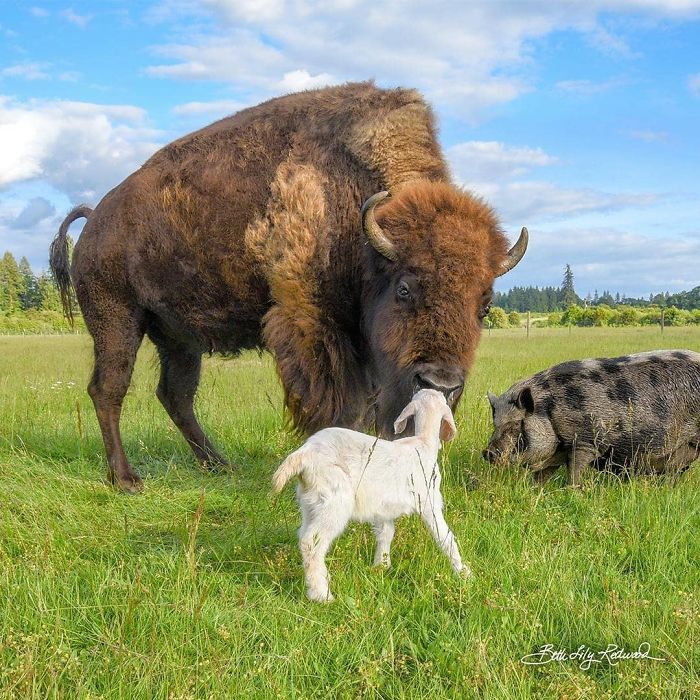 Image credits: lighthousefarmsanctuary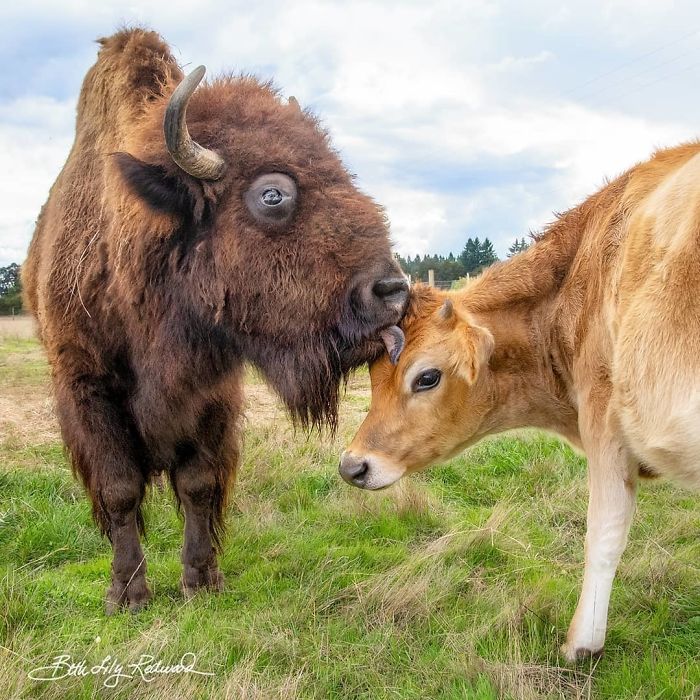 "Our sanctuary is home to 250 non-human animals who have seen the very worst of humanity and every day they amaze us with their profound abilities to love and to be loved, even after the tragedies they have endured. Our goal is to share their stories with the community and bring about positive change in the way they are viewed by society."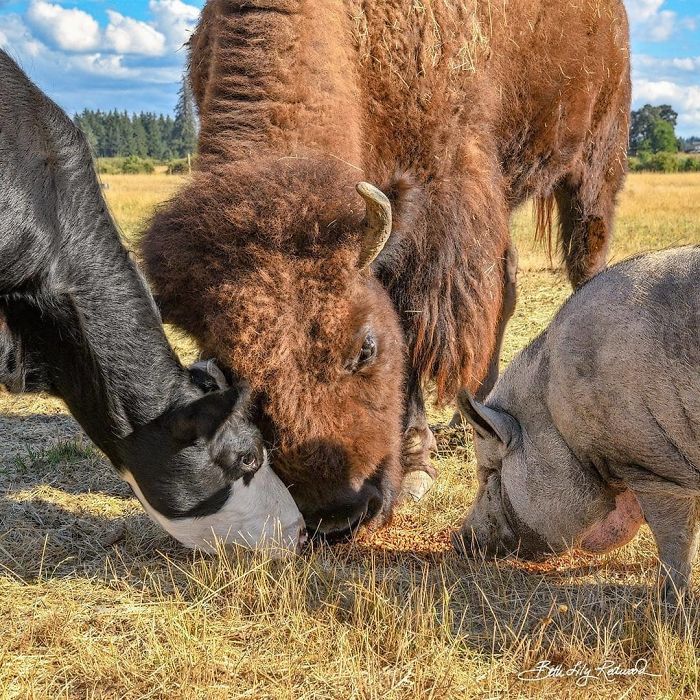 Image credits: lighthousefarmsanctuary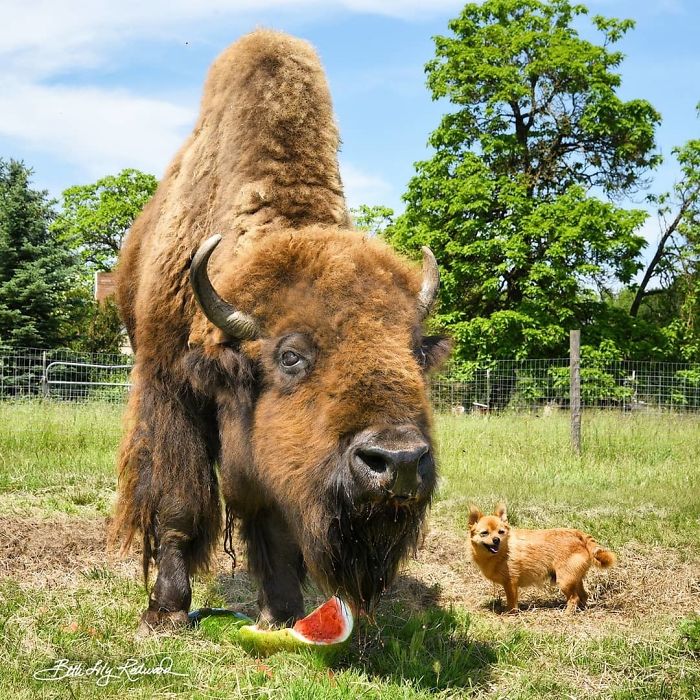 "By fostering beautiful, meaningful bonds between people and the animals they may see as "food" or as "things" we are changing the future for the individuals who mean so much to us."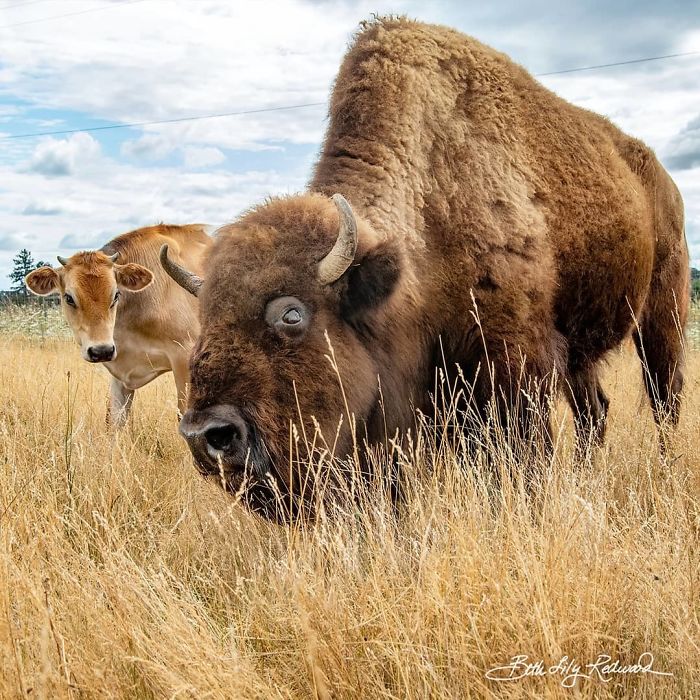 Image credits: lighthousefarmsanctuary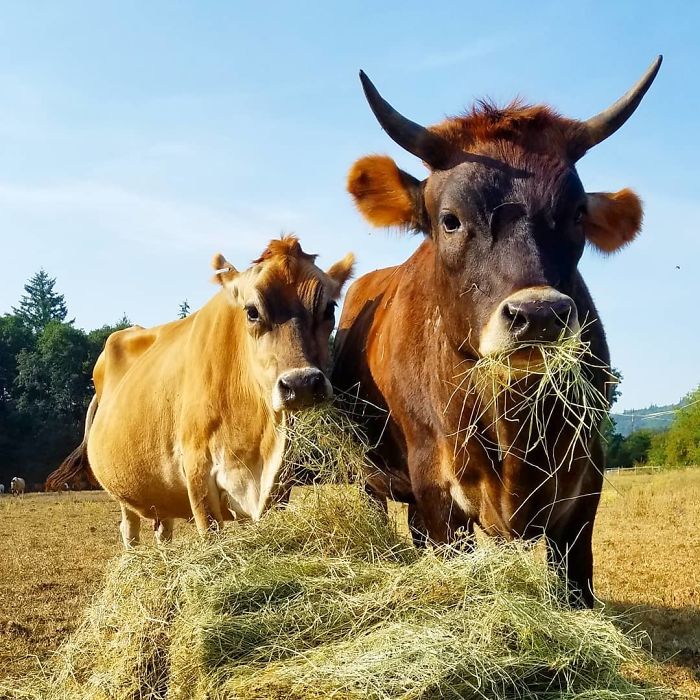 Image credits: lighthousefarmsanctuary

"People who visit and volunteer at the sanctuary often comment on the unique sense of peace they feel when being here. All of our residents cohabitate peacefully and have strong friendships with one another. They know they are safe and loved. We like to call it a kind of magic created by love, trust, and understanding."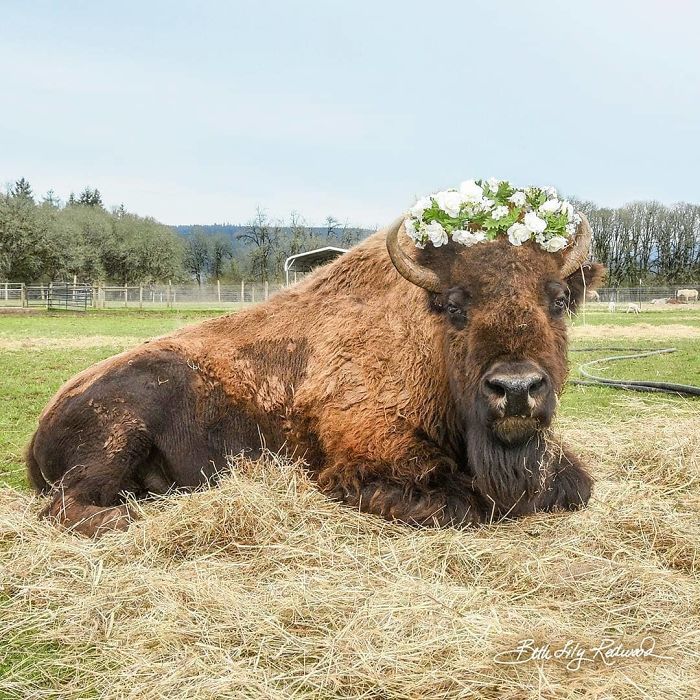 What do you think about the bond that Helen and Oliver were able to build? What about the kind and generous environment that Lighthouse Farm Sanctuary has built – one that enabled this unlikely friendship to flourish? Let us know what you think in the comments below, and feel free to support the sanctuary's amazing project!