A snow leopard wasn't very good at hiding its surprise when it spotted a new camera in its enclosure.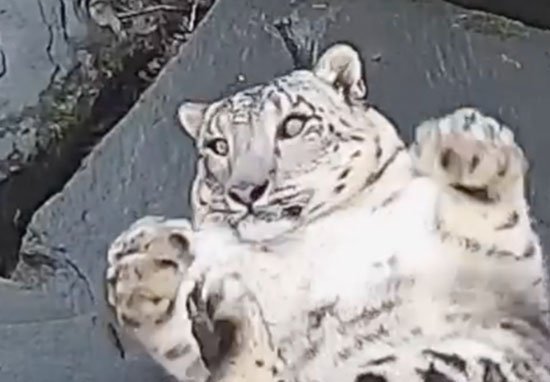 The adorable snow leopard Jessie, who resides at Paradise Wildlife Park in Hertfordshire, was startled when she turned around to see the new camera trap that had been installed.
Jessie was hanging out in her enclosure at the park where she has lived since 2015. She seemed entirely content and unaware she was being filmed, but did a double take when she realised something was different.
Check out her hilarious reaction here:

Jessie had reportedly seen the light on the camera and jumped at the new addition to her enclosure, rolling on to her back and wiggling around on the rocks for a few seconds like a turtle stuck upside down on its shell.
She probably just always likes to be camera-ready and was startled by the fact that the camera wasn't catching her good side.
The wildlife park shared the video on their Facebook page, where they wrote:
This is the best thing you'll see all day…
Our Snow Leopard's reaction to the new camera trap in her enclosure… Just wait for it…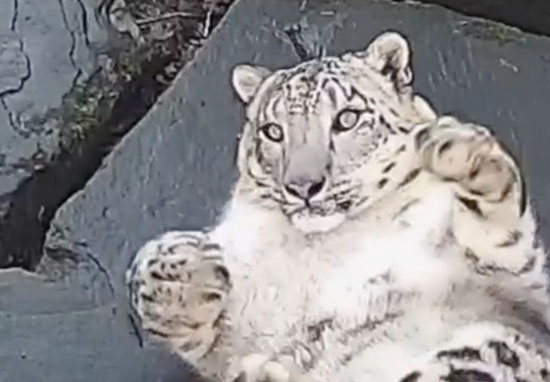 The funny video received over 1.5 million views, with many commenting their amusement at the surprised feline.
One person recognised the snow leopard's reaction as something we can all relate to:
This clip is a direct representation of accidentally turning the front facing camera on.
Another compared the video to the hilarious trend of watching cats get scared by cucumbers, writing:
Remember those cats who are scared of cucumbers and jump away? This is the Snow Leopard version of that.
If you have a story you want to tell, send it to stories@unilad.co.uk.