Greenland is hot! Quite literally. Summer this year has been one of the hottest summers in Greenland. The icecap is melting faster than ever before. The current melt was only predicted to happen in 2070. And with 50 years 'ahead of schedule' it will only get worse. But Greenland is also 'hot' in another way. This summer alone, 40 cruise ships visited the relatively small town Ilulissat on the west coast of Greenland. When I was there for 12 days this summer, I saw 6 different ships come and go. One of them had 13 decks, 3,500 passengers and 900 crew on it. To put this into perspective: Ilulissat itself has only a population of close to 5,000. This cruise ship almost doubles the town's population. Tourism is booming. And Greenland is 'hot' in the media too, with Trump recently wanting to buy the country!
#1
Our 2 red sail boats posing around a cool iceberg (pun intended). I spotted this one from very far away with binoculars. It took us 1.5 hours to sail to it and we were not disappointed.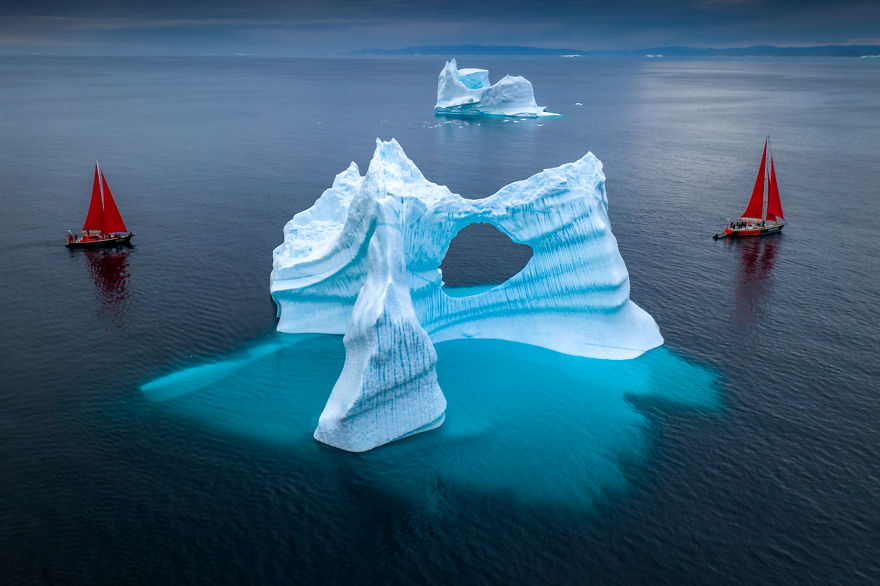 #2
When the moon rises, everything just looks magical. We planned a bunch of photos with the moon on tops of icebergs or sometimes in between. We used the app Photopills to check where exactly the moon would rise. Photographing the moon from a boat handheld is extremely tricky, especially when we have to position the other boat as well. Everything is moving and we had to use a higher ISO and fast shutter speed to get the shots. But the results were spectacular. This was shot at 400mm! To get the moon big we had to get very far away from the icebergs and the other boat.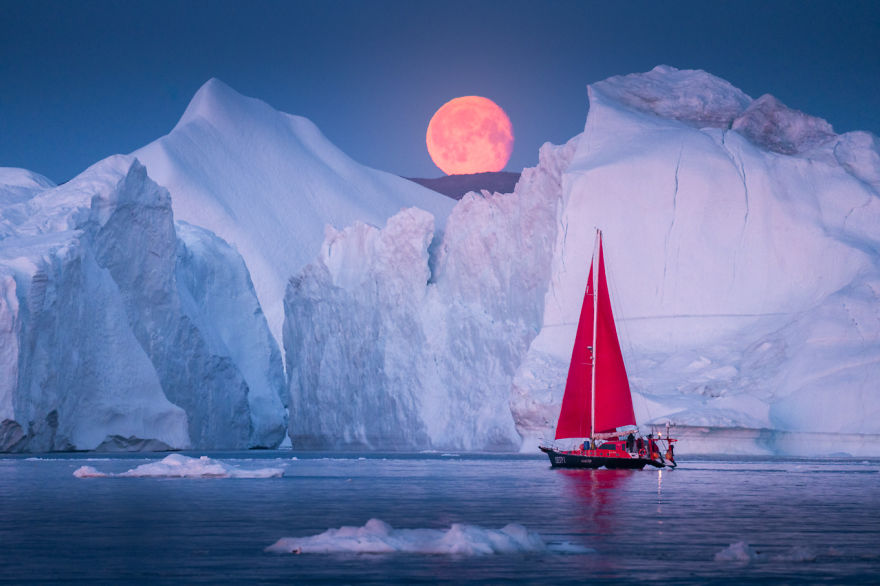 The town Ilulissat, where I was staying a little less than 2 weeks, is still very laidback. No big airport, no big car rental companies, chill people and a small harbor. But this might change soon. When I saw the number of people visiting this year I can't imagine what this town will look like in 10 to 15 years. I was really surprised by how many people were visiting Greenland when I was there. I am from the Netherlands myself and none of my friends and family ever visited the country. It's not really known as a popular tourist hotspot, but when I was actually there I quickly discovered I was wrong. And really, it's no surprise that people want to see it. Because… it's beautiful! The amazing ice you see in the sea is an unreal sight. With the midnight sun colors hitting the ice and a beautiful color palette in the sky, it's like being in a dreamworld. Sailing through the ice fjord is magical. And that's what we did. Every day.
#3
We are sailing every day and the light can last for hours during the midnight sun with sometimes spectacular sunsets and sunrises as a result.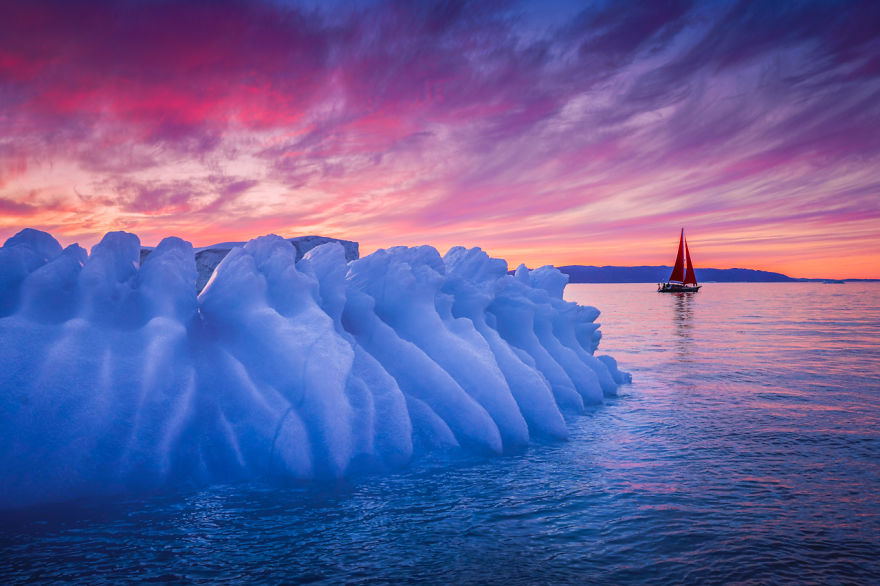 #4
Some icebergs have holes or aches in them. This one had a tunnel which was hit by sunlight from the inside.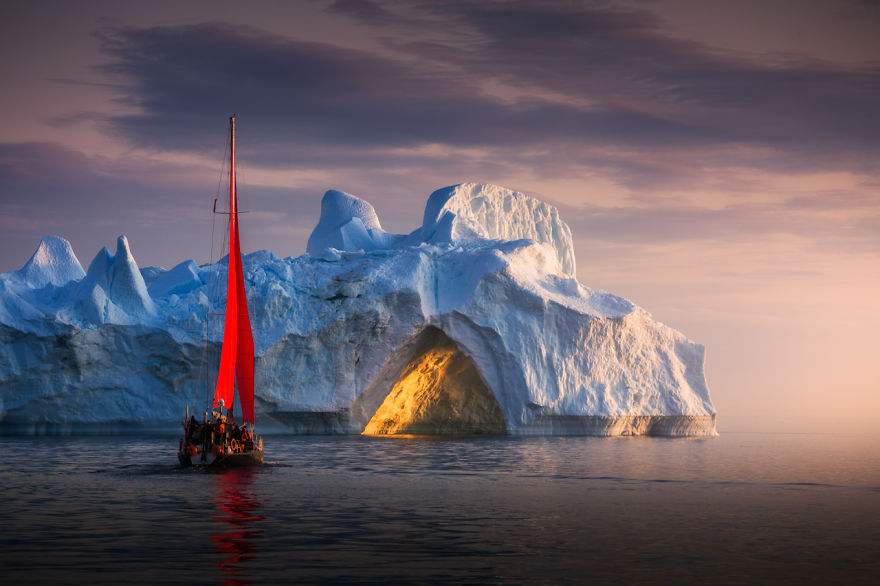 I was in Greenland guiding 2 photo tours. During these tours, we sailed our 2 little red sailboats. Using our red sailboats we show the scale of the massive shapes and peaks of the icebergs. For me as a photography guide, this location is always amazing. It's just never the same. It's challenging which keeps it interesting. Icebergs can be massive and they are floating in the sea. They always move so there can be new icebergs to explore every day. Basically, I can explore new landscapes at the same location every day! We always try to find icebergs with interesting shapes, arches and holes in them. The guests love it, fly their drone through it while using our little boats as models. With our red sailboats, we add a new dimension to the beauty of Greenland.
#5
Another planned moonrise where we positioned the moon just between the 2 tops of this ice piece, with our boat as a model.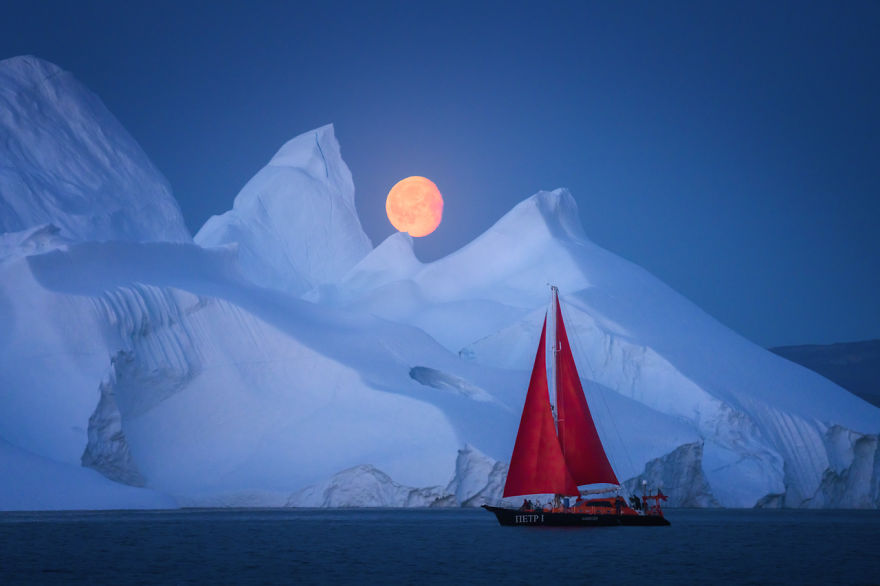 #6
A massive wall of ice. Our little boat works great here to show the scale of the whole scene. Our boat is 27 meters tall, so guess how big this iceberg is?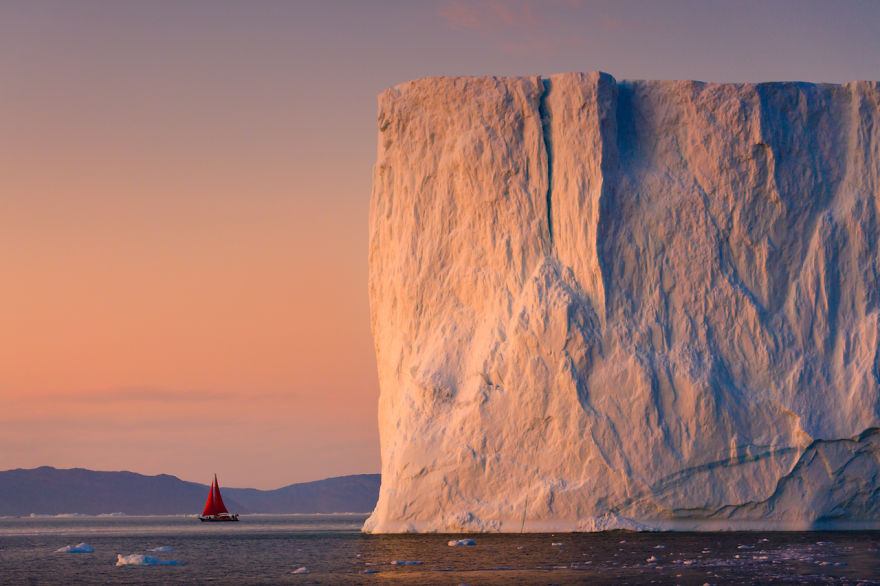 With this project, I aim to show the beauty of the country in my own way. It's like creating art out of nature. We position and navigate our sailboats through the ice, sometimes taking hours to find a good composition or iceberg. The results are photos that seem unreal. By using clever placement of the sailboats, we create scale, emotion and a certain atmosphere. The boats are our subject, and the ice landscapes combined with the weather conditions are our canvas. We use everything ranging from wide-angle lenses, midrange, to super-telephoto lenses and drones.
#7
Some icebergs really look like rough mountain ranges. Combined with dark skies and moody weather, they make for a Lord of the Rings atmosphere.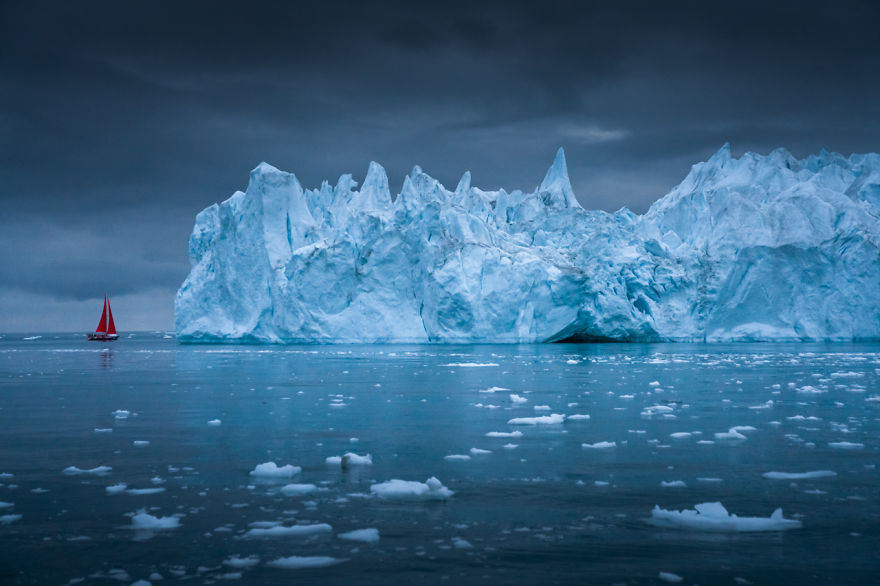 #8
A humpback whale diving and showing its tail. You can see the whales here often but they usually do not jump out of the water. Sometimes they show their tail but that's about it. We had seen a few jumping ones but unfortunately, I didn't capture any of them. Maybe next time.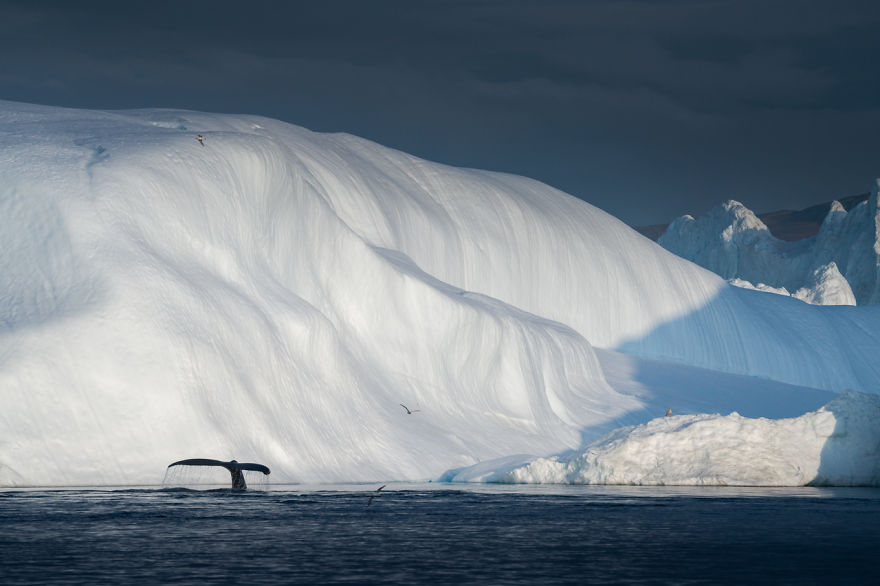 Our captains are extremely skilled and are able to position the boats exactly where we want them. As a photographer, this is something I love to do. People who know my work know that I love to plan 'extreme' shots. I have photographed moon shots, volcanos, and milky ways and even a solar eclipse, all perfectly lined up with a subject: sometimes a model and at other times a building or structure. Planning this kind of shots motivates me to the extreme, therefore using these little sailboats to create magical photos is something that I can put all of my passion into.
#9
A spectacular midnight sunset. It sometimes lasts for hours!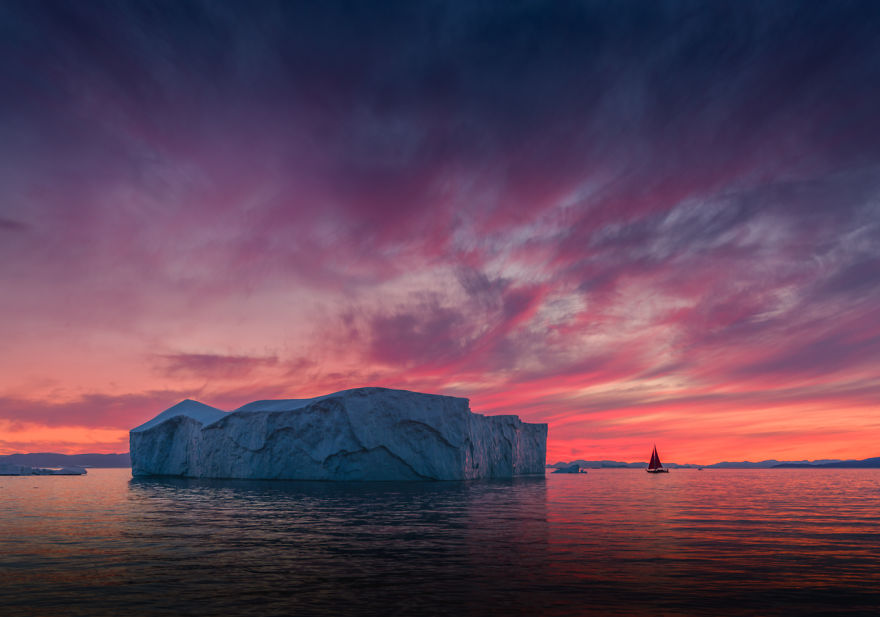 #10
Another calm evening during twilight. The gradient you see in the sky is really magical. Combined with almost no wind and beautiful reflections, this is a dreamworld.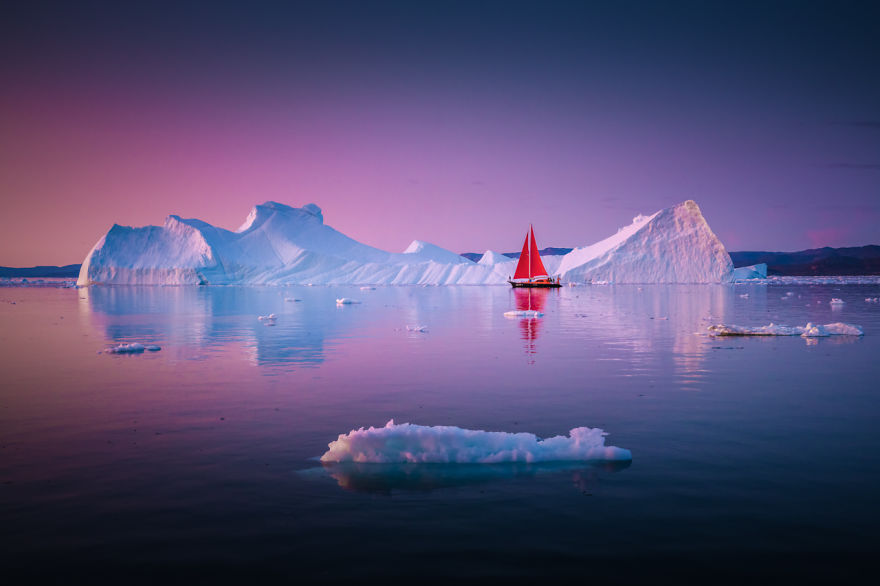 We planned a wide variety of photos ranging from photos where our boats where behind arches, against a moonrise, against huge walls of ice, around interesting icebergs that you can see through the water, etc. The compositions and possibilities are endless. It's really a playground for a photographer like me. Our little red boats are, of course, very tempting to photograph. I also tried to capture the beauty of the ice pieces and textures. Showing the raw beauty of what nature can do to this ice is another prime goal of this project. Playing with shapes, textures and reflections in the water, sometimes using a seagull or a whale for the scale, shows the real raw beauty of this place. A place that might not exist anymore after a few 100 years, or maybe even much sooner. Maybe even in my lifetime?
#11
An abstract shot of an iceberg at 100mm. Sometimes icebergs rotate around. The bottoms usually have these interesting ridges as shapes.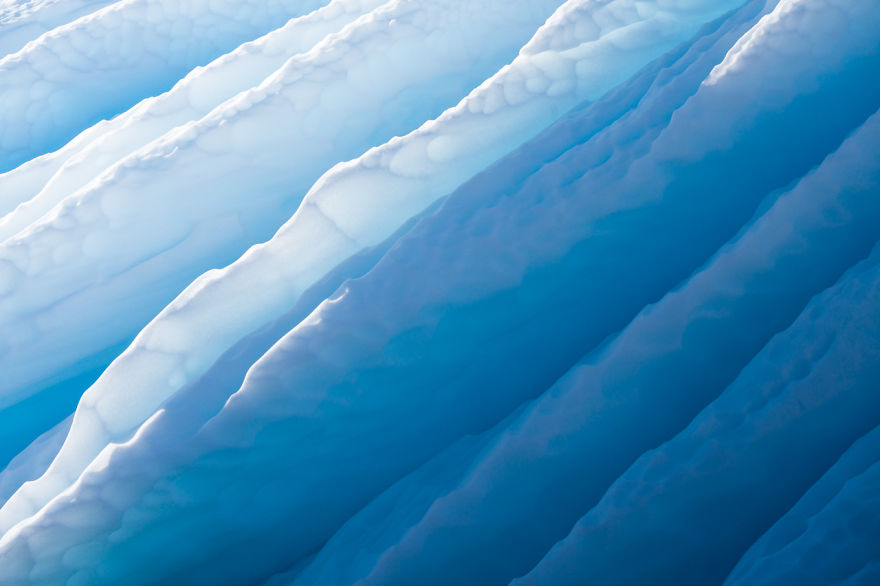 #12
Another moonshot of the moon rising behind a giant pyramid with our little red sailboat sailing in front of it. This one was also shot at 400mm at a very far distance.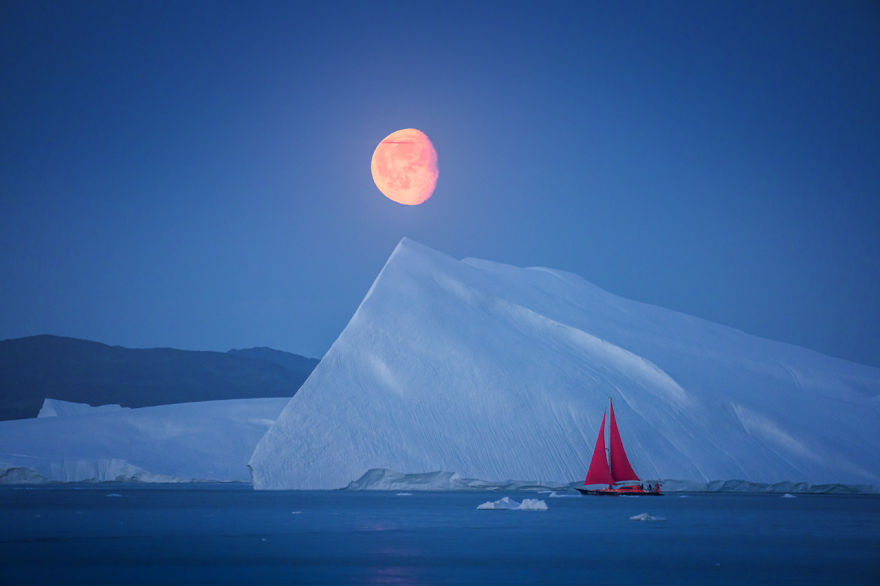 With global warming really kicking in over the last year with record temperatures everywhere (record after record broke in my hometown Amsterdam this year, and last year we had extreme droughts), it's really something that we should be aware of even more. This is not only about Greenland. This is about our whole planet.
#13
By playing around with arches in icebergs, placement of our boats and the sunlight, we create some beautiful compositions.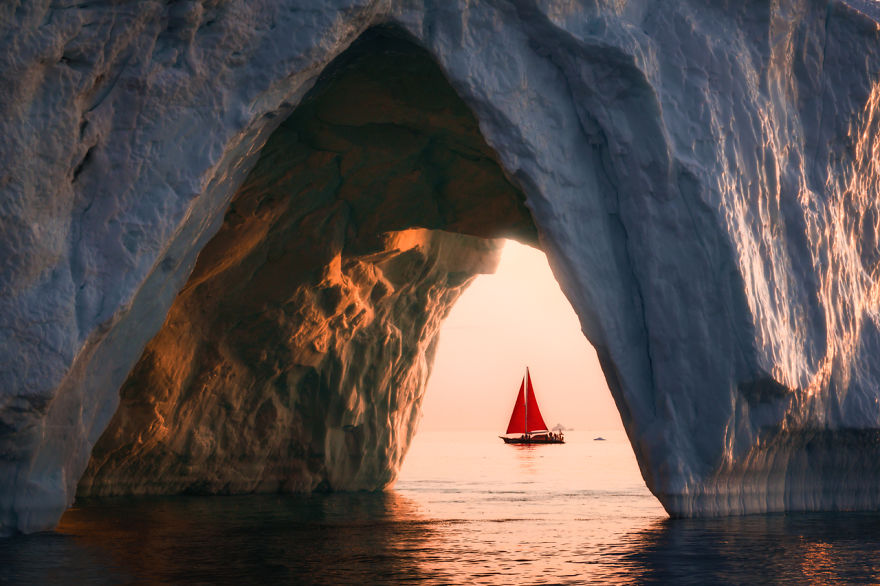 #14
A massive piece of ice that looks like a huge mountain. These are just floating around in Disko Bay. You can find different ones each day depending on the wind.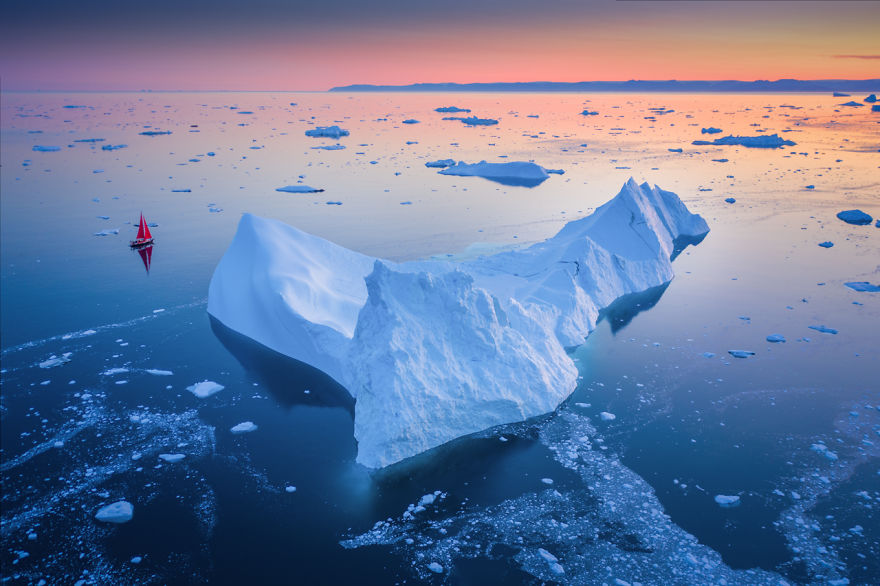 #15
Ilimanaq settlement. About 2 hours of sailing from Ilulissat. Locals really live in the middle of nowhere with a prime view over the ice and the whales. It has about 80 inhabitants. Walking around there is surreal.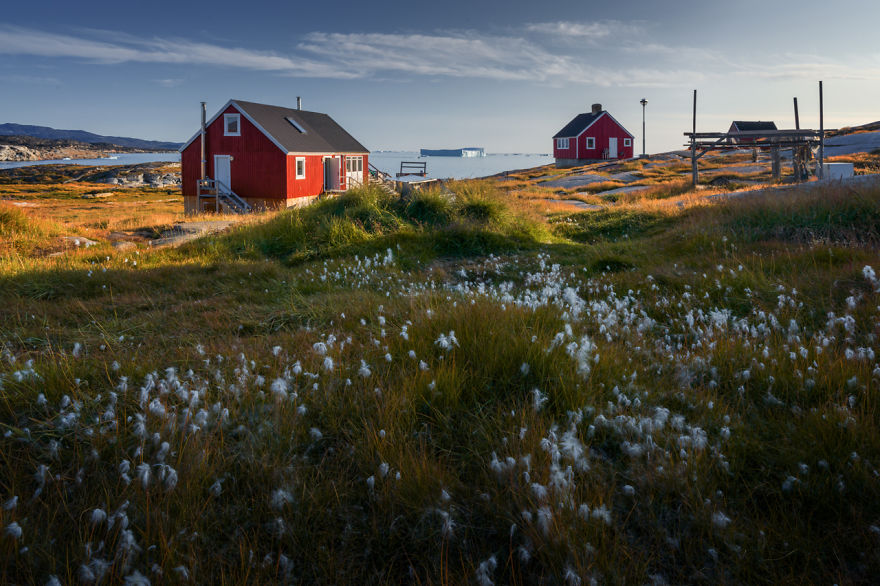 #16
A high key shot of a seagull sitting on the crystal clear peak of the iceberg.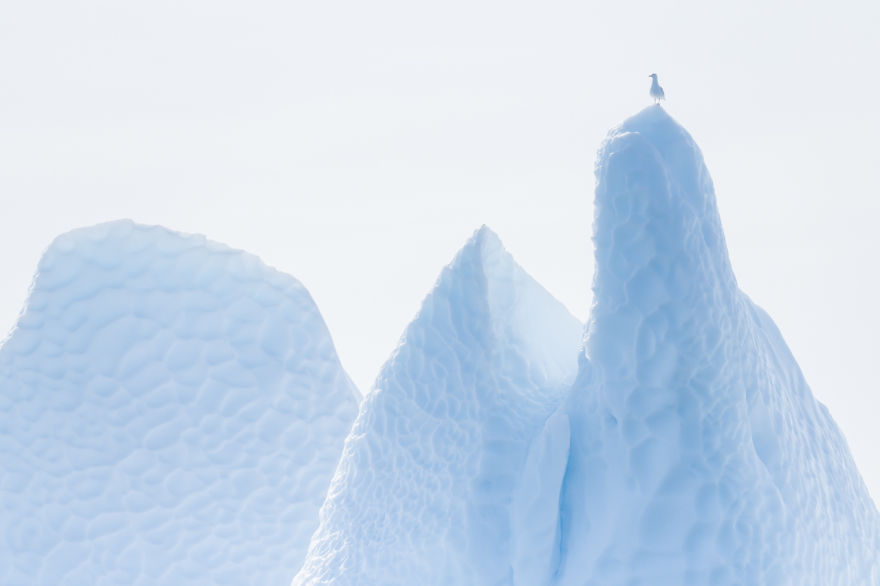 #17
Our little red sailboats are always a great object to photograph, especially during 'bad' weather. The red sails really pop in dark skies.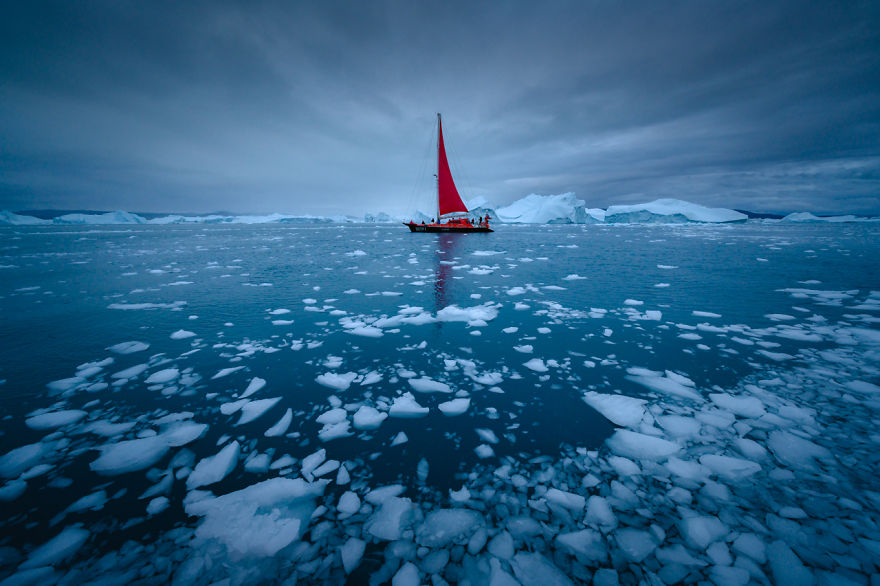 #18
A playful composition that I can't take credit for. It was our captain Daniel's idea to put our ship in front of this pyramid so we could make a mirrored composition, with the rising moon in the middle.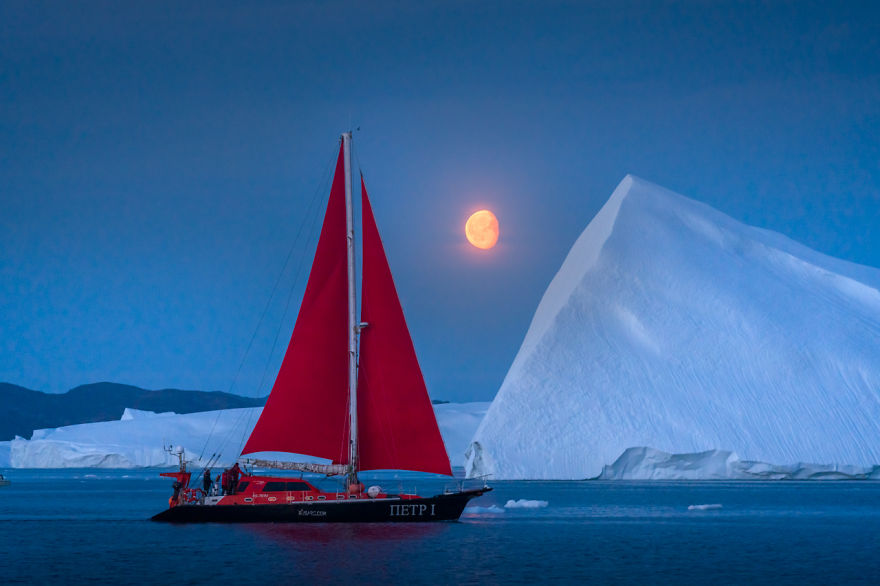 #19
Sailing at twilight is really magical. The purple and blue sky creates a dreamlike atmosphere.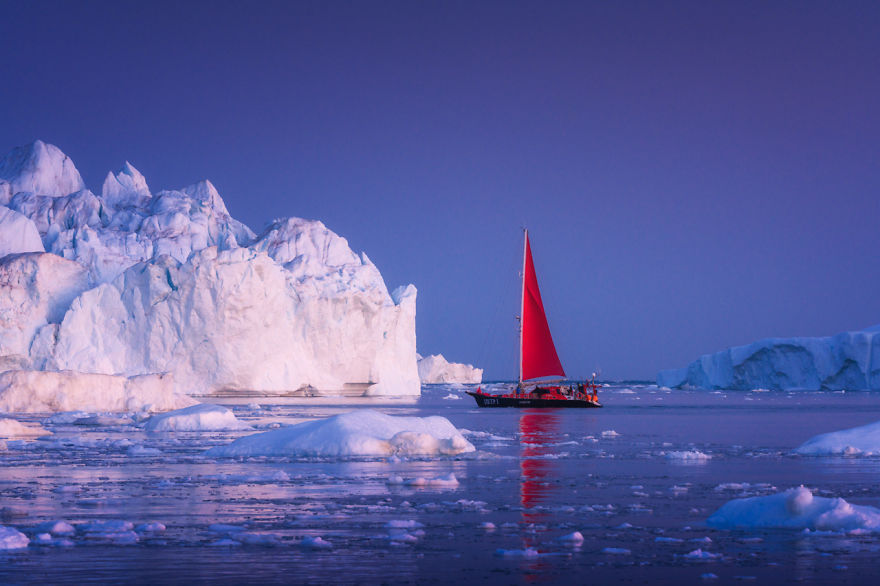 #20
By using our boats we show the massive scale of some of these icebergs. This one had a lake with a waterfall in the middle.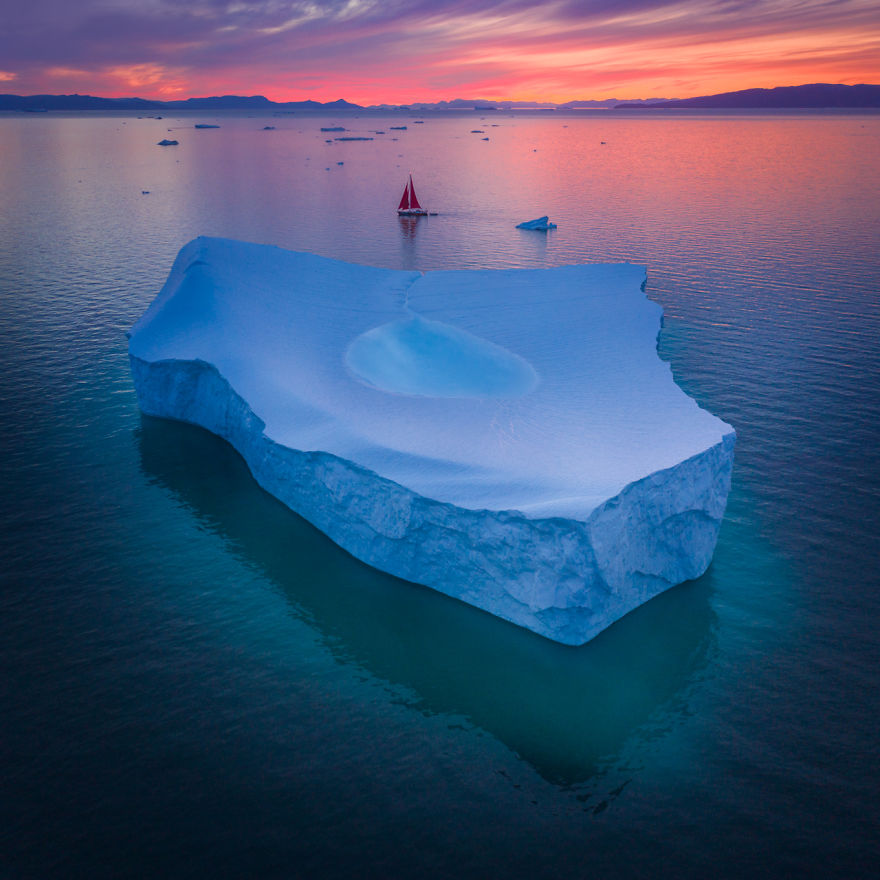 #21
Red sails and moody weather: a winning combination. Especially with some rugged icebergs.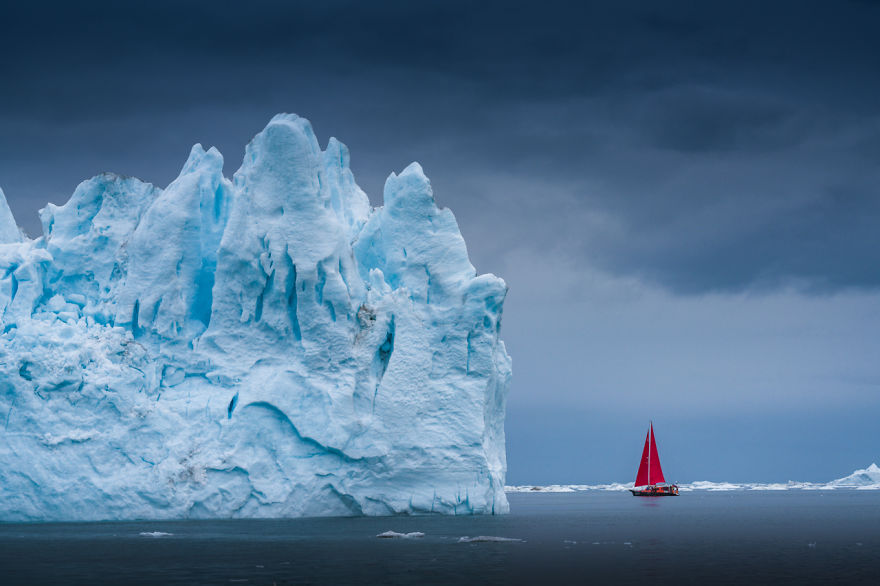 #22
Greenland, which is part of Denmark, copies the architectural style with their colorful houses.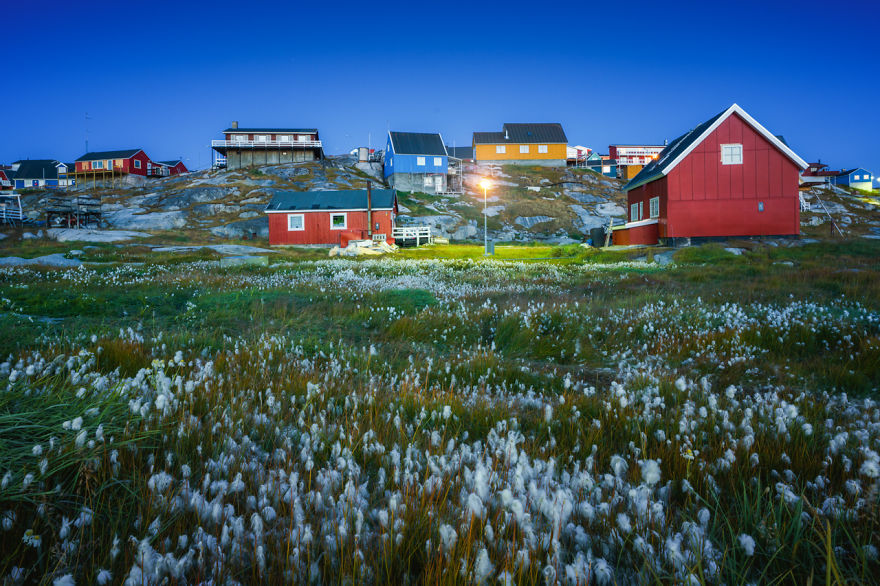 #23
Spectacular clouds on a calm evening in Disko Bay.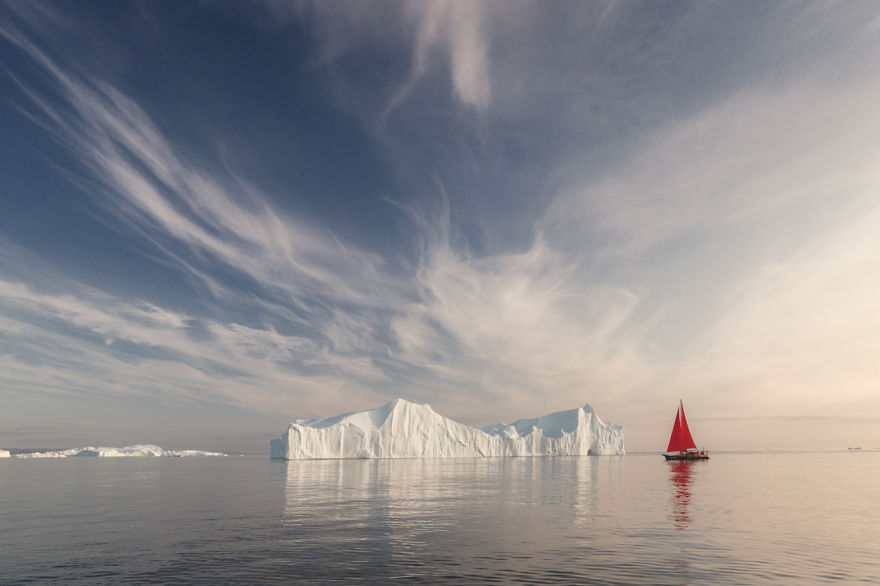 #24
Rodebay, another settlement about 2 hours sailing from Ilulissat. This little settlement has a population of fewer than 50 people. You can see a lot of sled dogs everywhere around Ilulissat and in all these little villages. They are being used in winter, but in summer they just chill and do nothing. They are not aggressive in general.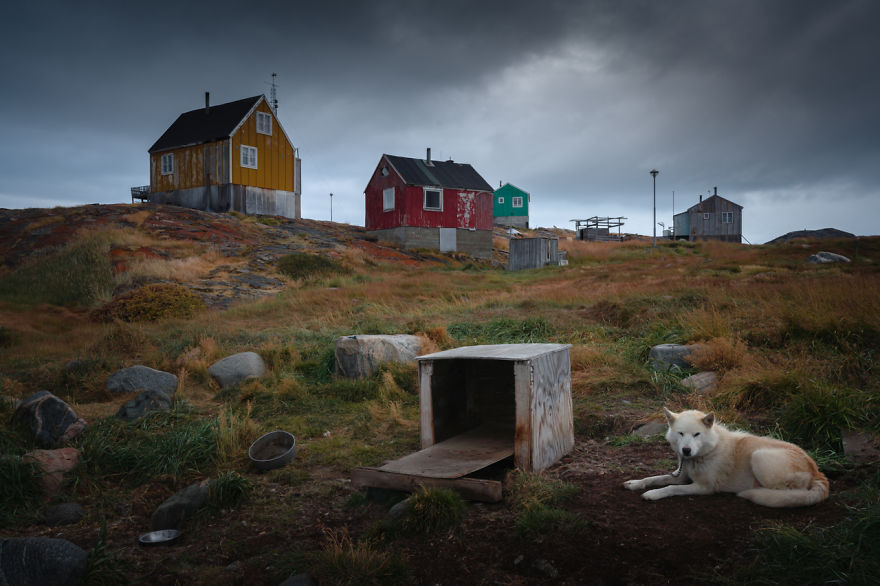 I hope you enjoyed this series and realized that this is a place that will not be there forever. By posting these photos, I hope to create more awareness of the beauty, existence and possible, but hopefully not, 'disappearance' of this place.
Special thanks to Iceland Photo Tours for making this project and tours possible and for letting me combine both work and passion into one project and sharing it with our guests.
And of course, this would not be possible without our extremely skilled captains Daniel and Andrey who can position their boats exactly where we want them. And thanks to the whole crew that was with us.
Last, thanks to Sony for letting me bring the (at that time unreleased) A7R4 for this trip. All of the above photos were shot with the A7R4 and G-Master lenses. Except for the aerial shots. These were shot with the DJI Mavic Pro 2 drone.