At just 13 years old, Josiah Launstein is already carrying on the family tradition of wildlife photography started by his father John. Recently named Young Outdoor Photographer of the Year for the second time, he is the first photographer to win the award twice. The first time he won, in 2015, he was the youngest-ever winner of the prize.
The young Canadian photographer clearly has a love and passion for animals, whether it's getting up close and personal with an owl or spending days in the snow to snap the perfect image of a Sierra Nevada Bighorn Sheep. In fact, being out in nature and learning more about the animals he photographs is one of Josiah's favorite things about wildlife photography. And, of course, there is the difficulty of getting the perfect shot, which is equally stimulating for the teen.
"I also really like the challenge of wildlife photography. Besides having to learn the technical side and how to quickly react to changing conditions, you never know if you're going to spot an animal or if it will present an opportunity to photograph it at all! My family and I don't bait, lure or call animals in or do anything to get an animal's attention," he tells My Modern Met. "If it happens, it happens, and if not, we still got to have a cool experience in nature and know we didn't do anything to stress the animals we saw. I don't get to tell my subjects to stand just a little more to the right to get out of a shadow, or try flying past one more time but into the light this time! That makes getting a great shot even more special."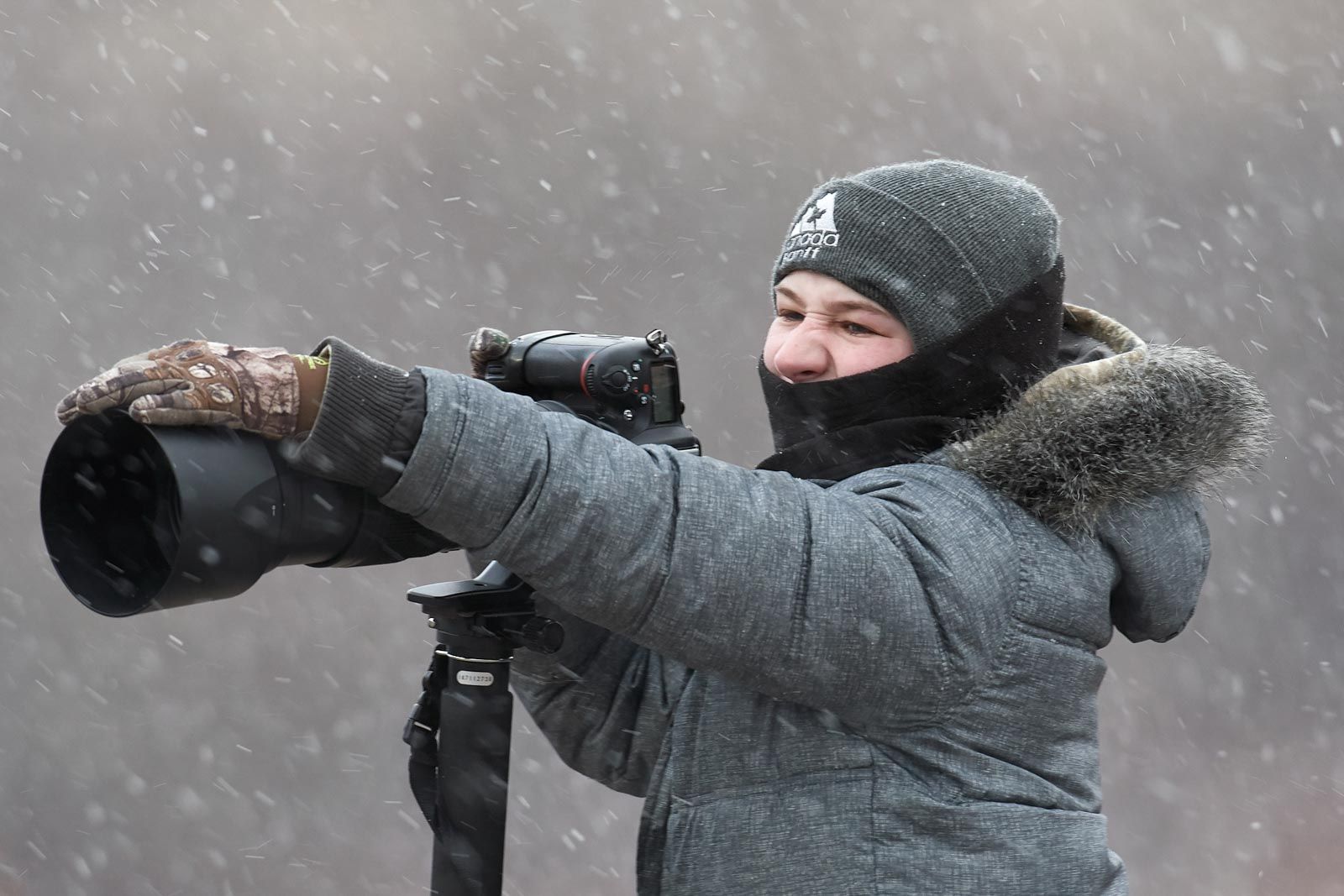 Josiah photographing bighorns in a spring snowstorm near his home in the Rockies
'Ridgeline Sentinel' A Sierra Nevada Bighorn Sheep ram stands atop a ridge to survey the valley below after a winter storm in the Tranquille Ecological Preserve in central British Columbia, Canada. This image resulted in Josiah being named the international 2017 Young Outdoor Photographer of the Year.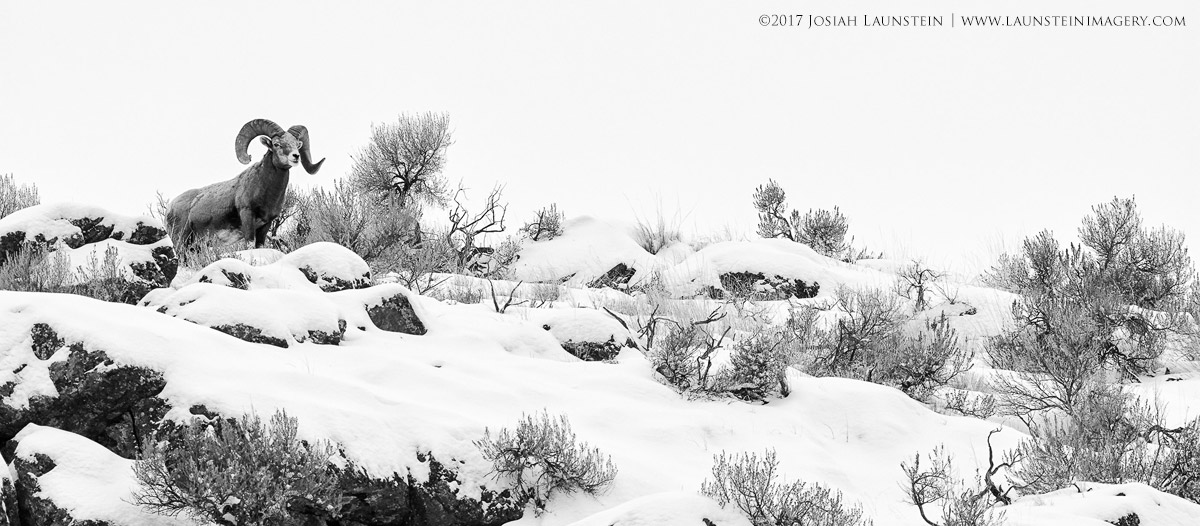 One of Josiah's favorite photographs, First Snow, was the product of patience, exemplifying the challenging conditions he can encounter when trying to get the perfect image. "I had to wait for several hours in a spring snowstorm for a chance to maybe catch a glimpse at a very young family of fox kits, and when the first kit appeared I couldn't believe it when it looked my way with the soft snowflakes falling all around." His tenacity and quality of work have already gained him a reputation as an excellent photographer, one that could compete with adults well beyond his age.
So what advice would he give to other young photographers looking to improve their work? Shoot what you love and shoot often. "I always say to photograph what you love because it really shows in the photographs. I think you take more time to show off the beauty of something if you really care about it. I also think the more you are out with your camera the better you become, so go out lots and always bring your camera with you!"
If you are in southwestern Alberta, stop by the Launstein Imagery Wildlife Gallery, where the entire family shows off their best work.
At just 13 years old, Josiah Launstein is already an accomplished wildlife photographer and has won several international awards for his work.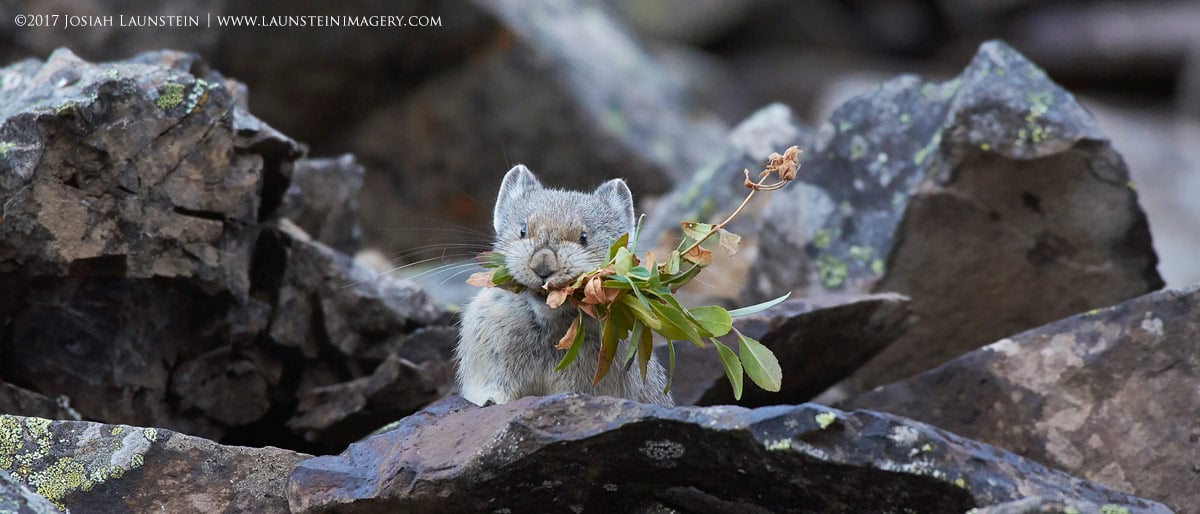 'Winter is Coming' Pikas almost never stop storing food for the winter, and when they do it's only to act as a sentry sounding out the alarm in case of danger. They pretty much never stop being ridiculously cute, either! I love the challenge of photographing these fast-moving, cautious mountain rodents. Once they grab a mouthful of greens, they dart for the closest stash beneath the rocks. Every once in a while, though, they stop and make sure you're still where you were the last time they checked on you, and that's when I managed to capture the shot I was after.
'Elk Battle' Two "teenager" bull elk practice their fighting skills during the annual rut in the Rocky Mountains.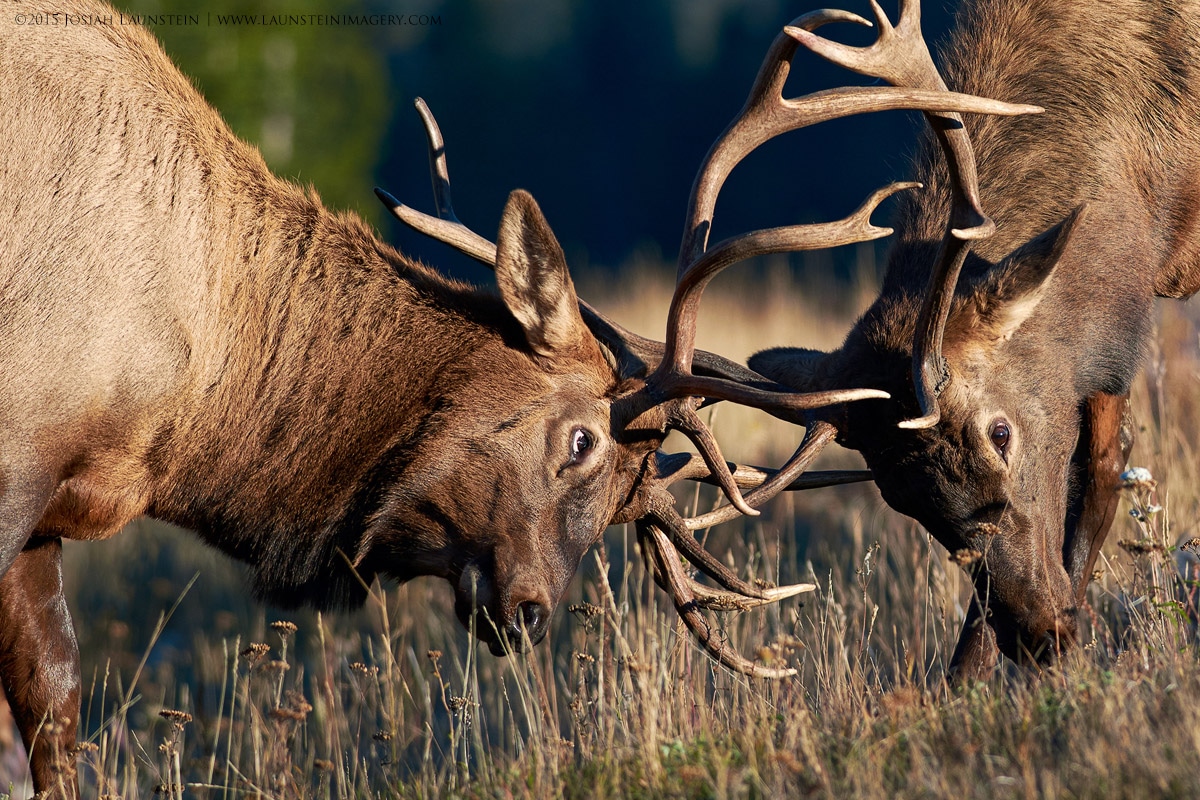 'Little Hunter' A male Northern Pygmy Owl looks up at the sound of the photographer's shutter while perched on a small cedar during a hunting expedition. Photographed in the Fraser Valley of southwestern British Columbia, Canada.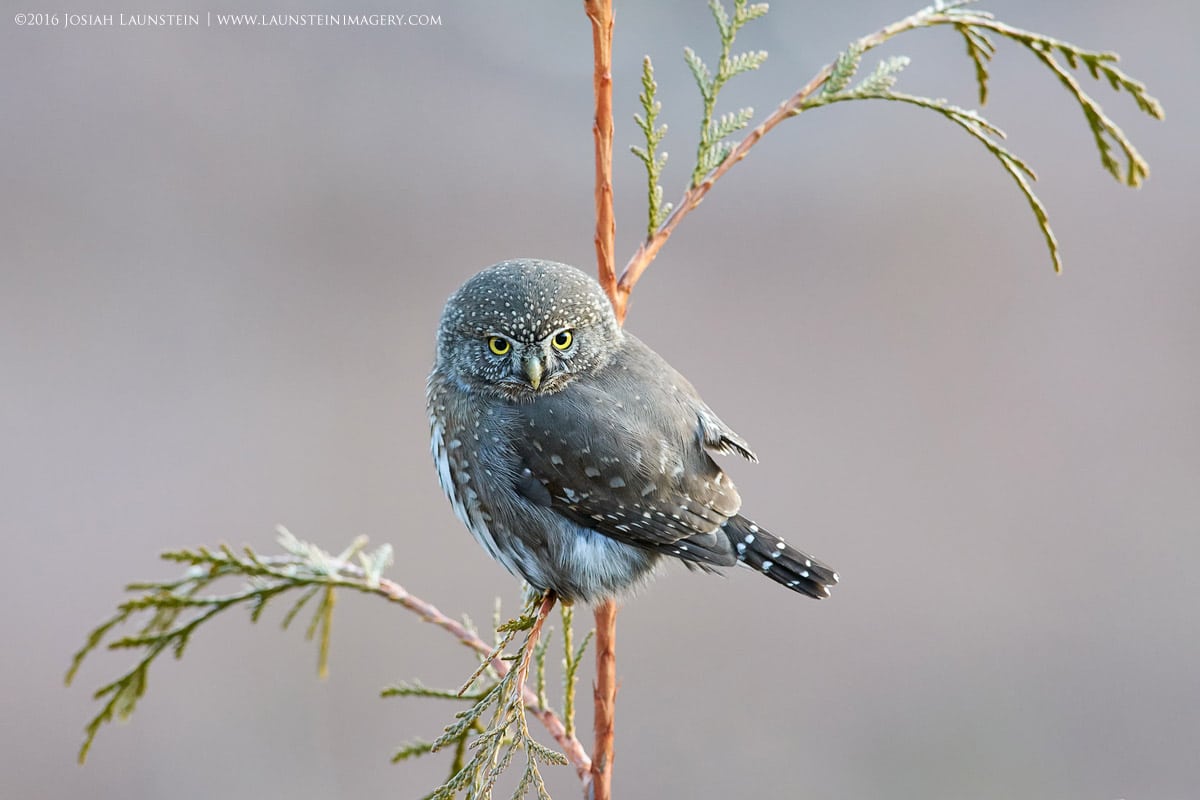 'Bighorn Battle' Overall Winner – 2014 Young Outdoor Photographer of the Year
Two Rocky Mountain Bighorn Sheep rams collide while doing battle in the lower slopes of the Rocky Mountains in Waterton Lakes National Park, Alberta, Canada. I was photographing bighorns with my dad and sister when we heard loud crashes from further down the valley. My sister and I went to investigate and discovered three rams that were battling each other. I quickly found an angle I liked and adjusted my settings for the action and managed to get this picture right as they hit each other. I love all the hair and dander that is flying up from the impact!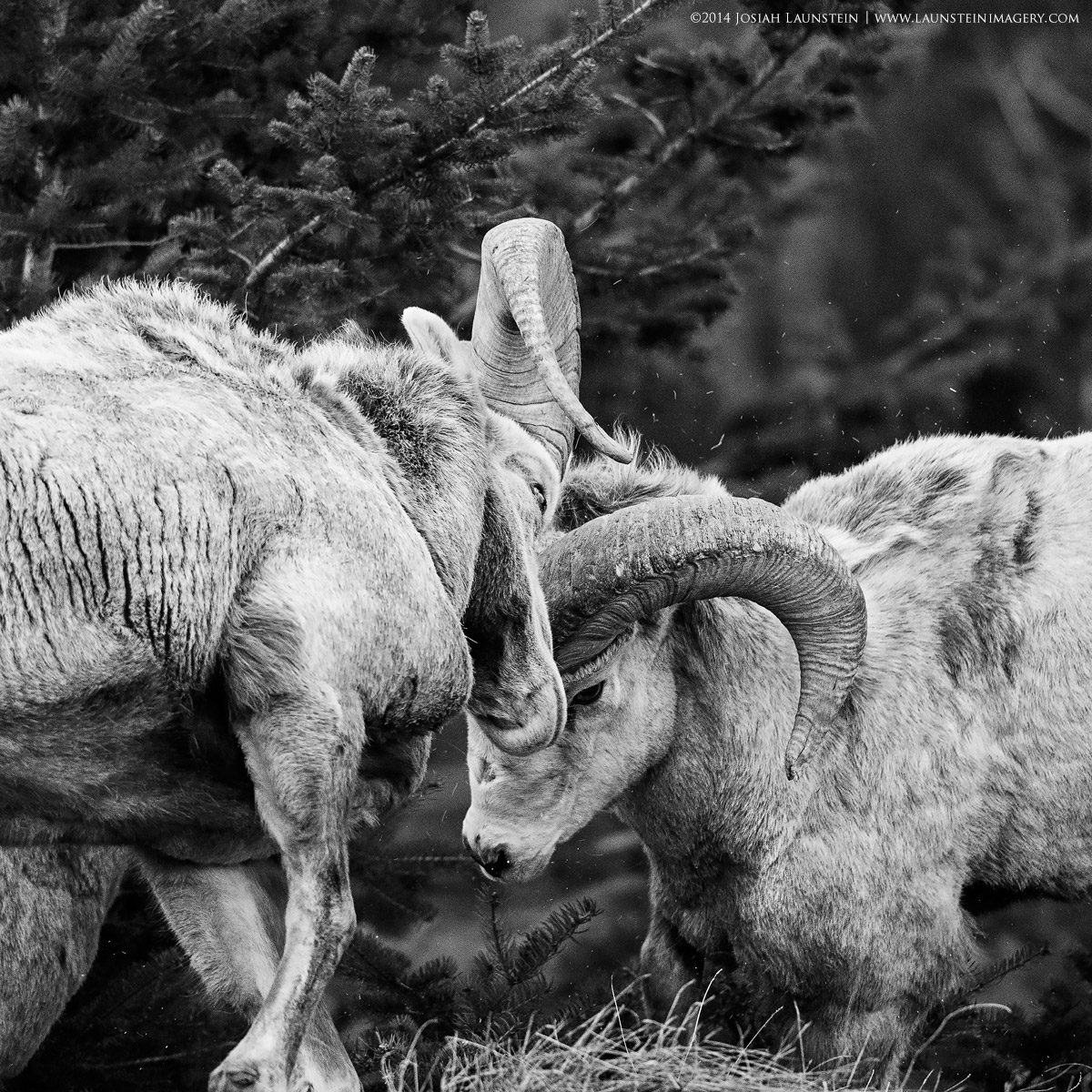 'Goose Attack' Awarded in 2015 Wildlife Photographer of the Year. A Canadian Goose rushes out of shoreline to protect its territory from an intruder in Burnaby Lake, Burnaby, British Columbia, Canada. I was photographing ducks and geese on a cold February morning when I noticed a goose that was being very aggressive toward any geese that came into its area. I quickly got my lens focused on it when it exploded from the shallows after this second goose. I love how you can see the water and mud flying!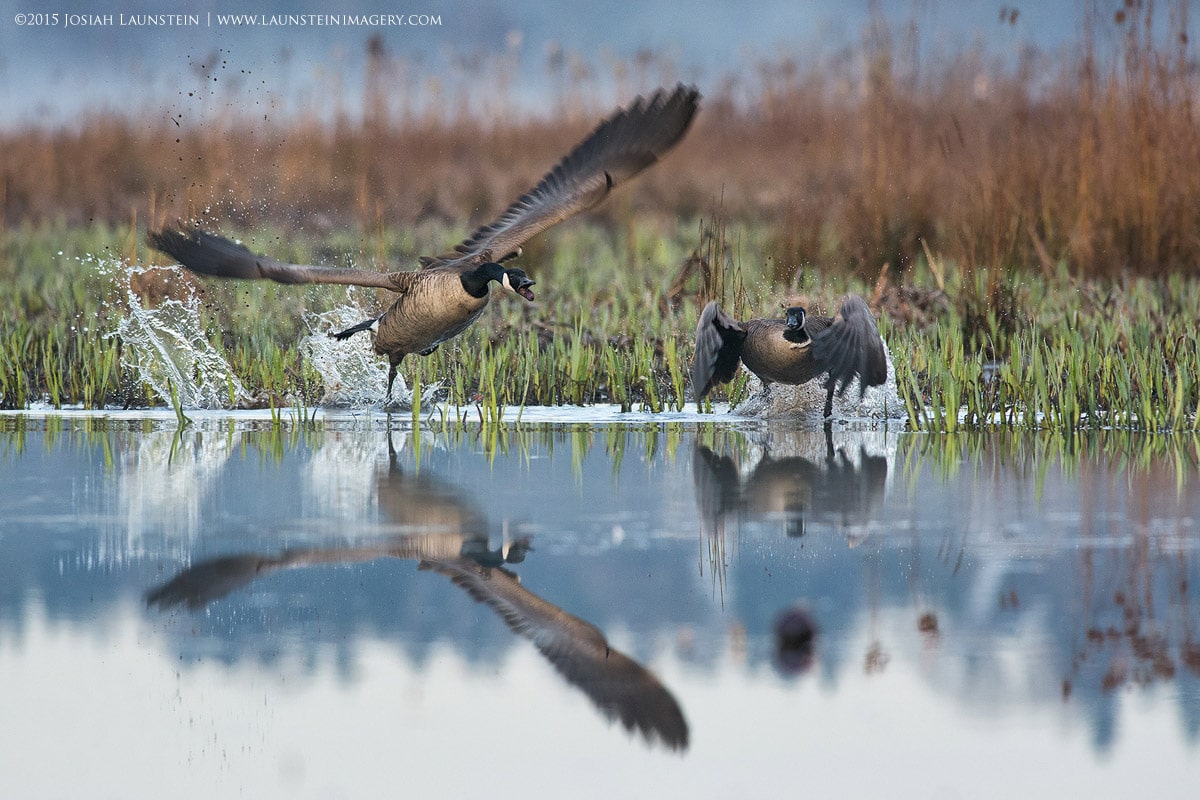 Launstein comes from a family of nature lovers—his father and sisters are also accomplished wildlife photographers.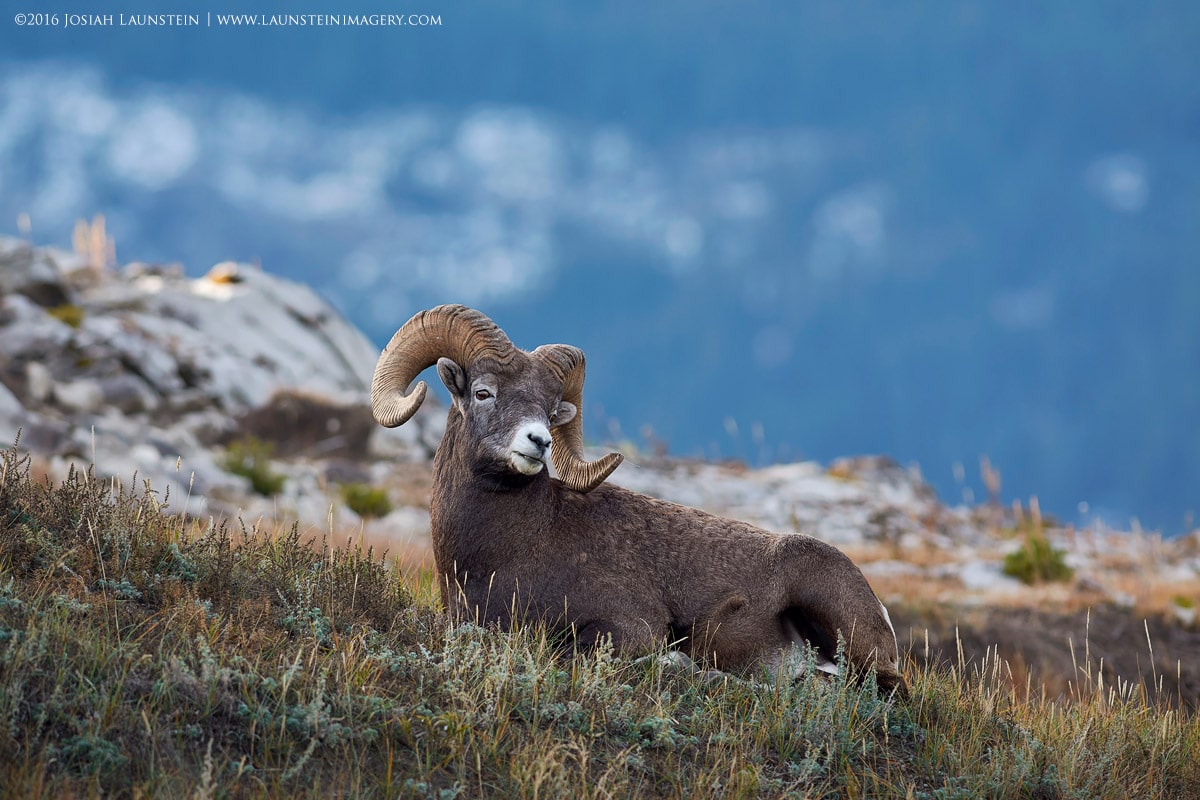 'Watching' A young cougar keeps watch on the photographer through the grass as it relaxes on a grassy slope below the Rocky Mountains in Waterton Lakes National Park, Alberta, Canada.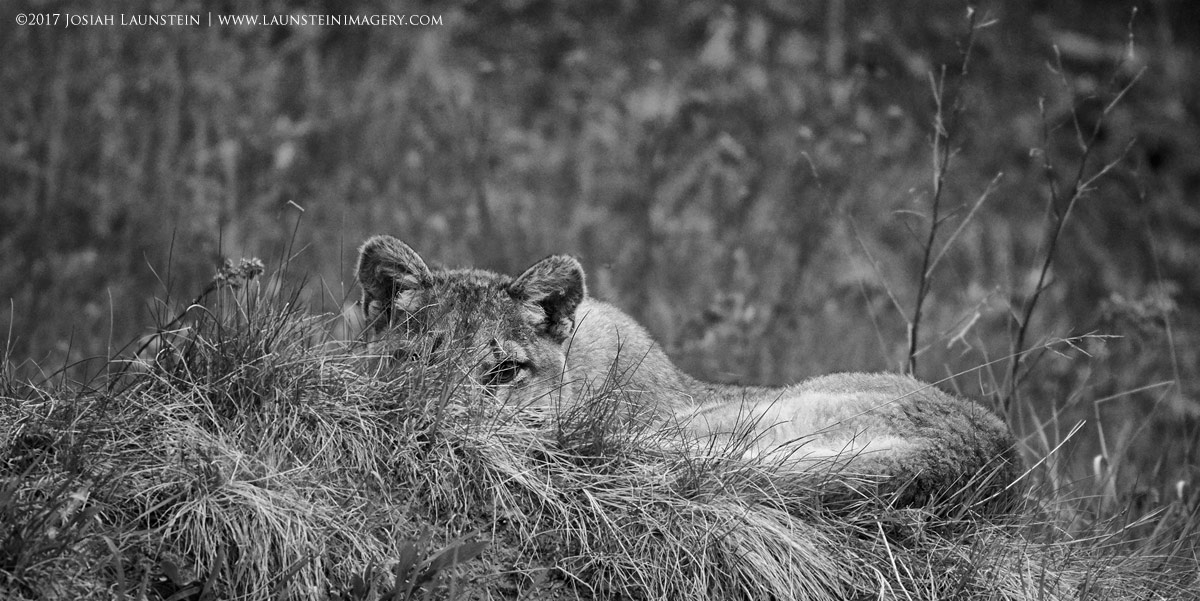 'Winter Ghost' A Great Grey Owl perches in a massive fir tree while listening for sounds beneath the snow on the forest floor below. This is a natural scene of a wild owl that was not baited, called or lured in or manipulated in any way.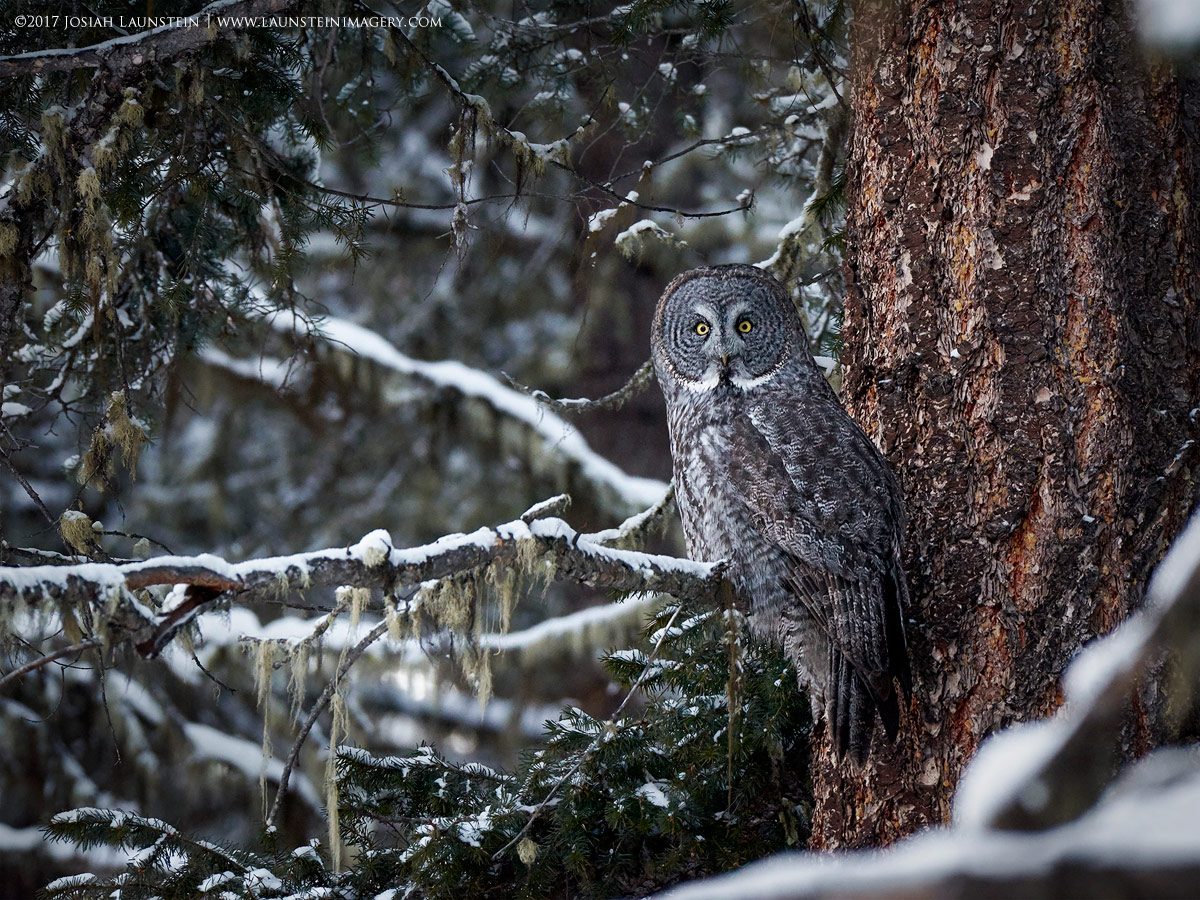 'Coastal Blues' Awarded in 2017 Bird Photographer of the Year. A Short-Eared Owl perches atop a lone tree for a better vantage of the salt marsh below while hunting for a meal along the coastline of the Pacific Ocean in southwestern British Columbia, Canada.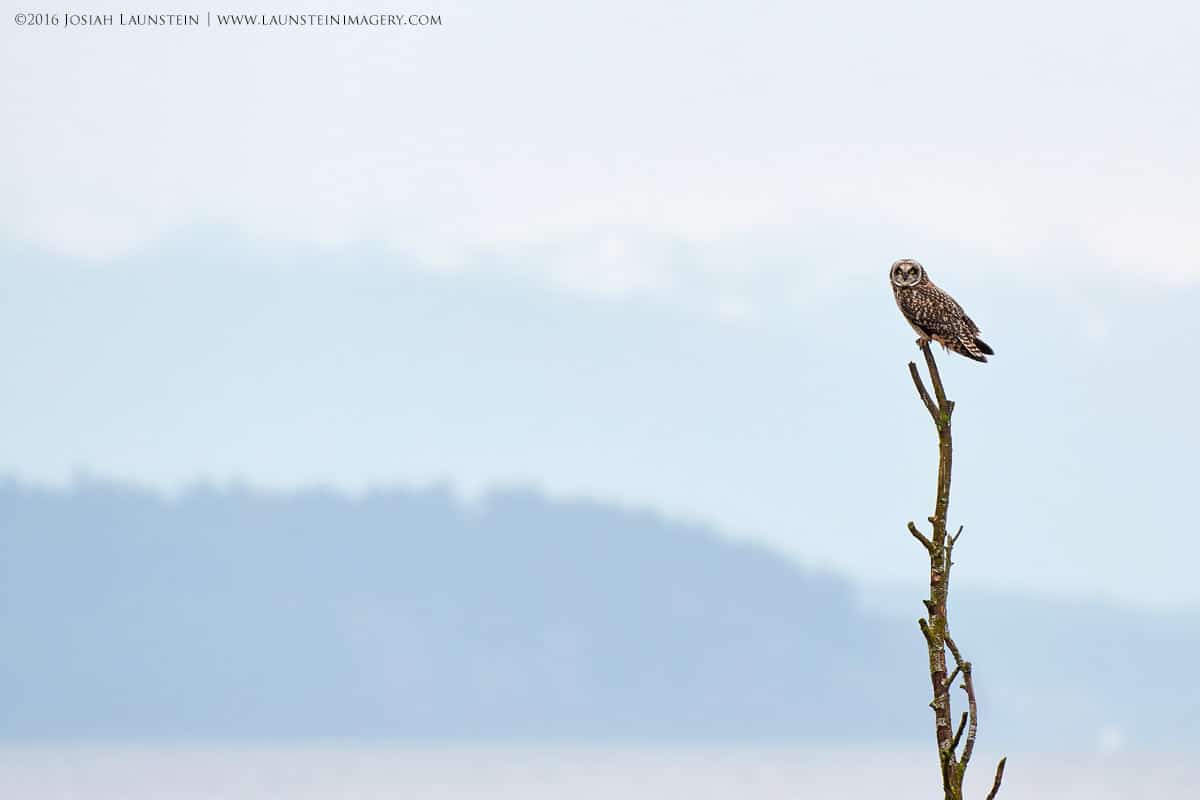 Josiah began his journey with photography at age 5, and in 2015 was the youngest photographer to ever win the Young Outdoor Photographer of the Year Award.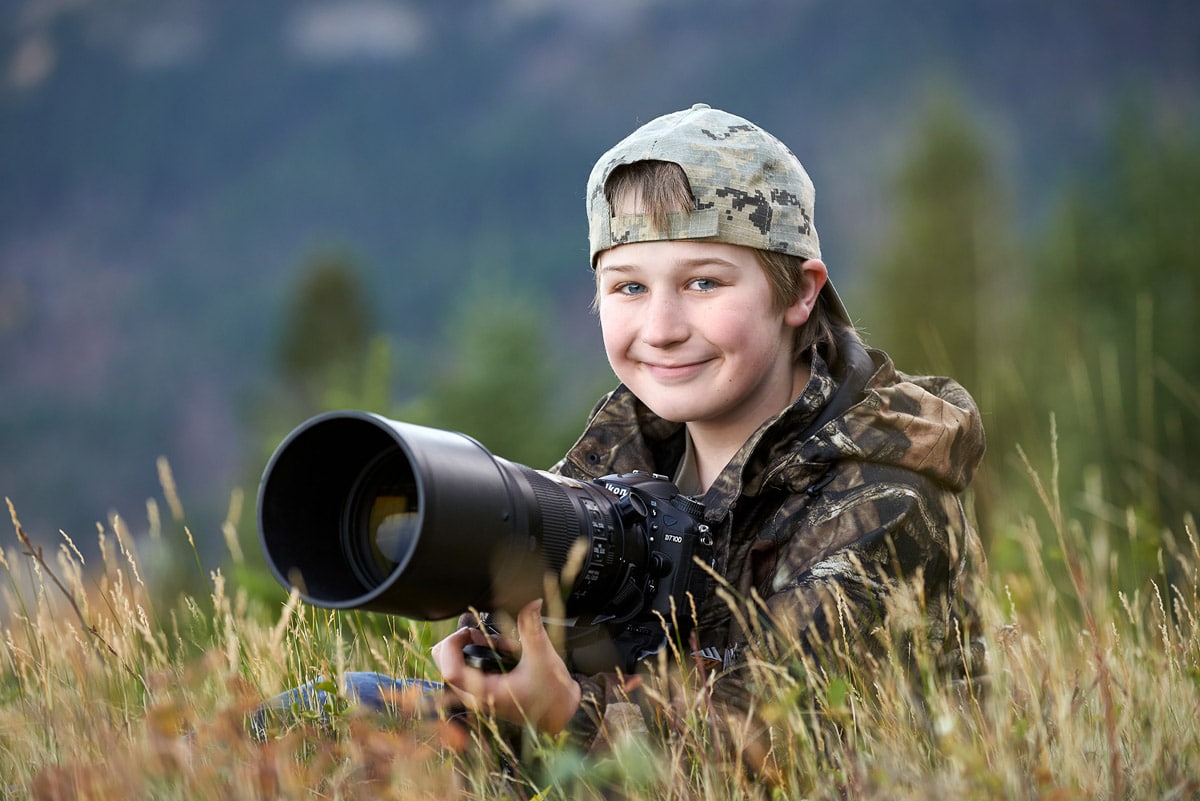 Now, at age 13, he's won the title again, making him the first person to be crowned Young Outdoor Photographer of the Year twice!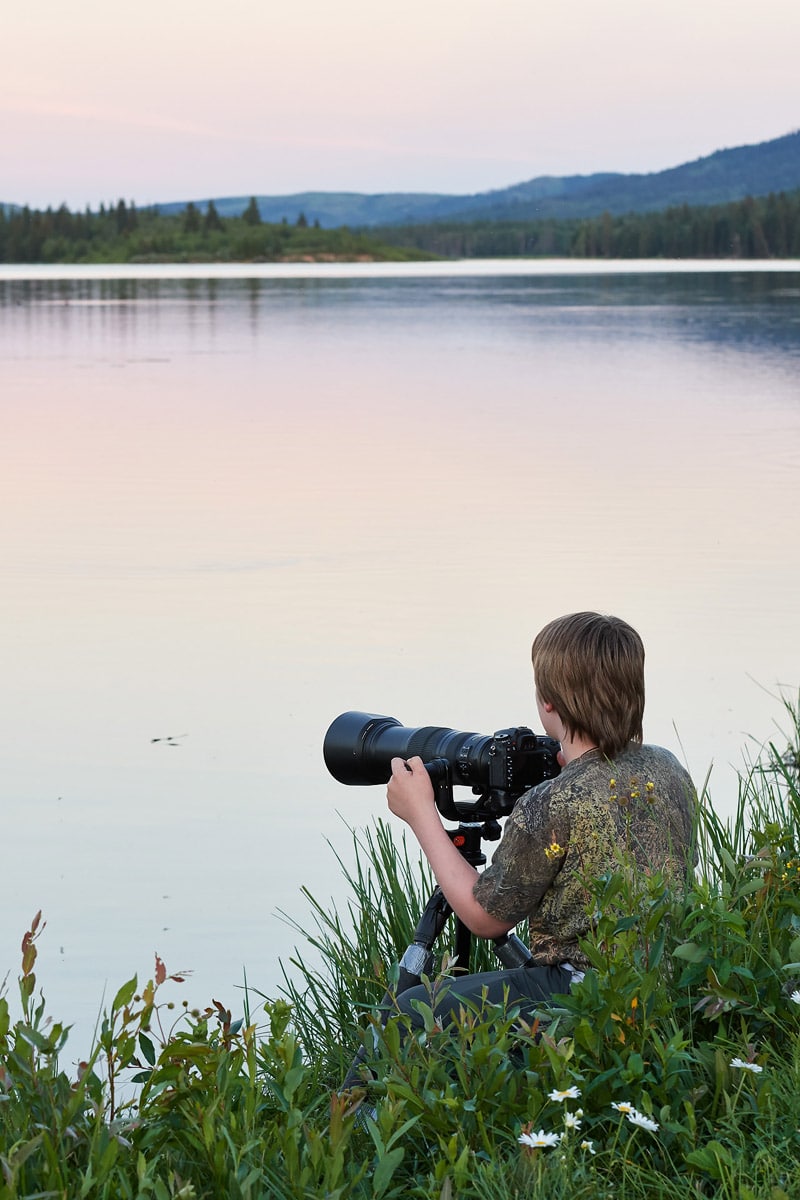 Josiah at age 12 photographing waterfowl at a lake near his home outside Pincher Creek, Alberta.
Learn more about Josiah and his passion for photography in this short feature.