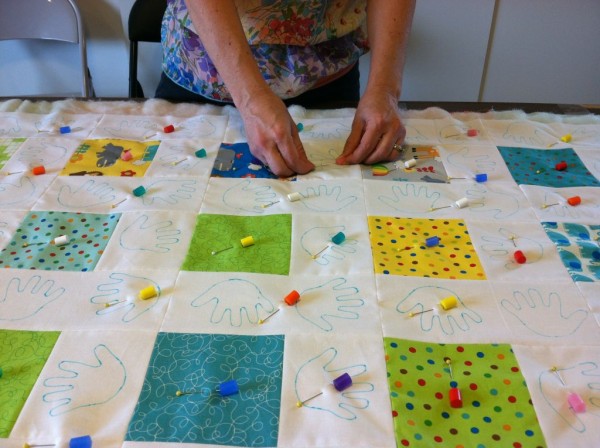 These ideas may smooth out your basting process. Adjust these ideas to match your work area. You may not have the space to do it this way and that's OK. You can if necessary adjust these tips to smaller scale and use the process to bast single blocks or several blocks at at a time. Basics Video 1, Save your Back Basting Video 2.
————————————-
Lynn Witzenburg begins this Video with the statement "basting is a very important part of the quilting process". Bastings goal is to make sure you have no puckers on the backside of your quilt caused by the quilting. Basting correctly stabilizes the 3 layers of materials while your quilt is rolled or bunched up under the arm of your machine while your quilting.
Source: LandauerPublishing

———————————
This could save your back and knees. Don't reject this just because it's different. Take a little time to really think about it. Using boards to control the backing and top while you sandwich the batting between and use large stitches to bast everything together is different. Wonder how well it might work for thicker batting.